They fell in love with Goa, its people, its rivers and the ocean (Cuckoo is an expert fisherman). But it was not till November 1997 that they started cooking for others in Goa. It so happened that Mama Cecilia, a woman of magnificent character, heard their laughter. Enthralled, she invited them to stay at her house. Cuckoo and Kavita cooked for as many as 20 people, gave free acupuncture treatments to the local villagers. Eventually, after a dramatic cure of a Dutchman who had been badly injured in a motorcycle accident, Cuckoo's fame as an acupuncturist spread in North Goa. Mama Cecilia suggested he start a restaurant as well. Acupuncture on her terrace in the mornings, superb, authentic Taiwanese food in the evenings. They called the restaurant "Zen Garden". It is the finest, most authentic Chinese restaurant in India.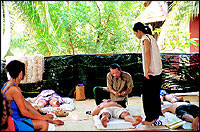 Cuckoo is a Living Zen Master. I have more than a passing interest in Zen. I first visited the Zen temples of Kyoto in 1969, and returned every few years in the 1980s and 90s. So I invited Cuckoo and Kavita to my house in Candolim. Here, on the open terrace, I questioned Cuckoo searchingly. I became convinced that he was a remarkable man, whose short and insightful answers to my questions clearly were emblematic of deep understanding. His behaviour and actions were clearly that of a Master of Living Zen.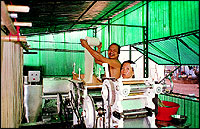 It was also on this occasion that Cuckoo talked about being born an aborigine in the highlands of Taiwan, where the martial arts were as much a part of daily life as fishing and farming, and of growing and using medicinal herbs. Cuckoo demonstrated some martial moves with startling swiftness from a position of total stillness, and then returned to his profound stillness. Kavita showed us the most graceful Tai Chi and Chi Gung movements.
But the most charming part of Cuckoo's character is his humour and laughter. This comes through in the answers he gives to questions. After dinner at the Zen Garden, many of his customers stay back till late into the night, and discuss various aspects of life with Cuckoo. Cuckoo sits on a toilet seat, and calls these sessions not "Sat Sangh" but "Shit Sangh". Word spreads, and these informal discussions sometimes have as many as 250 people in the audience !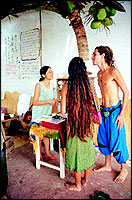 Zen is living in the moment : to cook when you cook, to eat when you eat, to garden when you garden. With total awareness and attention. This is true meditation, and it is not separate from your daily activities. 'Chi', the vital life force or energy flows unimpeded. It is no wonder that Cuckoo is also an accomplished calligrapher, Chinese brush painter, herbalist and medicine man.
Cuckoo learnt English only a couple of years ago, so Kavita, whose English is fluent, often interprets for him. They have about 22 people from Taiwan and Japan living together in Saipem. They have started planting Chinese herbs, vegetables and fruits ; they have built a beautiful tea house, made of local bamboo, in their garden. Kavita is extremely accomplished at handicrafts, and you can find some attractive objects for sale at their rented house, called "Living Zen".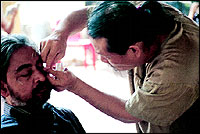 It is here that they make tofu every alternate day (which is available in their restaurant), and also organic soya bean milk daily, for which there is no demand. They also have a noodle making machine, and make delicious noodles using a long procedure lasting a couple of days at least. (See recipes). Accompanied by medicinal herbs and soya sauce from Taiwan, their fresh fish, sometimes sashimi, their Chinese herb soups, as well as their other dishes are the tastiest and most health giving that I have encountered in India. The rice cooked in a bamboo (like fish in bamboo), a Taiwanese aborigine recipe, is astonishingly good.
I buy their tofu and soya bean milk everyday when I am in Goa. This, together with their extraordinary cuisine, and a variety of herbal teas from Taiwan, over a two month period in Goa, resulted in a dramatic improvement in my health. (Though I must say en passant that Patrick San Francisco, an amazing Pranic healer, with whom I had almost daily sessions, performed miracles on me simultaneously).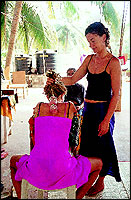 Cuckoo and Kavita are in Goa from November to March. The rest of the year they go to Taiwan, and also to various countries in Europe where they are invited to stay by the friends they have made in Goa.
Cuckoo's Zen garden is located in Candolim. Turn off the main Calangute-Sinquerim road opposite Bob's Inn for the Sonesta hotel, towards the beach, (ask someone if you get lost). From November to March, it is open in the evenings from 7 to 10 p.m., everyday except Saturday, when Cuckoo and his entourage have a stall at Ingo's night market in Arpora. Acupuncture is on the terrace of the restaurant from 9.30 a.m. to noon on Mondays, Wednesdays, and Fridays.
Their handicraft showroom, soya bean milk, noodle and tofu making, and tea house are at Lawrie Haven ("Living Zen") in Saipem. (Tel : 98221 43876 for reservations and all enquiries).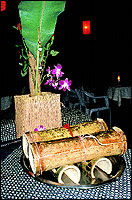 Bamboo Rice
(2 portions)
Ingredients:
One bamboo stalk
about 30 cm. long,
15 red local onions,
one big bowl of cooked white rice,
5 pieces Chinese mushrooms,
500 ml vegetable oil,
Sticky soya sauce or oyster sauce,
Salt to taste.
Procedure:
1. Chop onions into small pieces and fry in the vegetable oil till brown and crispy.
2. Separate onions from oil, and put aside.
3. Use two spoons of the oil to fry chopped Chinese mushrooms. Put salt and soya sauce, mix well, then turn of the flame.
4. Mix the fried mushrooms and onions with the cooked white rice.
5. Fill the hollow bamboo stalk and steam well for one hour.
6. Serve.