The Ritzy Penha Longa Resort
The uber luxury resort in the town of Sintra, Lisbon is magnificent to experience. With its Michelin-starred restaurants and beautiful vistas, Arola one among them.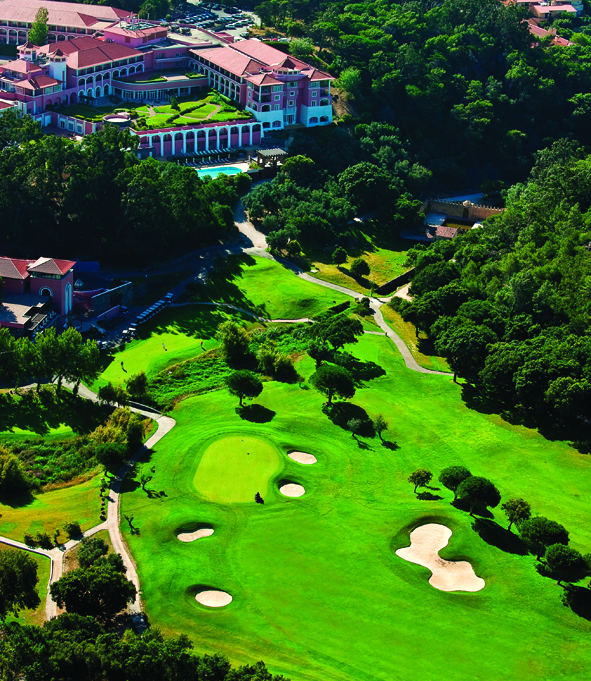 Hotel? Spa? Golf resort? Wrap all three up in gossamer luxury and offer it to a jaded world that thinks it has seen it all. Now enter a fairytale kingdom that could have been scripted by Disney or Pixar creative writers. Every morning I woke up, opened the balcony doors and was greeted by wispy mists hanging on emerald green hilltops that surround the Penha Longa Ritz Carlton Hotel. It is most salubriously situated in the UNESCO World Heritage nature reserve of Sintra on Europe's westernmost point. Just thirty minutes drive from Lisbon central towards the mouth of the Atlantic Ocean, brings you to Portugal's most decadent resort!
A graceful palazzo-style estate, the hotel is set in lush gardens with beautiful woodland and countryside to explore. There are 194 luxurious guest rooms, each with private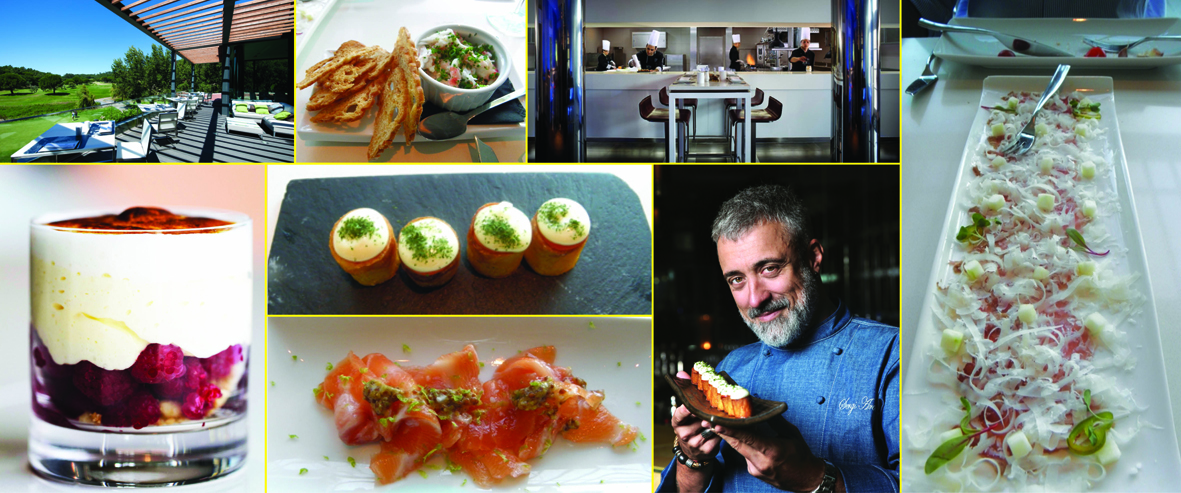 balconies and aesthetic mod cons. Exceptional restaurants (Italian, Japanese,Spanish) tempt the palate. Tennis courts where American moneybags come to volley with professional teachers. And three different golf circuits totalling 27 holes at your disposal. The origins of Penha Longa can be traced back to the 14th century when its historic monastery was built and the area has been a place of sanctuary for centuries as well as a retreat for Portuguese royalty and foreign dignitaries.
Quinta (country house/villa) da Penha Longa is situated at the foot of Sintra, the magic mountain and surrounded by the most verdant topography. Gardens that glide into woods that glide into forests that climb to the summit of the mountains. It's this unique undulating scape that has inspired the world's writers and travellers to wax eloquent about this regions unlimited charms. Over the centuries, inspired by Sintra's mysterious gracefulness, they have bequeathed to Portuguese history endless pages of prose and poetry about the old Monte da Lua.In 1909, the German composer Richard Strauss described the Parque da Pena as the gardens of Kingsor, in direct allusion to the libretto of Richard Wagner's opera Parsifal. The English poet and writer Robert Southey claimed that he had never before been in a place that had so completely taken away his desire to continue travelling.
That was then. This is now. 2015 and Penha Longa has perfected the art of inspiring its clients to do just that. Expunge all desire of leaving the charms so amply displayed here. Just give way to the lassitude, the relaxing languor that strips the soul of all stresses. And if that is still not enough for you, then the expert hands of a trained masseuse will remind you of muscles you did not even know existed and could be coaxed to a Zen state. I had the best ever deep tissue massage here at the Six Senses Spa, the only one in Portugal. I had a look around at the nine treatment rooms including a suite reserved for couples who prefer more privacy. After my amazing massage, I sat in the spa gardens, and then a brief visit to the Jacuzzi, which is situated right next to a contrast pool and a soothing three metre high waterfall. Yes, this definitely satori at its most poetic.
At his most energetic is my nephew Shahen Yashpal, Toronto born and bred, flown in to celebrate his 18th birthday. To make up for my non-sporting genes, he is averaging three hours of playing tennis every morning, with globally renowned trainers retained by Penha Longa. An equal amount of time teeing off at the golf course in the afternoons with experts. That's when he is not swimming. That's also when he is not eating enough for two persons. But that's not his fault.
Blame it on the variety of cuisines in every food and beverage outlet at Penha Longa. Starting with a humonguous spread served up for breakfast every morning, to the hip restaurants, the temptations are varied and hard to resist. Want to sample the food with me? Lets go, then you and I, to the rooms where people come and go, sighing with satisfaction. (Due apologies to T S Eliot).
The first night we dined at Midori, the Japanese restaurant with a contemporary, chic feel which mixes tradition with innovation. A Japanese buffet spread for dinner? Perhaps 'spread' is not a justifiable word. I believe every single sushi, sashimi, tempura dish ever created was on display. The Portuguese chef showed his mastery of sashimi style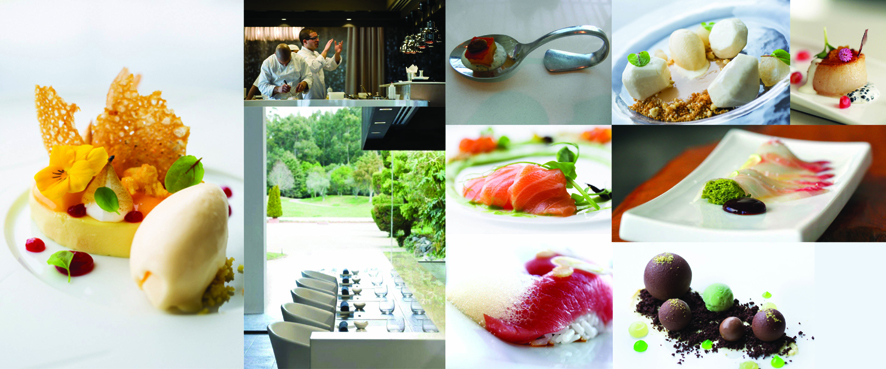 carvery by giving me the freshest slices of tuna and salmon, my two favourite fish. Teppanyaki dishes that are freshly prepared in front of diners and one of the Portuguese chefs told me that tempura is believed to have originated in this country! Shahen loved just about everything, starting from the miso soup to the fried rice to the beef with stir-fried noodles and the king prawn tempura. As for me, I can only remember the parade of Portuguese pâtisseries and pastries that I rounded off the meal with. Deeelicious!
Another night, another outstanding dinner. Open for dinner only from Friday to Tuesday, Il Mercato, the highly recommended Italian inspired restaurant does a nice twist, with Portuguese influences. Iberian ham, grilled vegetables, pumpkin risotto and duck breast was on offer. It was also the night of the World Cup final, but was I going to gobble up my dinner? No way José. That night was memorable for me because it was the first time in my life that I ate three different risottos: Duck and Orange, Vanilla and Shrimp and the vegetarian Pumpkin.
I also remember drinking the best Portuguese wine ever. Castello do Sulco Reserva 2012. It's a blend of Touriga National, Aragonez and Syrah. It's a dream come true.
Shahen and I decided on a degustation dinner at Arola. Name sound familiar? Yes, all those of you who are fans of Sergi Arola's restaurant in Bombay will be delighted to know that his restaurant at Penha Longa with Portuguese and Spanish tapas holds a two Michelin-star award. It was fun to wander into the transparent all-glass cellar stocked with some of the world's finest wines. Our mâitre'd toasted us with Portugal's favourite greeting, 'To happy days in many ways', and this is what we feasted on: Greek Yogurt with Mint and Caramelised Pumpkin, Salmon Slivers marinated in gin, sugar and salt, Presas (finely carved) Iberian Ham caressed with Parmesan, jalapenos, green apples and a drizzle of sesame oil. The sparkling wine was a 2012 Soalheiro (100% Alverino grape varietal). Next, a tropical fruity white Altano 2012 from Douro enhanced our Crab Salad with Chives (four stars), Cured Ham Croquette with Persimmon Chutney (5 stars) and Patata Bravas with hot tomato sauce and aioli.
In consonance with Penha Longa's philosophy – 'we are ladies and gentlemen serving ladies and gentlemen', we next partook of a red Crasto wine (Touriga National, Tinta Roriz and Touriga Franca) which went extremely well with the semi-cured cod fish and the migas. Instead of a sorbet, we drank a shot of Beluga vodka. Palate refreshed, then came a delicious dessert of Yogurt Panna cotta laced with Pistachio, Coconut and a Red Fruit Coulis. Of course it had to be an outstanding Port wine to round of the feast. Vallado Adelaide 2011 was the perfect finale with the ganache chocolate. And since all good things come to an inevitable end, our dinner at Arola was also a fitting au revoir to Penha Longa.
Adeus Penha Longa. Nós nos encontraremos novamente. Yes,we will meet again.

Tuna and Vegetable Tataki
Tuna Tataki with mushrooms, caramelised pecan nuts and vegetables is a visual treat to begin with and follows with tastes that marry and create a sensual culinary experience. Tataki, from the Japanese word for 'pounded' or 'hit to pieces' refers to two methods of preparing the fish/meat. The first where slices of the meat are marinated and seared and the other, a raw method where the meat is hit into pieces, garnished and served. With enoki mushrooms and edible flowers, and the pecan nuts adding delicious flavour to the dish, tataki at Penha Longa's Midori restaurant is a must.