NEW FOUNDLAND
St. John's of Newfoundland
The most impressive aspect of this charming city is its architecture. St. John's has a distinct style from that of the rest of Canada, and its major buildings are remnants of its history as one of the first British colonial capitals. Starting as a fishing outpost for European fishermen, it consisted mostly of the homes of fishermen, sheds, storage shacks, and wharves constructed out of wood
Text and Photographs: Farzana Contractor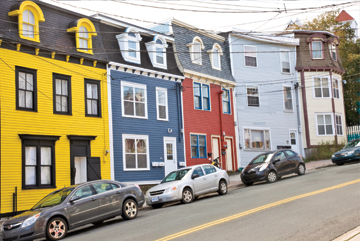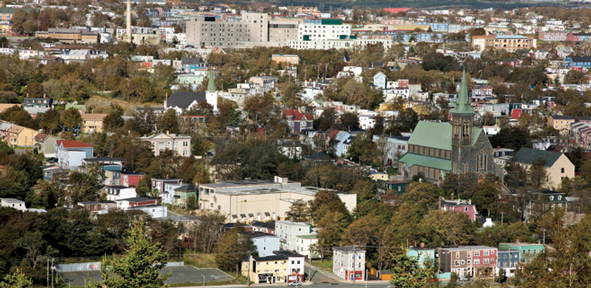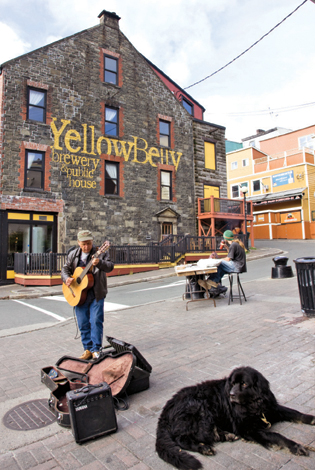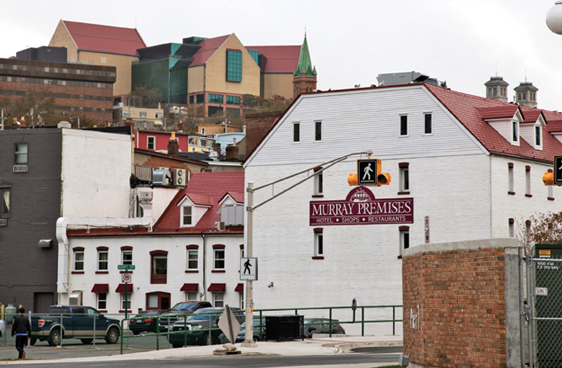 You step off the airplane on to the tarmac at St. John's airport and you know you are in quaint-land. Historical and old-fashioned and far, far away from a world of frenzy. Newfoundland is the most northeasterly part of Canada and Dublin in Ireland across the Atlantic is closer to St. John's than is Vancouver, sitting safe and snug in all its postcard beauty, while the wild sea this end recklessly thrashes the coast, creating its own awe-inspiring moments, singing its own unique ballad.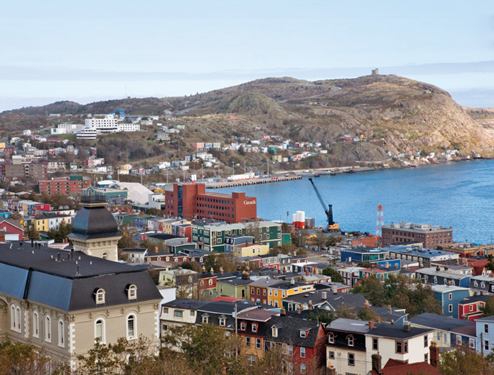 It's easy to fall in love with this city, where they discuss the weather a bit more frequently than Londoners do in their city. Here the weather changers hourly. Truly, there is so much romance all around. In its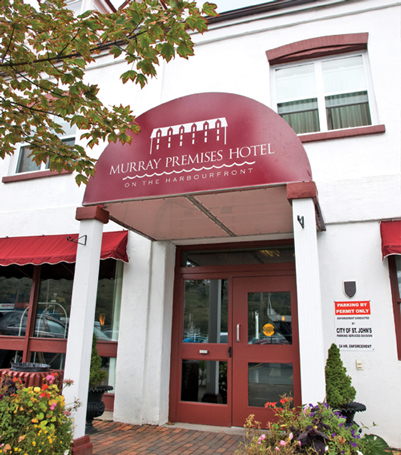 harbour, with cruise ships parked there, in its streets with names such as Duckworth and Water and villages called Quidi Vidi where they brew the most amazing beers. With outposts, like Cape Spear, historical sites like Signal Hill and Battery, with its colourful Jelly Bean houses all made of wood. An unusual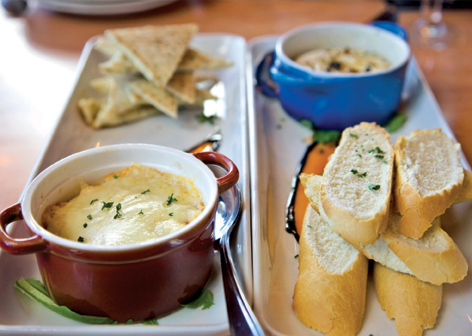 looking museum and culture house perched atop the hill, simply called The Rooms, looking like a cluster of charming barn houses.
Once across the harbour, which you cross over via a bridge, you enjoy what can only be described as among the best drives in the world. An unendingly long and winding road which takes you to Cape Spear, a national historic site which had troops stationed here during World War II. The land and seascapes, with the two light house thrown in for good measure, all lend to a perfect artistic frame. You know about wild forests but a wild sea makes your heart skip many beats. And when you hear of whales that come frolicking by, you are in a trance. It's so far removed from your normal existence you don't believe it's pretty commonplace for locals to dismiss these sights with a wave of a lazy hand.
Murray Premises where I spent a couple of nights used to be an old warehouse, now converted into a boutique hotel, carefully restored. It is so wonderfully located with its front door opening on the harbour and back door just to George Street where all the fantastic pubs, bars and bistros are located.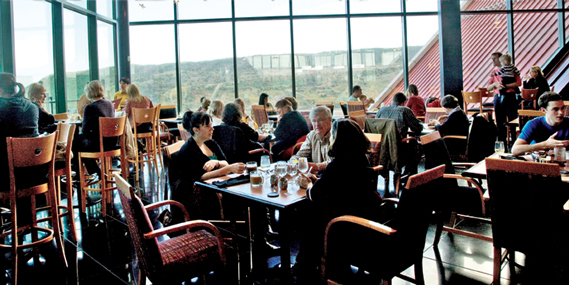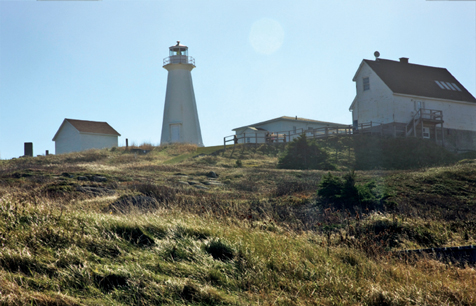 It's easy to get a hang of the streets. The important ones runs parallel to the harbour embankment. George Street is where all the entertainment is, including bars, restaurants and clubs. Some pubs on this street are so Irish you could be forgiven to believe you are in Dublin. You get the significance of how eons ago, the Irish immigrants braved the wrath of the ocean to sail westward in search of a better life.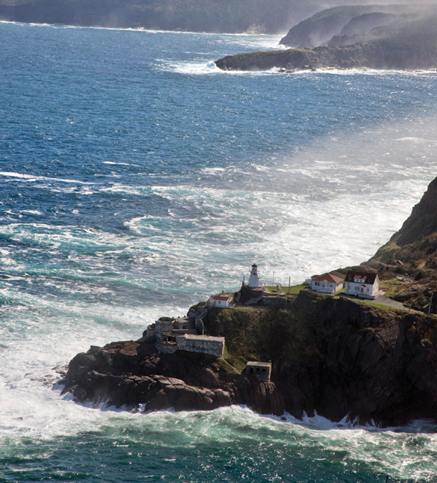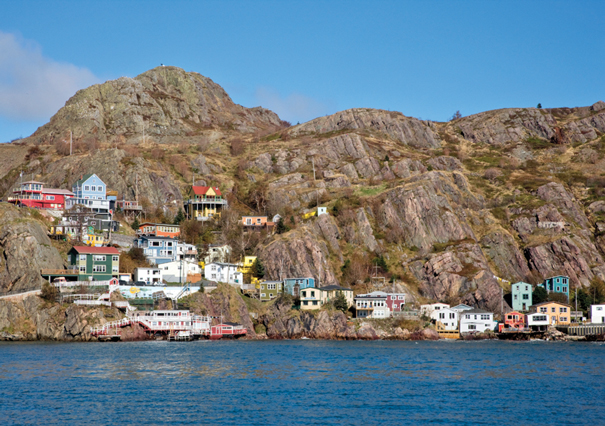 The Jelly Bean houses which look like colourful doll houses are in the old part of town as well as at the mouth of the harbour up a craggy hillside. It's just a few minutes walk away from Duckworth Street, in the heart of downtown, leading to Battery Road. It would be a good idea to pick up some chocolate bars from the Newfoundland Chocolate Company situated on this street and go matching the house on the wrapper with the real one in the street. No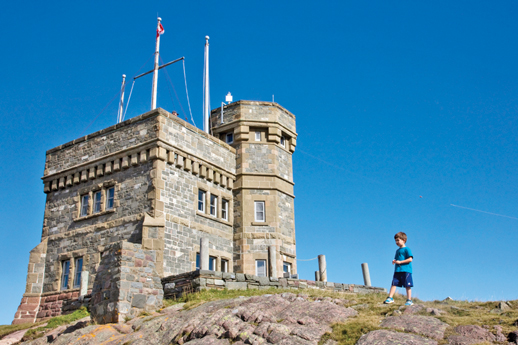 tourist ever leaves St John's without visiting these and of course shooting pictures of themselves standing in the foreground. Gift shops are full of fridge magnets and they do make a good memento. There is no space left on mine, but of course I had to get one, too!
The Rooms is a fine place to learn about the history of this magic — and sometimes tragic — place. It has had it's share of big fires when the entire town was burnt down and had to be re-built. Over three floors in this ultra modern structure, which looks like a barn from outside, you have enough history to learn about the city. There's also modern art, displays on the cod fishery and Basque whalers from Spain, plus exhibits on native Beothuk and Inuit from Labrador.

---
Quidi Vidi on the Wharf
The name sounds like words from a story book and the setting is so magical, it could be a mirage. Peace and quiet, water lapping at the wooden posts... What else could you you need except a chilled pint of Iceberg?
Text and Photographs: Farzana Contractor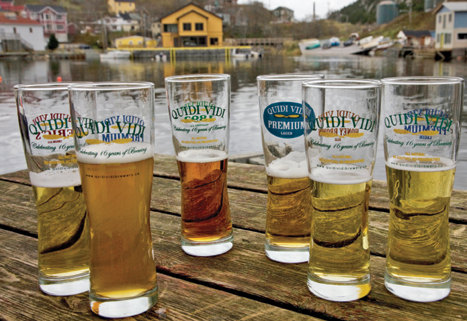 The place to be, come summer, is the Quidi Vidi Brewery. And it's not just the locals who flock here, but also those who drive in from villages and towns around or fly in from Toronto and Quebec. It's packed to the gills, I am told. And the atmosphere is happy and charming.
And why not? The brewery is situated in the Quidi Vidi village, in a great spot on the wharf, surrounded by granite cliffs, at the mouth of the harbour where occasionally an iceberg drifts in, lured perhaps by the whiff of the roasting malts, wanting a few sips of the extraordinary stuff the brewery brews. With its green spruce clapboard and white trim, it looks comfortably at home within the rustic surroundings of the village. This ultra-modern facility houses a state-of-the-art brewery, a retail store, administrative offices, reception room and a tiny souvenir corner.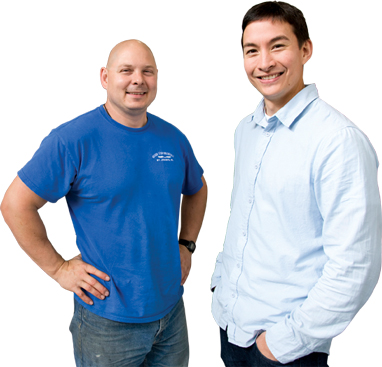 What the beer drinkers do is buy a 6 pack beer caddy, find a table in a cozy corner of the restaurant of the brewery which also houses a beer bar and settle in. Or if they prefer, they go outside in the warm sun, to sprawl by the water or go lie on the grass by the hillside. The energetic ones go walking up the trail to Signal Hill, which is in the vicinity. The funny thing I learnt, walking around, is that the trail cuts right through the decks of people's homes, which I am told they don't mind at all. Folks around here seem pretty chilled out – like the beer they drink.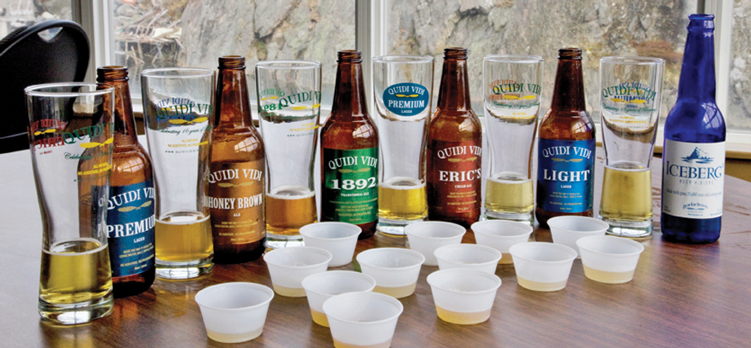 Every Friday afternoon, ex-employees of the brewery who may have worked as electricians, truck drivers, machine operators and the like come around and jam up. So there is much singing and dancing and merry-making in true spirit of the Newfoundlander!
And what are these beers that put one and all in such good cheer. Well, Quidi Vidi, which was founded by two friends, both engineers, David Fong and David Rees, in 1996, brews six brands of beer. Big Fire 1892, Cream Ale, QV Light, Honey Brown, Premium and Iceberg.
The tasting was fun. Hugh Mc Dermit, the General Manager and Justin Fong, the Marketing Coordinator took me through the rituals. While I have been through a
number of wine tasting sessions, this was a first. And I learnt about colour, taste, smell and 'finish', the after taste. So while Amber has a long finish, Cream Ale was really, really smooth. And while QV Light was more 'traditional', Honey Brown had a lingering tatse of what its name states. But the best for me was the Iceberg beer. It's not about how it tastes, rather how it doesn't taste – which means it is not 'mineral-ly' and has no aftertaste. It is crisp and sparkling, like a champagne of beers, with a clear and golden appearance. But that is to be expected. It is brewed from water with 0% impurities, water harvested from 25,000 year old icebergs from Newfoundland But girls will be girls, and I like it also for the romance and it's looks. The blue of the bottle is so true blue…

P.S. Newfoundland has the highest beer consumption in all of Canada. You are not surprised, right?
---
Gourmet & Artisanal
There is a great deal of heart to be found in the chocolates sold at Newfoundland Chocolate Company. Not surprising, considering it's a labour of love and passion that culminated into the creation of this outfit. Truly top of the line stuff!
Text and Photographs: Farzana Contractor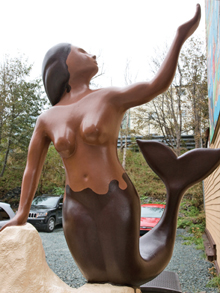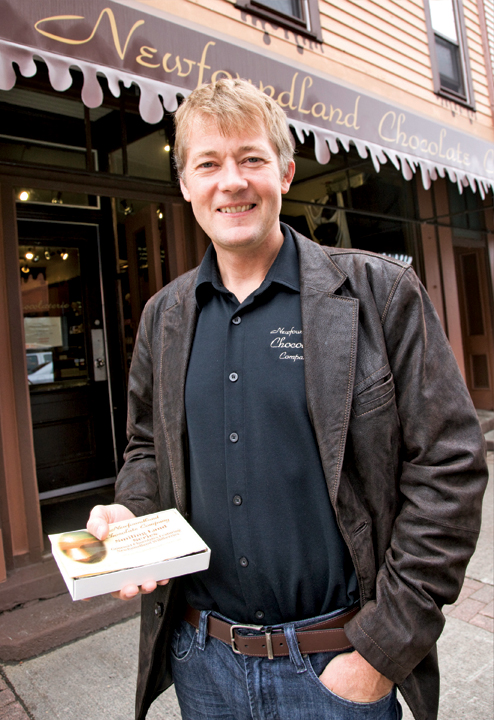 You've heard of CEOs and COOs, but Brent Smith here is a CCO. The best kind of executive where UpperCrust is concerned. The Chief Chocolate Officer, Brent should more likely have been living in Los Angeles, with his Hollywood looks and demeanour. He is a rock star all right, but of the almond kind! For he would much rather stay immersed in gooey chocolate than burn frames in a sweltering studio.
First of all, the name. Newfoundland Chocolate Company. I love it. To the point – depicting pride in belonging to a region and also evocative. Then there is the creativity. You see it everywhere, in everything. Beginning with the chocolate mermaid at the entrance, to the chocolate display counter with goodies named after streets of St. John's, from the colourful chocolate labels to the store itself, with a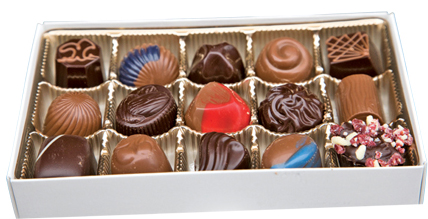 ceiling which appears to have chocolate dripping down from it, from the packaging and tasting rooms, with furniture and fixtures in rich dark brown tones, 'cacao' leather upholstered sofas, lights and mirrors resembling chocolates to interesting quote plaques on walls. All these touches point towards a sensibility geared towards passion, which is exactly what got Brent started. A passionate past time.
Yes, the boss man is not a trained pastry chef, though he did do a few courses once he started selling his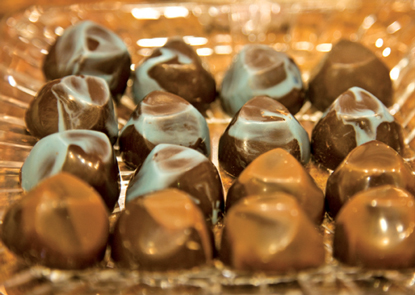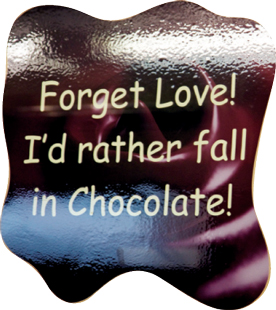 chocolates. And yes, he does engage a whole lot of chocolatiers today. But time was, 12 years ago, when as a hobby, he used to have fun experimenting with making chocolate in his home kitchen and then after a few years of success, graduating to the basement where he created a chocolate studio.
I learnt about the extraordinary story of Brent and his wife, Christina's cacao journey, going on from being chocolatier in 2000 to cholatepreneur in 2008, as we sat tasting 'raw' chocolate from Dominican Republic, Equador and Honduras as well as other special ones made just for me! Brent had asked two of his top chocolate creators, Darren and Andrea to indulge in their creativity and come up with something unusual for his 'visitor from far away India'. And they did – keeping tastes familiar to a person from our part of the world; bananas, coconut and curry! Nice.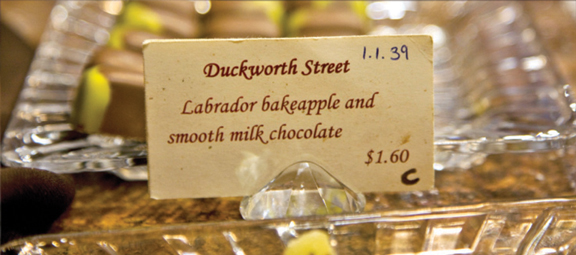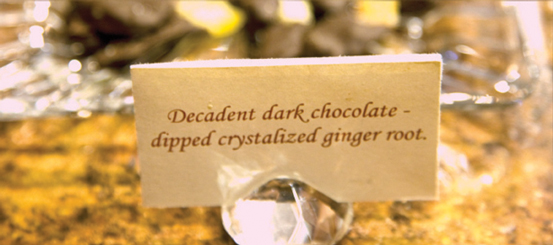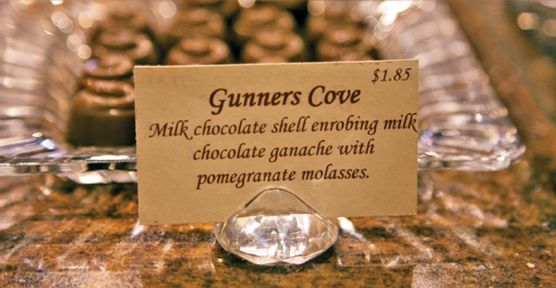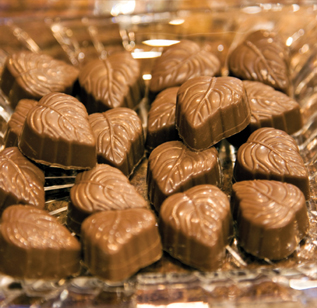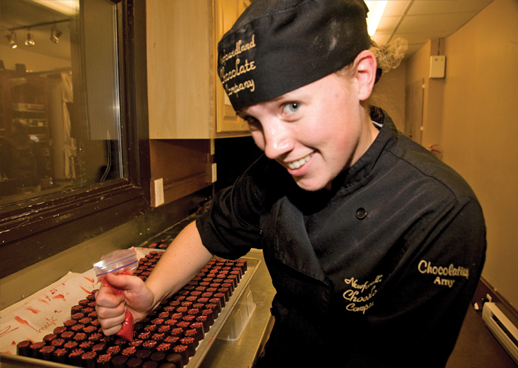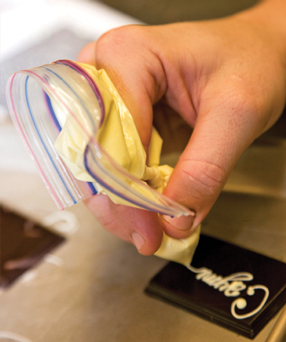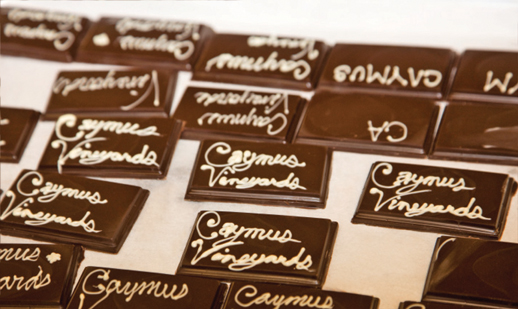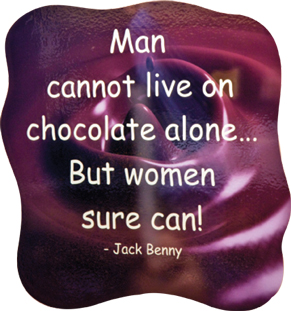 Before I go on to tell you why NFCC chocolates are good, I do want to say, log on to newfoundlandchocolatecompany.com and check out 'Our Story', you will understand what it means to follow your heart. You will also see how easy it is to order their chocolates, one of the most friendly sites I have visited.
These are not your average chocolates. For starters they don't 'manufacture', they create chocolates, piece by piece, with affection and care and naturally by hand. I stood and watched. These are artisanal chocolates, using the very finest of Belgian, Swiss and French gourmet couverture chocolate made from the best possible cacao beans money can buy or more importantly, research can source. And preservatives or other additives are not on their list of ingredients.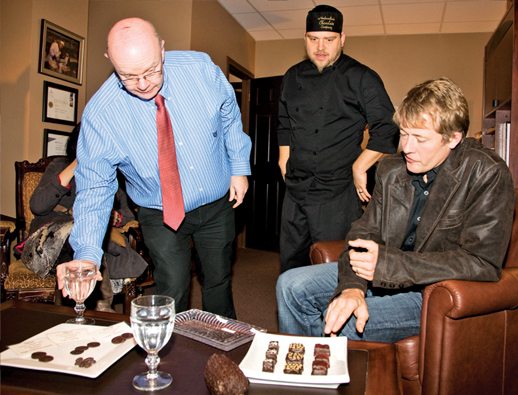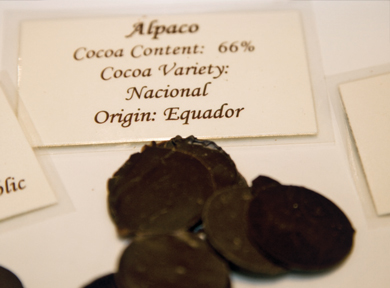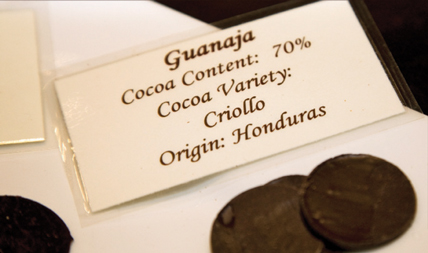 What the CCO believes is that truly great chocolate should be pure and should be celebrated, tasted fully and naturally and never be masked with sweet, overpowering centres. So they strive to find complementing blends of chocolate with fine, natural ingredients. Each boxed series features a different array of combinations of milk, dark and white chocolates with nuts, caramels,locally-roasted coffees, home-made biscotti and what no one can argue about: the finest berries to be found anywhere – their own natural Newfoundland and Labrador wild berries.
When you step through the doors of the Newfoundland Chocolate Company chocolaterie on Duckworth you are stepping into a magical little world of chocolate.
A treat for all of the senses.
---
Bring on the Salt Cod!
That is the meaning of bacalao. And it is a speciality of St. John's. And it is divine. Like most other dishes at this traditional-nouvelle, fine-dine place
Text and Photographs: Farzana Contractor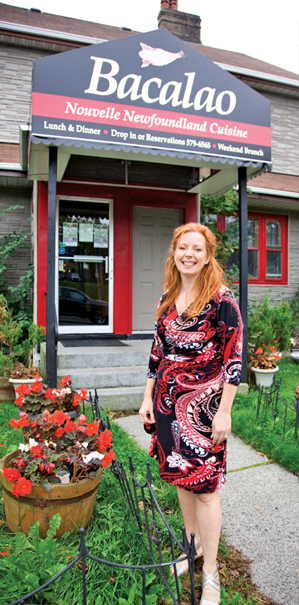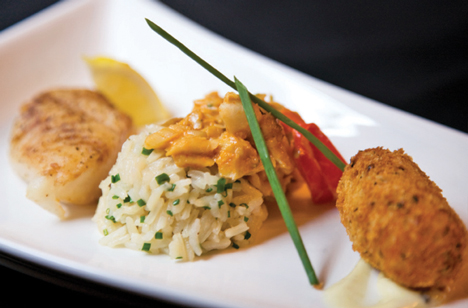 Iwas rather looking forward to going to Bacalao. I was going to keep my tryst with game food here; moose, caribou. As well as other local dishes from the cuisine of Newfoundland, though nouvelle. I was certainly not disappointed, far from it. But more about the food, later.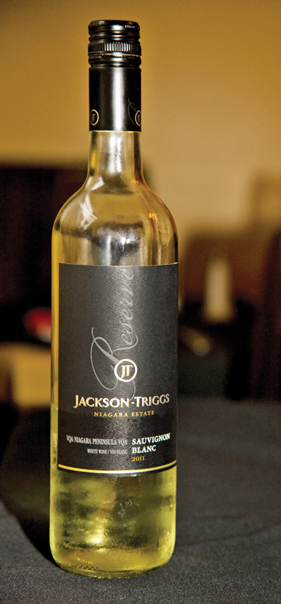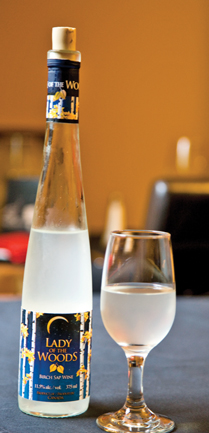 The bungalow (that's how we would describe it in India) was charming. I was here during Fall, but the flowers in the neat flower beds at the entrance were still in full bloom, though the leaves on trees were beginning to drop, creating a beautiful streetscape.
Inside, it was warm and glowing with fairy lights on the bar, and a cluster of dining rooms, small and large. Private and cosy. It looked like how an expensive restaurant should look, I thought to myself.
This was yet another 'couple' restaurant I was visiting. Seems in St. John's couples like to work together. And here, while Andrea Maunder holds forth the service side, husband, Chef Mike Barsky rules in the kitchen.
Bacalao specialises in seafood. It does a wonderful job of showcasing fresh produce from Newfoundland in a creative and upscale manner. From the breads, spreads, salt cod fritters, cod tongues, pot liquor shooter with cabbage roll, halibut and caribou – which I was tasting for the very first time, everything was expertly prepared with just the right touches of seasoning.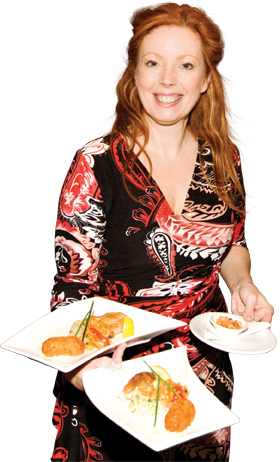 What never fails to impress me – and I do think it is an important contributing factor for any eating out experience, is how hard restaurateurs work at service. At Bacalao, Andrea did so, so well, I felt like helping out, just to ease some of the strain, which she must obviously have felt but wasn't showing. Right from bringing on each course perfectly timed, to making sure our wine glasses were never empty, going on to explain about caribou (it's a smaller version of moose), the wines from the region, what is cloudberry (and bringing some so I could shoot some pictures) to offering answers to little questions that a food writer from so far away would have. Super efficiency, super presence of mind. And to think, ours was not the only table she was waiting upon.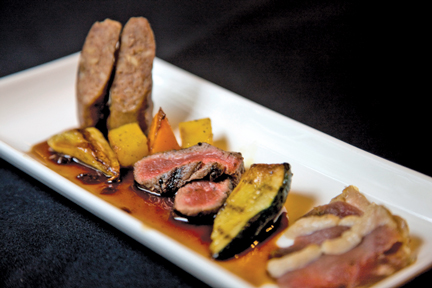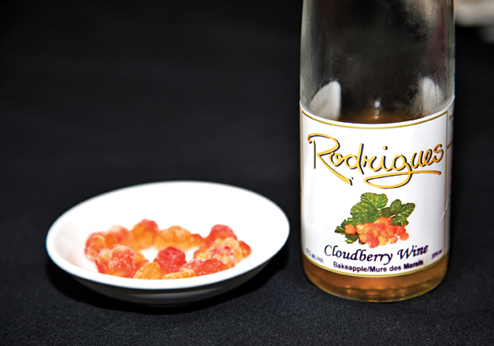 A word about my starter, cod tongue – was unusual, like a texture of fried oysters in a little flour batter, perhaps. My main course, Jiggs Dinner, is comfort food for the Newfie (love how they call themselves). It has a whole lot of root veggies, layered with the hardest going to the bottom of the pot and then cooked and cooked with a little cured beef added to the stock to give it flavour. It is served with chickpeas and makes a great meal. It is served with 'pot liquor' which you either pour over or spoon into your mouth bit by bit.Sunday lunch in most homes in this region is Jiggs Dinner. And by the way, it's strange but they call their lunch, dinner. So remember, if you hear someone say they are going home for Thanksgiving dinner, they mean, at lunchtime.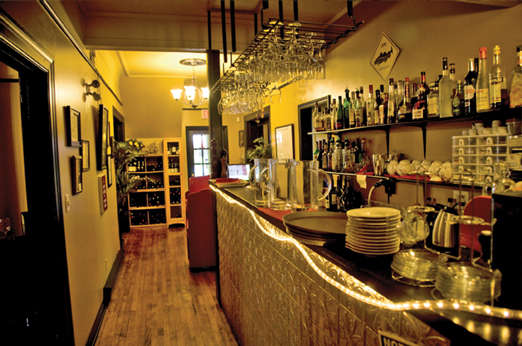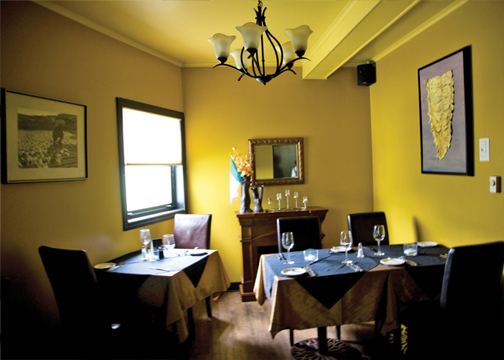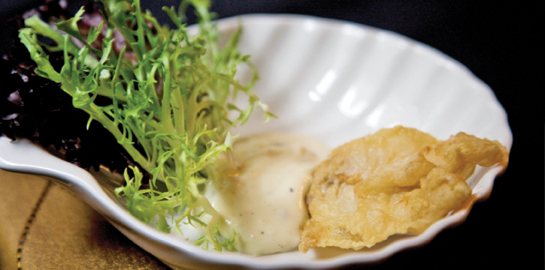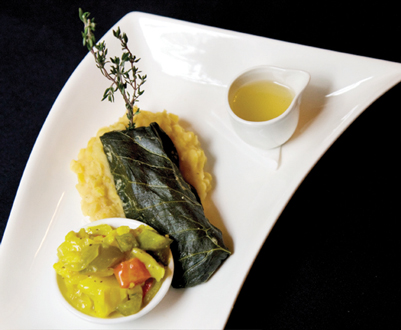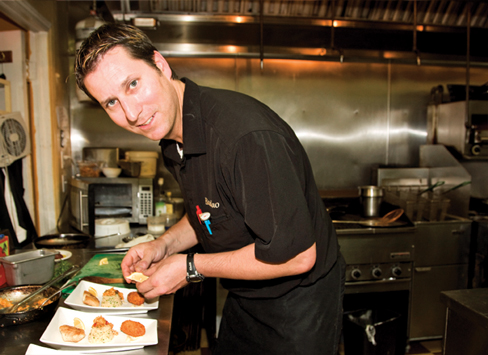 ---
Rocket Bakery
There are bakeries and there are bakeries and then there is Rocket. Which takes you and your senses on another high altogether!
Text and Photographs: Farzana Contractor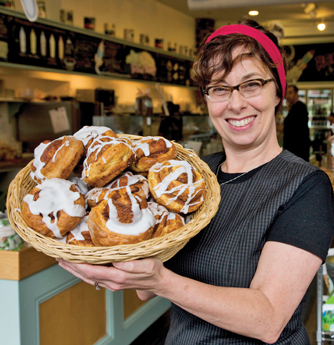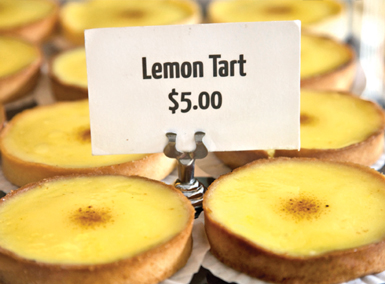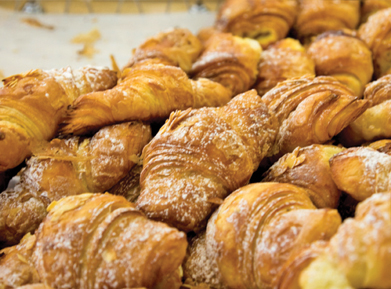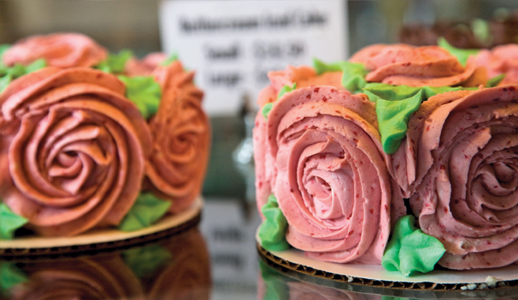 There are some places which have so much positive energy it seems like there is always sunshine in there – even at night, and Rocket is one of them.
Walking in there for breakfast at 9am, I had the warm sun on my back even as the bakery was flooded with sunlight streaming in. The smell of coffee, eggs, bread, the buzz of ringing cash machines, happy people in queues for take-outs, children laughing, staff running to and fro,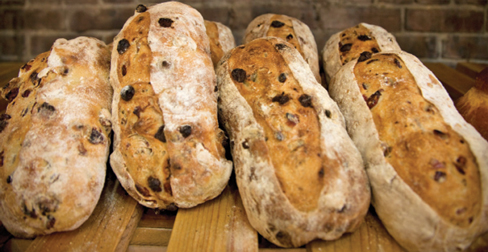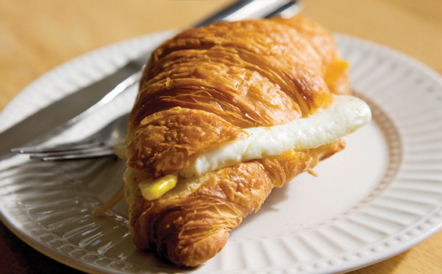 helping customers, serving them, sure was a happy sight to take in all at once.
As is customary in my job, I went around looking at every tray, every basket, every counter. Chatted with people, with the proprietors, Kelly Mansell and Mark McGann and decided this was my kind of place. Open, friendly and serving such high standard of food, it's a pleasure to recommend it.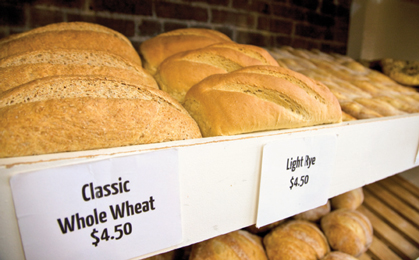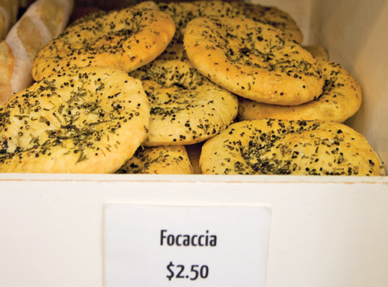 Kelly is an amazing woman. She gave up her job in Toronto with an ad agency, even as she was servicing a high profile client such as Pepsi and shifted to St. John's in February 2011. She had two reasons for chucking up her job and shifting base. One, to spend more time with her two growing sons and two, to take life a bit easy. Alas, the latter did not happen. And she has never worked harder! Her husband, Mark a decorator in film production, happily supported her and says they couldn't have made a better decision. He likes their lifestyle in St John's.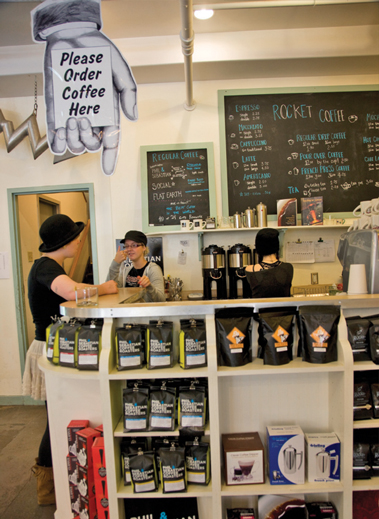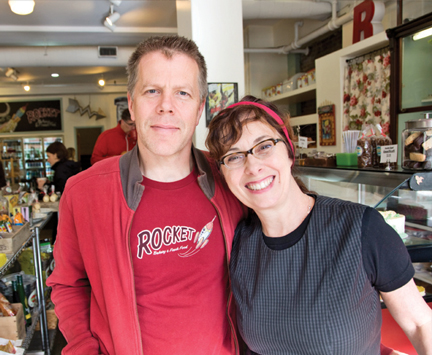 Kelly and Mark had no prior experience in the food industry or any idea of running such a business, but they both were in tune with good, wholesome, natural and organic food. They applied their intelligence, common sense, found this lovely 2000 sq ft space on the main street, downtown and got to work, planning a new future.
Not surprising that it is actually a 5-in-1 business. A coffee shop, bakery, café, catering and events. Yup, they have an huge area on the top floor of this heritage building where local events take place, be it an engagement lunch, a baby shower, a book reading session or birthday parties and so on. Interestingly ,right behind this building is a huge rock that you can access from the top floor, where there is a little sit out. I wondered if the name, Rocket, came from this rock which simply took off, but I forgot to check with Kelly. Which means someday I have to go back there for another breakfast of croissant and egg, their signature breakfast item!
---
Chinched!
When someone exclaims, "I am chinched!", do you know what that means? Well, it means one is full with wait... for something exciting to take place
Text and Photographs: Farzana Contractor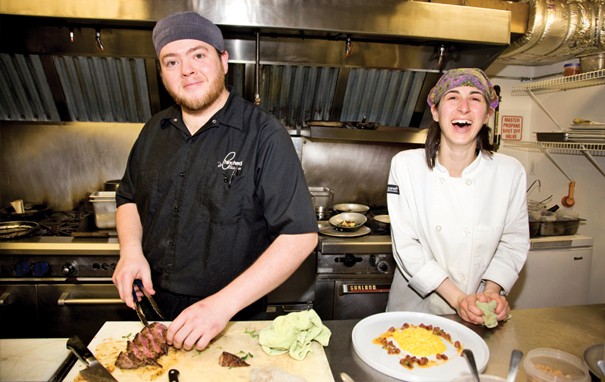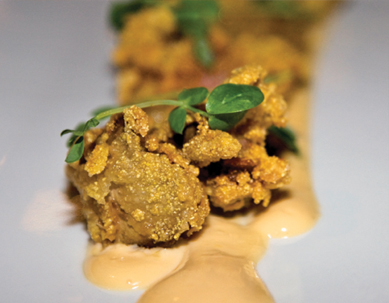 "Come for the food and stay for the… food," say chef-owners, Michelle and Hussy, in an honest, no nonsense manner and how endearingly engaging is that! Their bistro, Chinched is obviously a hot favourite of the people of St. John's.
Almost everyone I had asked for a restaurant recommendation had referred me to this gourmet casual dining place, situated at George Street, in the heart of the downtown area of the city. It was a stone's throw away from my hotel, Murray Premises and I could actually just walk over. I believe in the two and a half years that Chinched Bistro has been around it has been on an incredible journey, a well-deserved success story.
I landed up there for dinner. Though they prefer reservations, they welcome walk-ins too. So there we were, four of us at a corner table of the fairly tiny eatery. We had made our way upstairs via a steep set of wooden steps and no sooner had we settled in, an elfin server was at our table, smiling enigmatically, enquiring, "and what will the ladies be drinking tonight!" As impressed as I was with the food, I was equally impressed with the service. This sprightly girl must have gone up and down that staircase a 100 times and more and yet the smile did not leave her face.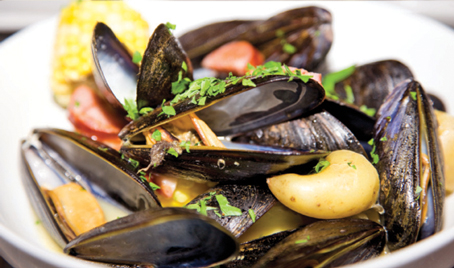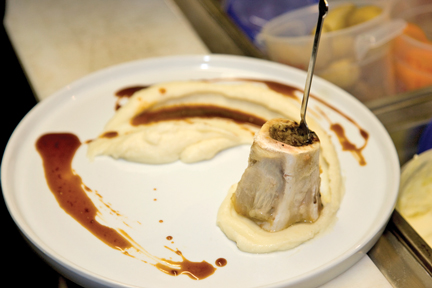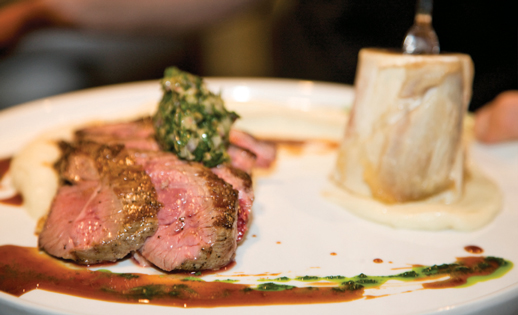 The kitchen and the island bar was situated downstairs and therefore the up and down. Looking around, taking in the wafting aromas, I could not resist the temptation to go down, spend time in the kitchen while the rest of my gal friends made merry.
I must say the work stations were buzzing. Both Michelle and Hussy were right there over the sizzling pans making creations which can only be described as divine. I saw them plate at least four main courses and while Hussy put them together with speed and confidence, Michelle, very fastidious and perfect scrapped one after it was done 75%, starting all over again. I was the fly on the wall, watching it all, standing inconspicuously, not getting at all in the way. It was a modest sized kitchen.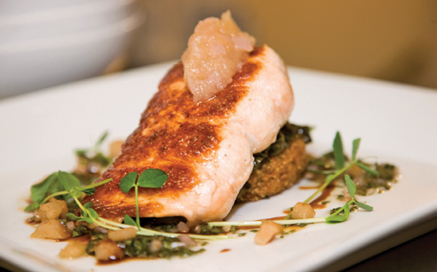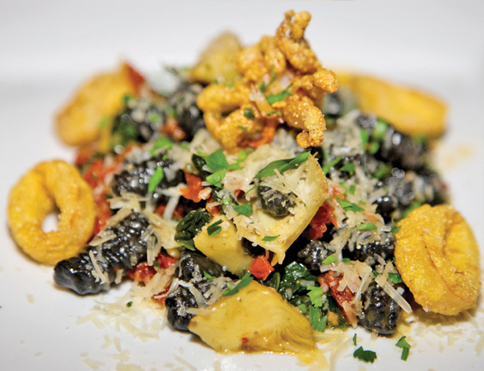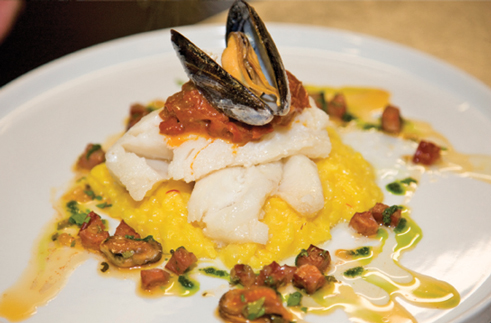 I can say they make no tall claims and plainly and simply dish out one more fantastic dish than the other, all made from scratch.
When I enquired later what they felt was an accomplishment since they opened their Bistro, the two chefs were unanimous in their opinion and this is what Michelle said, "It's fun to look at the evolution of our menu over the past two years and to recognise how far we've come and how much we've been able to learn. Perhaps the most astounding evolution is that of our house-cured charcuterie."
Yes, the amazing thing is Chinched Bistro makes all of its unique charcuterie – meats, sausages, terrines and paté's – in house, and it is all hand-crafted. It was Chef Shaun Hussy's big desire to do so and he succeeded. The majority of the cured items take upwards of 4-6 months to prepare. Some that I would like to list are: Ox Tail and Red Wine Terrine, Tongue Pastrami, Dried Cured Hanger Steak, Smoked Pork Belly, Pickled Ear Terrine, Andouille, Saucisson Sec, Jagerwhurst, Chorizo, Coppa, Mortadella, Duck Confit, Riellet, House Cured Foie Gras,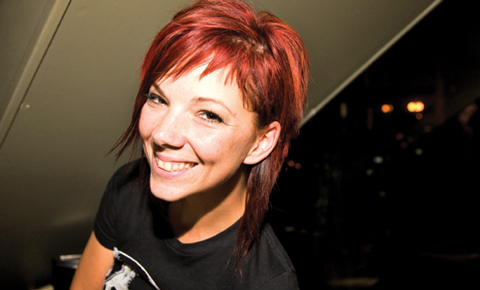 Prosciutto, Moose Country Pate, Moose and Venison Heart Sausage, Rabbit Country Paté.
The menu at Chinched is unique and the tab at the end of a meal, surprisingly super value. This coupled with the fact that they have tied up with the best people in the region for different needs (Seed to Spoon organic farm, Quidi Vidi for beer, Dialog wines, Newfoundland Chocolate Company for ingredients for desserts) and that is what had put Clinched rather firmly on the St. John's culinary map.
What also made me appreciate this bistro is the fact that every Thursday, the staff donates $5 to a charity. They also have piggy banks in each of their bathrooms, since inception, allowing guests to donate and the response seems to have blown the management. No doubt it's the effect of the good food that puts guests in such an expansive and generous mood.
---