Minoti Makim


Poona to Pune A Culinary Journey of 15 years
I have lived, loved and eaten well in Poona since the past 15 odd years. The first five were on fleeting holidays and the last 10 of actually living here. Poona's culinary journey has changed a lot in these 15 years, with many noteworthy milestones
The 'in' places have changed, the profiles of diners at these places have changed and while the overall dining and eating out experience has undergone a transformation most of the popular stalwarts remain in operation. Poona has its old favourites and most of them are still very popular. The menus have grown, the clientele has changed but Poona loves its 'specialities'.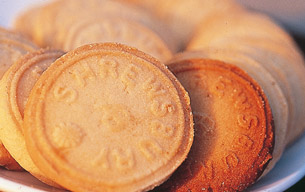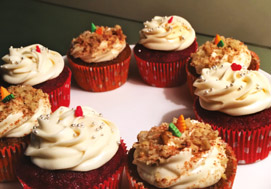 Bakeries
Poona is a city of bakeries and was famous for its amazing biscuits, breads, kharis, papdis, cheese straws, pita breads, etc, every person had their own favorite and most of these were family-owned bakeries with recipes handed down through the generations. The famous Kayani Bakery that still makes its products the way they did in 1955, Imperial Bakery, Royal Bakery, Golden Bakery, Poona Bakery, Diamond Bakery, with Cake n Counter and Baker´s Basket a little later in the ´80s, and dozens of others that are still thriving on their authentic recipes, ingredients and operate from their quaint little storefronts.
New bakeries on the block in the last 15 years include WS Bakers, Baker Street, Copper Chocs, Fiorente, London Muffin, Smitten Cupcakes and the artisanal bakery La Bouchée D'or to name a few. These are upscale bakeries/ boulangeries with fancier menus, more international ingredients and trendy menus.
Still a favourite: Shrewsbury biscuits from Kayani Bakery, Choco Walnut Cake from Cake n Counter.
New favourite: Custard buns at London Muffin, Chocolate Éclair at La Bouchée D'or, Red Velvet cupcake at Smitten Cupcakes.
Cafés and All Day Diners
The pace in Poona is slower, more leisurely and the ´hangout' space is a great concept. Cafés, restaurants or all day diners such as Vaishali, Marz-o-Rin and Prem's ran full houses throughout the day. College students, business professionals, hot dates and friends catching up love these venues now as they did then. The popularity of these three Poona landmarks lives on. Vaishali on Ferguson College Road is legendary, most students have bunked classes and learnt more from the waiters here, and almost everyone I asked had Vaishali at the tip of their tongue when it came to dining milestones in Poona. A regular South Indian restaurant in its menu and operation, this garden restaurant has a queue waiting even today. Prem's was a popular ashram hangout in Koregaon Park with its steaming tea and mix of Indian and Continental vegetarian snacks and main courses. The big change for Prem's is that it serves non vegetarian food now. People can be seen eating anything at any hour at this all day diner even today. Beautiful old trees, simple seating, unobtrusive but helpful staff and a great quality of food helps it stay popular. Marz-o-Rin on MG Road in Camp completes the triangle. It started as a takeaway sandwich and coffee shop and now does thriving business throughout the day. Parents and their children will agree on one thing: Marzo Sandwiches, as they were called. The fluffy, soft, freshly baked bread, the buttery delicious fillings washed down with chillers or thickshakes. They've moved with the times and added multigrain and whole wheat versions but Marz-o-Rin still rocks!
Still a favourite: Idli vada at Vaishali, Arrabiata Macaroni, Spinach Soup at Prem's, Chutney Cheese Sandwich at Marz-o-Rin.
New favourites: Onion Tomato Cheese Uttapam at Vaishali, Mutton Rogan Josh and Chicken Hariyali at Prem's and the Multigrain Egg Roll at Marz-o-Rin.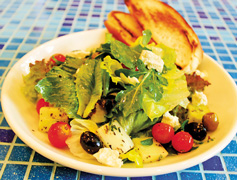 German Bakery
The original German Bakery was a bakery and a 'hangout' space rolled in one. It was the most interesting, friendly and delicious place to be. Memories of visiting earlier on while doing a course at FTII, and then again while my son was at nursery. Either with company or without, German Bakery was the place where you would never be bored. People watching, people joining you as all tables were communal seating or the friendly waiters entertaining you. Pets were welcome and there was a variety of interesting friendships – two-legged and four-legged. The food was simple, vegetarian, but healthy and fresh. Fresh fruit juices served chilled, yummy cheese sandwiches, burgers, hand-cut fries, salads, desserts and more. German Bakery post the blast has changed completely and the old- world charm of the European style wholegrain breads, cheese and eclectic desserts are missed, as is the rustic bamboo and wood feel of the original.
Still favourites: Sharp Cheddar grilled in Whole Wheat Bun, Apple+Beet+Carrot Juice, Greek Salad, The Veggie Burger.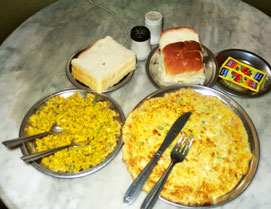 Breakfast Joints
Breakfast in Poona was always at Vaishali, Vohuman Café, Yezdan according to some 'original' Poona peeps. Surprisingly all of these still operate and are successful albeit with some change in clientele. The sinful cheese omelette at Vohuman with toast and slices of butter melting on it are a treat still served on chipped old plates and steaming hot tea in the little chai glasses. The newer breakfast venues that have come up in the last decade or so include Terttulia with its famed Eggs Benedict, fluffy omelettes and pancakes; 5-star hotels like Westin, Hyatt, Marriott have established their presence in the breakfast band with a large spread, Café 108, a health café does great breakfast specials like baked eggs and omelettes.
Still a favourite: Cheese Masala Omelette with Butter Toast at Vohuman Café, Sali Scrambled Eggs Double+Brun Pav Butter at Café Yezdan.
New favourites: Eggs Florentine on whole wheat bread at Terttulia, baked eggs with tomato+peppers and the Breakfast Smoothie at Café 108.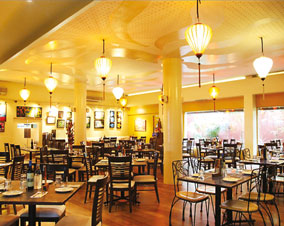 Cosmopolitan Restaurants
Poona's first few cosmopolitan restaurants with culinary themed menus and décor were homegrown brands in the past 15 years which include popular names like Malaka Spice, Chinese Room, Arthur's Theme, The Place, Zamu's, Kwality, Mad House Grill, La Pizzeria, etc. These are noteworthy as some of them started so small like Malaka – out of a garage/storefront in Lane 6, Koregaon Park and today has three outlets in Poona and expansion plans throughout the country. MasterChef Australia recognised the impact this tiny Pan-Asian restaurant had and hatted it. Arthur's Theme, its neighbour, was, at one point, the 'it' place and the continental fare served here worked well with foodies. La Pizzeria started the trend for Italian food in Poona and catered mostly to ashramites with its vegetarian fare. The recipes and cooks have spread and there are many copycats but the original and its branches rule. Mad House Grill was launched by an Iranian chef with the choicest meats and grills and that tradition continues today in the hands of the beautiful Mayuri Singh. The Place was literally 'the' place for sizzlers, Chinese Room served the best Indian style Chinese food, Kwality was synonymous with great Punjabi food and Zamu's had amazing specials like Batter-fried Mushrooms with Garlic Mayo. Most of these were family owned and started small, with personalised service and friendly staff. Over the years the brands have grown, some expanding to other cities but that familiar, friendly feel, the favourites on the menus and that Poona charm are still present in some, and painfully missing in others.
Still a favourite: Mad House Grill, La Pizzeria.
New (old) favourites: Malaka Street at Phoenix Marketcity and Malaka Spice in Baner.
Biryanis
Biryanis and burgers were Poona catchphrases for a feast when we used to visit. Long sessions with food ordered or visits to these simple places with extensive menus and 'must have' specialities. Sometimes we would have different delicacies from different places all at one groaning table.
George's, Dorabjee's, Diamond Queen, Blue Nile, Badshah, Good Luck Café were a few on that list. The steaming hot biryani with a difference in flavour, texture, cuts of meat and seasoning, all clamoured for attention. Accompaniments such as butter chicken, mutton kebabs, Chicken Farcha, etc, were added on for good measure. Raspberry soda, ice-cream floats and faloodas washed down the sinful feast.
Still a favourite: George's chicken biryani, mutton biryani at Blue Nile, kheema at Dorabjees, chicken cutlets at Diamond Queen.
New favourites: Dum Pukht Salmon Chimichurri at Stone Water Grill, chicken biryani at The Flying Saucer Sky Bar, chicken biryani at Copper Chimney.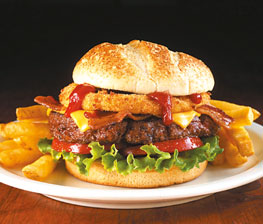 Burgers
Burgers were best at Burger King. Hite Bar and Jaws Burgers served the best burgers in town, chicken patties, generous dollops of mayonnaise and secret seasoning that outdid any of the chains that have invaded the city now. Burger King is now just Burger as they had to drop the King! Jaws Burgers shut down. Hard Rock Café, The Brooklyn Shuffle and Terttulia are the newer places that cater to gourmet burger lovers.
Still a favourite: Jumbo Chicken Burger and Sausage Surprise at Burger (King), Mutton Burger with Egg and Cheese at Hite Bar.
New favourites: The Juicy Lucy at The Brooklyn Shuffle, The Legendary Burger at Hard Rock Café and TT's Quarter Pounder at Terttulia.
Thalis
The thali has and will always be an important part of any Indian culinary journey. Poona has many Maharashtrian thali places like Shreyas, Shabri, Krishna Dining House; Sapna for Gujarati thali, Tiranga for non veg thalis. Newer entrants are Rajdhani and Mayur Thali, which deliver the Gujarati and Rajasthani fare in abundance and fish curry rice for all those seafood cravings.
Still a favourite: Krishna Dining House.
New favourites: Mayur and fish curry rice.
Cold Drink Houses
Ever had a thick milkshake with ice-cream and sometimes dried fruits and nuts mixed in it? In Poona, this drink is called the mastani and is a local favourite. Gujjar Cold Drink House, Sujata Mastani both claim some expertise on this yummy drink, which is now on a lot of menus across town.
Still a favourite: Mango Mastani at Sujata Mastani.
New favourites: Chocolate Nut Mastani at Gujjar Cold Drink House.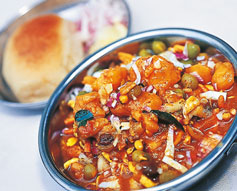 Misal Pav
Another Poona favourite is misal pav. Yummy misal cooked in spices, a spicy watery kutt, topped with crunchy farsan sprinkled generously and garnished with chopped onions, coriander and freshly squeezed lemon juice. This is a great snack, meal or comfort food. Steaming hot with soft fresh pav, it is truly a treat. Poona's version is supposed to be less spicy than its Kolhapuri cousin, but this dish tends to have a super high spice metre. Specialists in this are Bedekar Misal, Nevale Misal, Bhagwati, Shamsunder and Vihar.
Some of these places are more than 45 years old.
Still a favourite: Bedekar and Shamsunder.
New favourite: Jhopdi near Alpana Talkies.
Microbreweries
Beer and afternoon siesta are a great combination in Poona's 'champagne' weather. With regulations allowing microbreweries to brew their own varieties of beer, Poona has seen a number of microbreweries spring up starting with The First Brewhouse at The Corinthians club and slowly spreading through the city with secret brews and ingredients heating the competition up. Independence Brewing Company, TJ's Brew Works, Effngut Brewerkz, Flamobos Brewpub have taken the place of the erstwhile 'beer' bars with their sensitive pricelines, easy ambience and strange brews.
Still a favourite: Kingfisher beer still has a great market share.
New favourite: Independence Brewing Company´s Biere Blanche.
Nightclubs/Bars
The nightlife in Poona has undergone a complete change, from a handful of bars/nightclubs mostly in the then popular 5-stars to so many new and exciting places to choose from. Polaris- Blue Diamond, Totem Pole- Holiday Inn and Scream – Le Meridien along with the 'rave' parties at farms and riverside venues were the 'happening' party places. Guest-lists, memberships and exclusivity were just beginning. Thousand Oaks, Black Cadillac, Ten Downing Street ruled the roost in standalone bars. Today Poona has so many standalone and 5-star party places.
High Spirits, Shisha, Swig, Curve, The Blue Frog, Euriska, The Ship, Terttulia, Hoppipola, Rock Salt, Jimmy Hu, WTF, The Flying Saucer to name a few standalone places that keep the city rocking through the week and weekends. Live gigs, artists, performances, DJs, etc, are great attractions at these city hot spots. The Pasha, Miami, Kue Bar, Fish Bowl, [email protected], are some of the more happening nightclubs/bars at the newer, more popular 5-star hotels.
Still a favourite: High Spirits (almost 10 years old), Shisha Café.
New favourites: Euriska, The Blue Frog, The Ship, Terttulia.
Still a favourite: Scream at Le Meridien.
New favourites: Kue Bar at The Westin.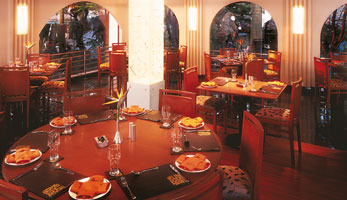 Hotel Chains
One of the biggest changes in the Poona dining scene has been the entry of the big hotel chains over the past seven years or so – three Marriotts, The Westin, three Hyatts, Four Points by Sheraton, The Radisson, etc. This in a city which earlier boasted of The Blue Diamond, The Pride, Aurora Towers, Central Park, Sagar Plaza, Sundarbans, The Holiday Inn and so many other smaller, what would be called boutique properties. The bigger hotels boast of several different themed restaurants each, with an array of offerings, food festivals and have upped the ante for standalone restaurants as well.
Still a favourite: Kheema pav at The Taj Blue Diamond, especially post midnight!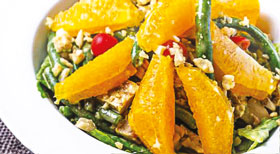 Brunch
Brunch is a relatively new concept in Poona, with a new one being launched every other week. High Spirits does a Sunday cook out with lots of grills and meats since many years. Popular brunches are the Crossover Brunch at The Hyatt Regency Pune, the Prego and Seasonal Tastes brunch at The Westin, the popular O Hotel poolside brunch, The Bottomless Brunch at Olive, Sunday grills at Krustys, Sunday brunch at The Little Door... Groaning spreads with each one out doing the other, cold and hot courses, live counters, table service and competitive prices. Sunday never looked this good.
Still a favourite: High cookout at High Spirits.
New favourites: Sunday Grills at Krustys – great prices + piping hot service to the table for mains.
The Little Door Sunday Brunch – great cocktails with a fun, party vibe.
Prego + Seasonal Tastes brunch: The kiddie corner is very entertaining, cold cuts + cheese selection is excellent, and there are lots of live counters.
The Blue Frog: An awesome spread + music.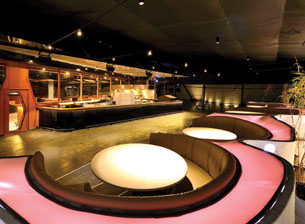 From Bombay to Poona
Over the past 15 years many Bombay favourites have travelled the expressway and found a niche in Poona's growing culinary map. One of the first was Mainland China and it still has a full house most weekends and nights. Stone Water Grill, Oh! Calcutta, Olive Bistro, WTF, Moshes, Royal China, Copper Chimney, Out of the Blue, Rajdhani, Cream Centre, TGIF, Love Sugar Dough, Kobe, Yoko, The Blue Frog, The Little Door are just some of the others. Poona has loved these imports and their number is growing as Bombay brands see that though Poona is a different market, it´s worth the travel!
Still a favourite: Mainland China, Yoko's.
New favourites: Royal China, The Blue Frog, The Little Door.
Popular places people loved visiting that shut down include Swiss Cheese Garden, Bina's Golconda, Jazz Garden, Farshids, German Bakery, Indyaki, Hot Breads, French Café. All of these are missed and their names evoke nostalgia of a time gone by.
There have also been many new additions to Poona's homegrown brands over the last few years including La Plaisir, Krustys, Margherita Deck, The Flour Works, Marrakesh, Terttulia, Salt, the Brooklyn Shuffle, Incognito, Polka Dots etc. The idea for these began in Poona and the brand, menu and identity were created for the changing Poona audience. Noteworthy are the small boutique eateries that have sprung up over the city started by expats from all over the world such as Thai House, Café Maroo (Korean), Smiley House (Vietnamese), Seven
( Middle Eastern).
All of these add to the culinary scene in the city, making it more vibrant and giving people more to explore.