Green Dreams
The ultimate joy is being able to grow what you eat. And that is exactly how Rupal Tejani began four years ago. The mistress of Hotel Dreamland, a landmark in Mahabaleshwar, went from a kitchen patch to a full- fledged vegetable garden to cultivating acres of land growing quality produce. Dream Farm, that's what she calls it. Meet the glamourous farmer
Text and photographs: Farzana Contractor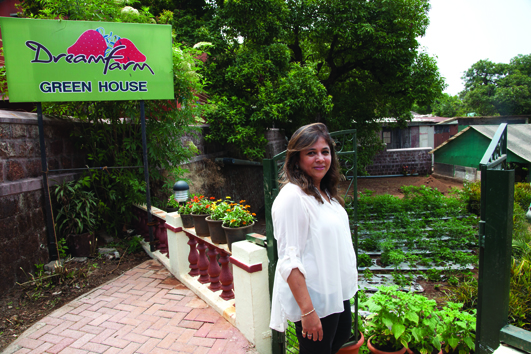 I have noticed time and again, when people passionate enough about a particular cause give in to their natural instincts, they simply succeed in that given pursuit. And what's more, end up enjoying life to the hilt.
Likewise, Rupal Tejani. A glamorous farmer who has gone down on her knees and got her hands well and truly muddied. She grows wonderful fruits and veggies, both local and exotic stuff, as naturally as possible and is mighty pleased with the results. Little wonder, she is smiling from ear to ear.
Well, to begin with, Rupal, a Bombay girl, had the good fortune of receiving a marriage proposal from a family in Mahabaleshwar, steeped in the hospitality business, the Tejanis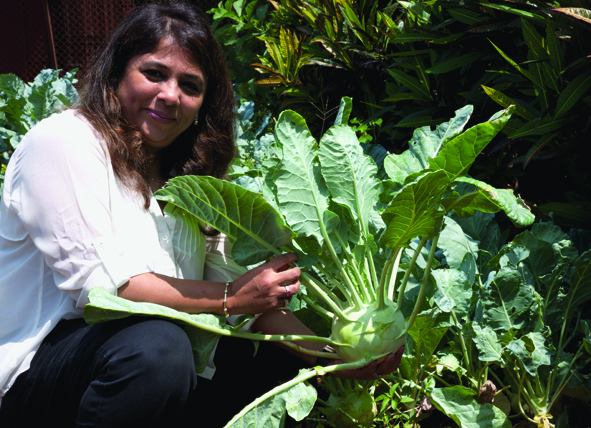 of Hotel Dreamland, an institution being run by the family since 1943. She married young, shifted base 25 years ago to the charming hill station and got involved in different aspects of running the hotel, along with her most supportive husband, Manish and his family. Dad, Ramniklal, all of 82 and totally hands-on and brother, Kailesh.
And now with Rupal and Manish's son, Karan, who has returned gung-ho, from the US, armed with a degree in Hotel Management from Cornell University, the fourth generation is all set to pitch in resources. Karan has already got the spa in place!
Dreamland Hotel located as centrally as it is, at one end of the local market, two minutes from the BP petrol pump, is a popular destination of Mahabaleshwar. "We call it the heart of Mahabaleshwar," quips Rupal. I'd even call it the soul, for right there in the middle of the bazaar, this 22-acre property has any number of ancient, huge trees, none of which have gone under the axe, regardless of any development activity over the 72 years.
The rooms and suites are situated in three blocks, two heritage and one modern, set amidst eight acres, giving it the privacy and space that holiday makers so desire. The vast space is what gave Rupal the impetus to start what she called Dream Farm.
But the germ of the idea to develop her very own vegetable patch came from her job at the hotel. Apart from being the face of Dreamland, interacting with guests, etcetera, her role was also that of a purchase manager. Rupal was very into sourcing products for the F&B requirements of the hotel. As her knowledge and confidence both grew, she decided they would start to produce all the greens they required in their hotel kitchen or at least whatever was possible.
And so they earmarked six acres within the property for Dream Farm (leaving the rest forested for guests to go on nature trails), and got down to the business of demarcating fields and plots and beds, to grow stuff, as organically as possible.
"Soon after that," says Rupal, "I asked myself a question, 'What is it, that visitors to this hill station take back with them, apart from the famous, chanas?'" Strawberries, of course! And that is what Rupal then started to grow. The most luscious strawberries!.
"That was really a dream coming true," says Rupal exuberantly. "I always, always wanted to grow things and now it was actually happening!" This was about four years ago.
Today, with a good team of local workers and seasoned, old stalwarts of Mahabaleshwar in the agri-world, Rupal successfully grows delightful veggies which are truly a feast for the eyes, leave aside the senses! Green leafy spinach, lettuce and other salad leaves of every shape and hue, crunchy string beans, delicate lady fingers, a variety of tomatoes, English carrots, red radish, golden corn, broccoli.
What started off as an endeavour to enhance the Dreamland kitchen, soon turned into a full-blown, full-grown business. For example, at first, the strawberries were being happily bought over by guests at the hotel, later the surplus was being picked up by establishments in and around Mahabaleshwar. Soon Dream Farm produce found its way into the Poona market and it is now available at gourmet stores in Poona and Bombay.
"Once we started supplying to Foodhall, the logistics changed dynamically!" says Rupal. "I mean, when you start working with the Future Group company you have to deliver! Not only do the supplies have to be consistent, but delivery has to be all year round, there has to be continuity." And therefore, she has, since two years, cultivated about 15 acres of land in Wai, which is at the foot of the twin hill stations Panchgani and Mahabaleshwar. Wai has fertile soil and warmer climate and is most suitable to produce different things in different seasons.

So involved is Rupal she then went on to discuss crop rotation and the 'periodic table', about maintaining the NPK (Nitrogen, Phosphorous and Potassium) ratio in the soil and other technical stuff that she has picked up over these past few years.
Rupal's science degree – she graduated in Microbiology and Biochemistry – may have surely helped her in many ways, as all education does, but her erstwhile ambition of starting a pathological, diagnostic centre had certainly taken a complete U-turn with her now becoming a full-time farmer!
"True," she says, "now there is no other calling for me. I am happy doing this and am totally consumed by making Dream Farm a bigger success. I wanted to produce good products, be different and so I have put good organic practices in place. It is impossible to be 100% but we try pretty hard. You just have to taste our strawberries to know what I mean."
Rupal is now growing super foods like kale, also different herbs such as basil, oregano, lemon balm and citrus which they dehydrate and bottle, in-house.
The process is on continuously, at Dream Farm. Whether it be adding new machines to dry herbs, mulch or plough. Or keep trying new methods to grow, the R&D goes on. "Really, at any given time I have four or five products under review. Like right now, we are working on growing quinoa, sweet potato, avocado and mangosteen." Needless to add, this amazing woman brings seeds and saplings from all over the world!

Her holidays are now business-cum- pleasure. She travels abroad twice a year. She goes where she can learn about agriculture, also, flowers and trees. Says Rupal, "I have always been an avid traveller. And long before I started cultivating seriously I used to buy seeds from various countries and return home to plant them here. The results of all these experiments in Mahabaleshwar were so good I used to sing and dance with happiness. Now I go for interesting flower shows and what not. Like the annual one in Netherlands, called Floriade. It's exhilarating. There is so much to learn. It's spread over acres and there are different sections, unique concepts. Like there will be a special dry flower section, another for furniture all made from natural materials, like stone, wood… It's something else!" Another memorable experience for her was at Cesky Krumlov, a tiny and quaint village just outside Prague which has ancient walls still standing from the 12th century standing in parts of the village. In this UNESCO heritage site Rupal studied the ancient and traditional techniques of farming and growing produce. In the same vein, she loves travelling to Europe and going on wine and cheese trails.
But in addition to seeds and plants, she also brings back interesting recipes for the restaurant at the Dreamland Hotel. The dining hall continues to be her pet project, too, for here is where she honed her skills. "That is true, this is where it all started. And I am happy to say that we have maintained our food quality at the hotel." She needn't tell me that. I know. I have been a regular at the dining hall of Dreamland since over two decades. I do go to Panchgani a fair number of times in any given year and whenever I feel like eating a decadent Gujarati vegetarian thali, I land up here! I don't know from where they source their pure ghee, but it drives me insane. I pour copious amounts of it on my khichdi-kadi and then drive back to Panchagni, 19 kms away and sleep! Thali is only served at lunch time. For dinner it is always a buffet, Indian, Continental, Chinese, but that's not for me.
But yes, they do have regulars who love all the eclectic fare that the cooks dish out. The many bungalow owners who land up from Poona and Bombay for weekends can't do without what the Parsi clientele has now named Vanilla Mousse. "It's really sweet," says Rupal, not about the mousse, but the Parsis, "how our Parsi customers love this concoction that we make. Basically it's a strawberry shrikand!" she laughs.
Well, in conclusion, all I can say is Rupal is a lucky girl. To have all her dreams unfold, albeit as a result of her own effort, is one thing, but to be living in Mahabaleshwar in that pristine surrounding is quite another!
In her heart she must thank the late Premji Tejani, her great grandfather-in-law who actually bought this property in 1943. It was a bungalow called La Rouse being run as a Bed & Breakfast by a German lady. Nobody really bought properties those days, they only rented it. So pray, why did Mr Premji Tejani do so? Because Ms German had put out a sign which read, "No Dogs and Indians allowed."
For more information:
Visit www.hoteldreamland.com