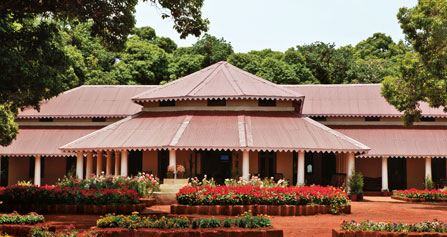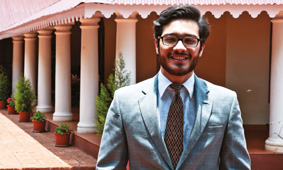 Charming Glenogle
It´s a place straight out of the nostalgic past, the British Raj. Glenogle is a bungalow where you can spend a wonderful time, surrounded by peace and quiet, a tranquility found only in such inspiring natural surroundings. A true haven
Text & Photographs: Farzana Contractor
Mahabaleshwar, the evergreen hill station, has always been a favourite with those who enjoy the sanctity of what nature offers in terms of peace, quiet and clean air in the midst of ancient trees and breeze that simply lulls your senses into spiritual bliss.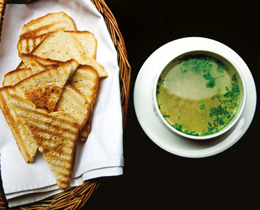 When I say this hill station has always been a favourite, I mean since way before modern times, when arriving in Mahabaleshwar now is merely a question of a few hours. Just over four from Bombay, two from Poona and seven from Goa, places from where most visitors arrive. Time was when there was no Bombay Poona Expressway and neither did broad roads exist. When we Bombay people chugged up the 40 km-Mahad Ghat, in Fiats and Ambassadors, or the 19 kms of the Wai Ghat if we came driving through the entire Poona city. The drive could take seven or eight hours! However, even in those days this was the preferred destination of the true nature lovers, though the hill stations of Lonavala and Khandala were much closer.
Mahabaleshwar has a charm all of its own, which none others can match, not even Panchgani which I am personally more attached to.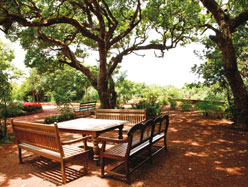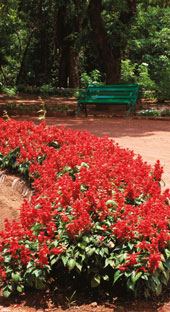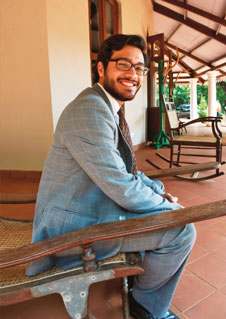 First the approach; you can either reach here directly from the old road to Goa, turning off at Poladpur and climbing up the Mahad Ghat, or you can come via the Expressway on the road to Satara and Kolhapur, turning off at Wai, passing through Panchgani and then driving past the Venna Lake, which the political babus have made a complete mess of. The concretisation around the charming old lake is hideous and every time I pass from here, I lament at the wonderful memories of the open space we used to enjoy when we went 'boating'.
Fortunately for us, at the turn of the previous century, there were beautiful minds at work. Sensitive, sensible people who went about creating a haven millions of people would one day appreciate and enjoy. We owe the legacy of Mahabaleshwar to the Britishers. It was they who carved out this niche in the Sahyadri mountains, building for themselves a summer capital, a reprieve for themselves from the heat and dust of the Bombay province during the British Raj.
They planted a whole forest and they built beautiful homes within this forest.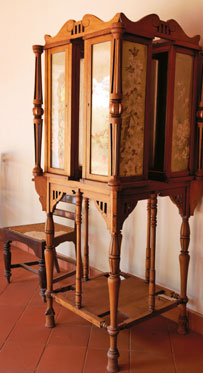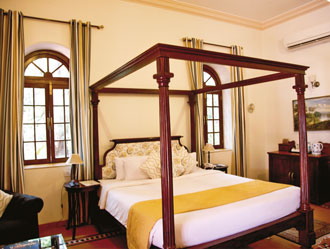 Today many of these homes still stand, tall and glorious, simple architectural marvels which delight the soul. One such is Glenogle, a beautiful private bungalow, happily for tourists, now converted into an exclusive homestay.
By real definition, Glenogle would not classify as homestay, but then one can't call it a resort or a hotel either. Truly speaking with just four bedrooms, all massive ones, tastefully done, too, it feels like you have been invited by some close friends to spend a few nights at their personal property.
But before I begin to describe the property, a little history. For, to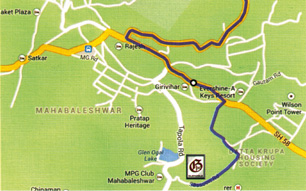 me, that's what adds to the allure. The Patels, a Parsi family from Bombay, own Glenogle today, but its previous resident was a member from
the very distinguished family tree of the great Sassoons, who contributed immensely to Bombay's well-being, from the mid 1800s to the mid 1900s.
It was Sir Jacob Elias Sassoon, a descendent of David Sassoon (yes, the same, whose name adorns the beautiful David Sassoon Library at Kala Ghoda) to who Glenogle belonged and who no doubt enjoyed many a beautiful summer at his holiday home in Mahabaleshwar.
The Sassoon baronetcy, of Bombay, was created on February 9, 1909 especially for Sir Jacob Elias Sassoon who was the nephew of Sir Albert Sasson, who was childless.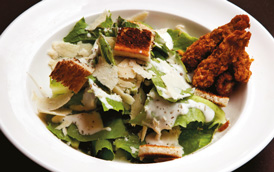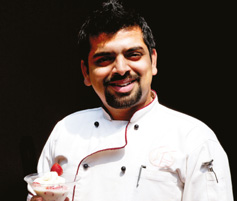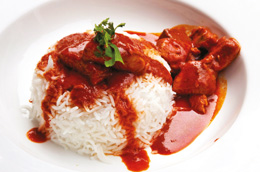 When Sir Jacob did pass away in 1916, this is what was announced in the London papers. "The death is announced in London at the age of 72 years of Sir Jacob Elias Sassoon, first baronet. He established a Central College of Science in Bombay, and built the first mill there. He afterwards constructed several other mills. He was chief partner in the firm of E D Sassoon Hnd Co., merchants and bankers, of India, London, and China. He leaves a widow, two sons, and two daughters. He is succeeded in the baronetcy by his brother, now Sir Edward Sassoon."
Well, apart from being an Indian mill-owner, merchant, and banker, he was also a philanthropist. He built a synagogue and opened a Hebrew and English school for Jewish children at Fort, Bombay. He was the proprietor of the E D Sassoon Mills, the Alexandra Mills, the E D Sassoon Dye Works, and the owner of the Jacob Sassoon Mills, one of the largest establishments of the kind in India. In 1900, he built a house in Colaba, to be utilised for the use of the poor of his community, the Jews of Bombay. He had branches of his business houses at Calcutta, Hong Kong, Shanghai, Kobé, London and Manchester.
Impressive, surely. And it's his bungalow, that is now available to you.
Glenogle, more than a 100 years old is a Victorian house. Dilip Shinde of Shanti Constructions and architect Dhruti Vaidya of Dhruti Vaidya Design Studio, did a very efficient job in bringing it back to its past glory. Elegantly furnished and wonderfully restored, Glenogle has pleasing antiques, charming furniture. The beds, all four- poster and canopied, French-polished. Each room has a faux fireplace, meaning not log-wooded, but electrically run. Modern comforts with old-world feel. You will not be at a loss for anything, because you also have access to a high speed, wireless, internet connection. The young, or the those who have a need to be perpetually connected, can heave a sigh of relief.
Though I would recommend that you leave your cell phone in the bedroom and spend a major amount of time idling away in the wraparound verandah of Glenogle where there are any number of those lovely Parsi reclining chairs, like the chaise longue, where you could choose to doze off, legs spread out, supported by the long rests that you pull out from under the arm rest. A bit obscene the position, but very relaxing. If you went to the Royal Bombay Yacht Club, you would find many a member napping so, post lunch. Sylvester da Cunha, the great ad man was one such, catching 40 winks every afternoon, before trotting of to his office, down Colaba Causeway.
Well, apart from the two bedrooms which extend on either side of the dining and living rooms, each side also has a children's room, so that is a nice feature for couples with young children. And while one would tend to spend plenty of time in the open but covered verandahs, there is also the option of spending time al fresco under the large trees where a beautiful wooden table with old benches is set out. Here you could play cards or other board games.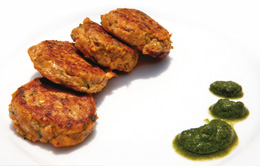 While the indoors are very comfortable and cozy, I feel the main charm of the property lies in its many acres of land surrounding it. Imagine the luxury of having all that privacy to wander around pathways leading into little trails of forestland. And if you are a family which has booked all four rooms, the place is yours to do what you want. Eat here, or sleep there, play, lie in a hammock, lie in the sun, the shade… eat now or later. Indulge in whatever fantasy you fancy…
The food, ah the food. Chef Shekhar Virmani is waiting to serve you. He hopes he can pamper you with all that he is capable of producing. The lunch I ate with the dashing young Neville Patel, whose baby Glenogle is. Neville, born and brought up in Bombay is a Cathedral and John Connon ´product´ who went away subsequently to Switzwerland to study at the prestigious Les Roches International School of Hotel Management. Here he spent, like he says, the best four years of his life meeting and working with people from around the world. As part of the diploma he worked with different hotels across the globe, in the F&B and Rooms Division department honing his skills.
It was after he returned thus armed with with all the necessary qualifications that he undertook the project to restore Glenogle, his family property. He now oversees the operations of the bungalow which includes, food and beverage, marketing, bookings, finance and HR requirements. He is working hard to establish the brand for he dreams of adding more rooms, set in the wooded areas of the property. All this in a slow and sustainable manner. Can only wish him goodluck, the more rooms, the merrier.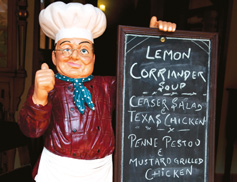 But coming back to the food, the set menu is pretty interesting. Divided into three; Western, Indian and BBQ. You get to choose two salads, two starters and two main courses in the Indian and the Western. For BBQ you choose two salad, six starters and two main courses. For example in Western Salads you make a choice of two from Caesar, Greek, Russian, Potato, Mix Greens or Beans and Pepper. That's a good range. Or take the Indian Main Course, which lists; paneer makhani, dal makhani, Paneer Kadai, Achari Subz Masala, Jaituni Subz Curry, Aloo Simla Mirch, Baigan Bharta, Aloo Tamatar Rassa, Bharleli Vangi, Palak Paneer, Dum Bharwan Mirch Anari and you go on to the Non Veg, murgh makhani, Andhra Fish Curry, Mutton Rogan Josh, Gosht Saagwala, Chicken Masala, Murgh do Pyaza, and what I liked best, Chicken Curry Homestyle and also Double Tadkewali Dal in the Veg.

This is just to give you an idea of the menu when I dined there. I am sure they change things around, but the repertoire will essentially remain the same. So that's nice, beacause when you go somewhere for some rest and relaxation, food plays a great role and it has to be more than good.

Luckily the kitchen at Glenogle does not disappoint.

When you have 14 service staff at hand, running around to look after eight guests, you can judge the standard for yourself.

Book for this summer, before it is too late.

Glenogle Ph: 02168 270187 Visit: www.glenogle.in