Fly Qatar, Fly 5-Star
There is a reason why this airline is making waves in the world today. On a recent flight to Argentina we discover, apart from the super service, it's the exquisite food that places Qatar Airways at the top – 35,000 feet above, to be precise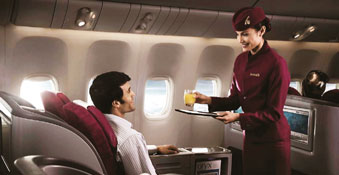 'It's not the destination that matters but the journey'. The well-heeled are well familiar with the adage, thus making the most of their travels, savouring every bit of the experience. Qatar Airways believes in creating the perfect atmosphere to do the same, of which a sumptuous array plays a pivotal role. The Qatar Airways World Class Culinary Menu is curated and served on selected flights, on the airline's Boeing 787 Dreamliner, for discerning business and first class passengers with a taste for the good life.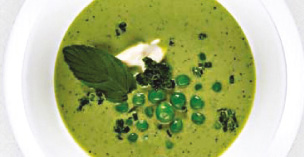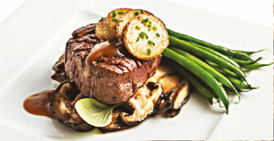 With an incredible line-up of globally renowned chefs on its unrivalled service, Qatar aims to change the scene of inflight dining completely. Chefs Ramzi Choueiri, Vineet Bhatia, Tom Aikens and Nobu Matsuhisa come together to offer a platter that is veritable with region-specific menus, a signature flavour from each. As the CEO of Qatar Airways rightly stated, "The airline's collaboration with such global icons and gastronomic pioneers further proves Qatar Airways' commitment to redefining the passenger experience by offering a truly 5-star service." Safe to say his friendship with the eponymous Nobu Matsuhisa seems to have given birth to the idea of the project kickstarted in 2012, to bring four renowned figures with restaurants in five different continents together.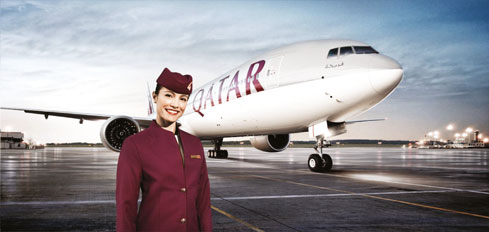 Here's a glimpse of what the pioneers have to offer you, the high-flying passenger, and what we reveled in the most: The palate teaser is in the Fish Kibbeh, coming from Lebanese influences of Chef Ramzi. To commence our meal, we opted for the Seasonal Salad with sundried tomatoes and sautéed mushrooms, from Chef Tom's British culinary flare. A Mediterranean Three Bean Soup is also a crowd-pleaser, it appeared. Awaiting the mains most eagerly, the Oven-roasted Mustard and Dill Salmon cathces the eye first, served with dill pine nut rice, yellow dal with shredded cucumber and carrot salad – a contemporary mélange by none other than Chef Vineet – India's only 2-star Michelin chef. And vegetarians will enjoy the Stuffed Spinach Crêpes with Mushroom, Cheese and Tomato sauce. A bread basket comes our way, too, with an assortment of sourdough, onion, German laugen and wholemeal roll. Business class passengers have an exclusive wine list to choose from – champagnes, reds, whites, cocktails, spirits and liqueurs, too. Of course, we leave the best for last, so sweet temptations are in the Banana & Caramel Slice and seasonal fresh fruits, if you prefer. However, we rue the absence of chocolate as what is a selection without a gooey chocolate dessert!! And if you are a cheese lover, then you have no reason to complain for the platter is presented – mature Cheddar, Fourme d'ambert and Saint Albray with Prune Cake Wedge and apricots. Unwind with a cuppa from Earl Grey to jasmine or a Joe from cappuccino to macchiato. With that, we sure were set for the long haul!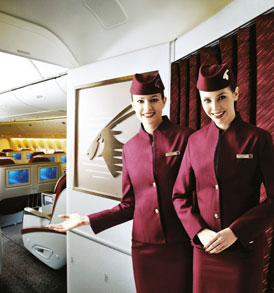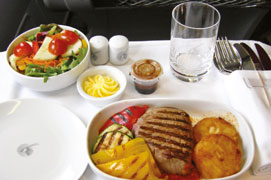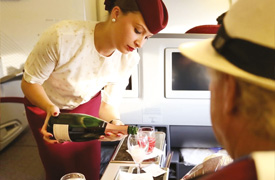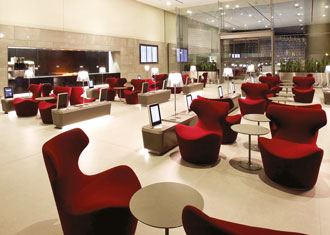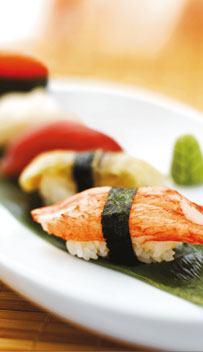 It is a challenge, the part-cooking and re-heating aspect of inflight catering, and to serve the food hot and fresh. Which is why the team of professionals – chefs that have gained a distinguished list of accolades including multiple Michelin-star winners, multi-award winning authors, TV broadcasters, successful restaurateurs and even a Guinness Book of World Records holder – knew the tough task that lay ahead, yet took it up as a challenge and a chance to work together; some among them friends, as we are told. Shares Chef Tom, the youngest British chef ever to be awarded two Michelin stars, "We are a very strong group and offer a very different take on food from around the world. Together we are going to be unbeatable. I've known all of them for a number of years." While the celebrated Chef Nobu – with 22 signature restaurants from Dallas to Dubai, and Qatar, too, said of the airlines, "I was impressed by the service on Qatar Airways. For my customers, it's always about great food and great service. So now my meals include a plane ticket."
FYI, in case you're wondering who the Guinness Record holder is... none other than Chef Ramzi for the largest falafel serving weighing more than 5173 kgs.