Say Tomato, Say Potato
Tomatoes and potatoes are the two most common vegetables used across cuisines. Dr Nirmala Shetty shows you how they can be utilised to the max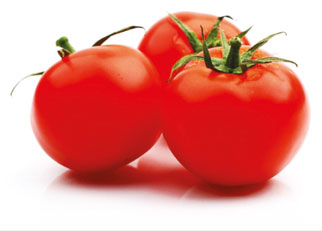 Tomatoes hold the goodness of Vitamins A, B1, B2, B3, B5, B6, K, along with magnesium, iron and phosphorous. Tomato juice is food for the skin. A natural astringent, it helps treat and prevent acne, shrinks open pores and regulates the secretion of sebum. Moreover, it fades tanning and fights skin discoloration. Tomato juice is full of antioxidants, so it helps combat free radicals in the body. Tomato is food for the hair, too, adding sheen to lifeless hair. It also helps fight off scalp itchiness and dandruff. Merely apply fresh tomato juice to your scalp and hair, and let it soak for 10 minutes. After a hair bath, your tresses will glow!
For blackheads:
Grind 1 tsp fine quality rice and powder it. Mix 1 tsp almond powder and 1 tsp tomato juice to it.
Mix well and apply on blackheads regularly
To reduce pigmentation:
Mix 2 tsp tomato paste, 2 tsp cucumber paste, 2 tsp almond paste and 2 tsp carrot paste with 1 tsp almond oil. Apply this concoction 2 to 3 times repeatedly on pigmented areas. Wash off with cold water.
Potatoes carry merits that cannot be understated. With vitamins A, C, B, phosphorus, calcium, iron, potassium, fibre and protein, this vegetable is an all-in-one exfoliant, healer, soother and brightener.
Potatoes help reduce burn scars and pigmentation. They work as skin lighteners and brighteners. Simply grind peeled potatoes, apply the blend to the face, then wash it off, to get rid of spots and freckles. Keep cotton balls dipped in potato juice to reduce dark circles and under-eye puffiness.
Potatoes gently exfoliate, help stimulate cell renewal, and revitalise skin. Not surprisingly, potatoes are said to fight wrinkles, too.
The potassium in them, in the meantime, promotes healing. Potatoes consequently, help treat sunburnt skin. Merely applying cold potato slices on the damaged areas cools and restores.
It is better to cook potatoes in their jackets as this will retain their valuable properties. Raw potato juice is excellent in the treatment of scurvy, rheumatism and other digestive disorders.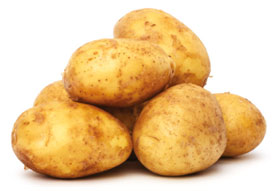 To reduce scars:
• 1 potato
• juice of 1 lime
• 1 cucumber
• 1 cup almond powder
• 1 cup rosewater
Peel, cut and grind the potato with cucumber and almond powder, to get a paste. Add lime juice and mix. Apply the paste in thick swabs over scars and pigmented areas. After 15 minutes, wash off with cool rosewater.
For burns:
Because of its cleansing properties it is also useful in clearing marks due to burns.
• 1/4 cup aloe vera
• 1 cup potato slices.
Grind both together and extract juice. Apply juice on burn marks daily. However this juice should be made fresh and not stored.
To reduce pigmentation:
• 1 tsp oatmeal powder
• 1 tsp almond powder
• 2-3 tsp potato juice.
Mix ingredients and apply on skin. Wash after 5 minutes with some more potato juice and then splash cold water.
For eye treatment:
Raw potato juice is also helpful in reducing puffiness and dark eye circles. Grated potato should be applied over eyes for 5 minutes immediately on waking up.
Note: For all external applications, potato juice should be grated or ground and used immediately. It should not be stored.