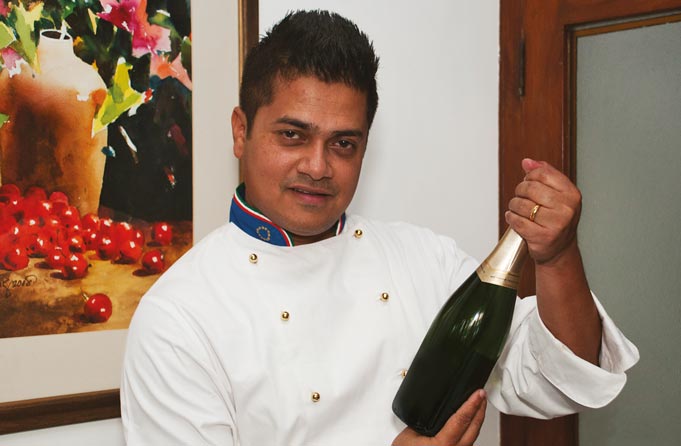 The Style Chef
The 'style chef', as he is often called after his television debut, Chef Shailendra Kekade, with his trademark ponytail, energetic persona and wicked grin has 25 years experience in the food industry working in the UK, USA and Italy before finding himself back in his home city, Poona. Chef Shailendra is the Executive Chef & General Manager at Stone Water Grill, an Impresario Hospitality venture. He has been with this popular European fine dining restaurant since pre opening days.
Stone Water Grill was Poona's first introduction to the fine-dine concept and Chef Shailendra has been instrumental in setting up and running the place since. A picturesque setting by the Mula Mutha river, elegant décor and some amazing culinary experiences are all part of the magic.
Most chefs begin their culinary adventures at home, memories of his older sister making dal, the fragrance of the tarka is a strong childhood memory and one that kept him running to the kitchen for a quick taste. Chef's love for food blossomed over a period of time and working with some very talented chefs in India, and internationally, honed this further. Stints with restaurants like the Café Royale, The Oberoi, Mumbai and some of America's finest kitchens amalgamated for him into "a simple approach, combining fresh ingredients and a light, uncomplicated touch, nurturing his appetite for foods' purest flavours," in his own words.
Chef Shailendra has had diverse, challenging and inspiring experiences working with some of the finest chefs including Chef Gerd Hertel, Chef Peter Haselberger and Chef Rico Oprandi, he has travelled and worked across the globe, in restaurants and cruise lines, learning a lot and earning accolades such as the revered Chef le Bistro for three consecutive years on the Norwegian Cruise Line.
A few of his favourite meals have been the Charred King Prawns at El Cellar De Can Roca, Spain; the Black Truffle Explosion at Alinea, Chicago, as well as the Edible Stones at Mugaritz, Errenteria, Spain.
The plates that he prepares have artistry about them and reflect his strong skills in styling and plating food innovatively. He has a reputation as a recognised food stylist. You can see this in most of the dishes on Stone Water Grill's menu. Favourites are Bacon Wrapped Quail, filet mignon, Caramelised Bacon Ice- Cream, The Dessert Taster, Whisky Maple BBQ Pork Belly.
Chef's favourite cuisine is 'good food' and he feels, "Cuisines, as years go by, will cease to exist as we know them. The globe is getting smaller and smaller and ingredients are available throughout the world. It is these ingredients and how we understand and interpret them that will have importance."
Speaking of his television show, Style Chef, Chef Shailendra says he has enjoyed the experience thoroughly and he explains complicated techniques and exotic ingredients in a simplified manner so haute cuisine and presentation are possible for home cooks. He says, "Being on television is total fun! Cooking on TV is totally unlike cooking in the kitchen. It gives you a very different perspective on cooking. It is also a challenge to create a very easy gastronomic experience for your audience through a one way communication as they can only watch you doing stuff." Anticipating questions, having easy-to-follow steps and simplifying techniques and recipes for his followers is just part of it. He shows you how to smoke fish or meat at home with a simple piece of charcoal before pan- searing and cooking it. He demonstrates simple marinades and flavours that home cooks would enjoy experimenting with.
This charismatic Poona boy is back in his hometown and happy to be here. "How much is enough? This was the big question when I was working out of Poona and India... Many opportunities arose throughout my career but I always wanted to come back to my place of birth and give my two paisa to my people and my society." With these words Chef brings his fresh, unusual, tasty, simple and stylish culinary skills to Poona, and keeps his loyal customers happy and asking for more.
'Top 10 trending ingredients of 2015' according to Chef Shailendra are hot peppers, broccoli, beetroot, exotic mushrooms, kaffir lime, grapefruit, mulberries, bitter chocolate, wasabi, miso.
This master chef who is yet to experience culinary nirvana works hard at his other skills as well, improving service standards, developing his business strategy and bringing more and more to the table.