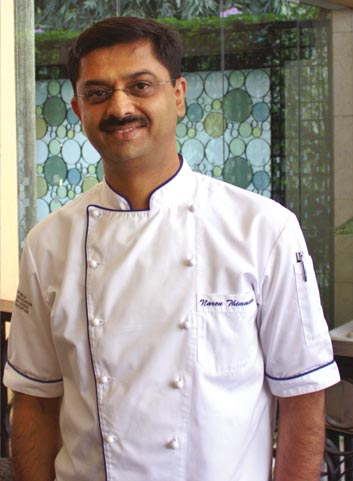 At the Gateway to Culinary Pleasure

Rarely does so self-effacing a manner accompany such professional accomplishment. But that is how it is with Chef Naren Thimmaiah, Executive Chef of the Gateway Hotel, Bangalore, and the man at the helm of the award-winning Karavalli restaurant, who goes about his work with a certain unflappable calm and an unwavering smile.
If his working day is long and demanding he shows no signs of stress. It starts as early as 8.30 am. "The breakfast service is when I get to see most of my guests because we are a business hotel and they are out most of the day," he says. Then there is the daily meeting to attend and, later, lunch service to oversee at Gad, the hotel's all-day restaurant, and at Karavalli which serves quick banana leaf meals and tiffin carrier meals. The hotel has an in-demand banqueting service and there's always a catering event to be planned.
A late afternoon 'accommodation meeting' is aimed at going over bookings and check-ins; knowing the food preferences of guests is a big part of that. There's a brief downtime between 5 pm and 6.30 pm when he may or may not go home for a break. Soon after, dinner begins, Sphyre, the bar off the lobby, starts buzzing and it's peak time again.
It wasn't the routine Naren Thimmaiah had in mind when he enrolled for a Hotel Management degree at Mangalore University. An eventual MBA was what he was aiming at. Then, even as his course neared completion, he surprised himself with his scores in food production. "It was my Head of Department who said I might make a chef," he remembers. Campus placements happened, he was recruited by the Taj group and after a stint of training found himself at Gateway Hotel where he has been for the past 23 years, as much a fixture of the hotel as its iconic coastal cuisine restaurant.
He may still think of himself as a 'chef by accident', but few things in Chef Naren Thimmaiah's kitchens or front-of-house are left to chance. From sourcing top quality ingredients – crucial in a restaurant like Karavalli that revolves around fresh seafood – to hiring people with the right attitude, he has developed a fine sense of judgement, all while maintaining his famously smiling demeanour. Proof that he is doing nearly everything right lies in the top ratings Karavalli notches up year after year. Last year, it found a place on Asia's Top 50 Restaurants list and was also named Best Indian Restaurant at the CNBC Awaaz Awards.
It is easy to be carried away by such accolades and it is Chef Thimmaiah's down-to-earth nature which drives him to believe that his restaurants are only as good as the satisfaction they afford to customers. According to him, "If a guest is not completely pleased, it would be tempting to tell him to take it or leave it because I'm doing authentic, traditional cuisine and critics rate it highly," he says. "But I am always conscious that I am in this business because I want people to come to my restaurants and love what they are paying for."
So, he does everything possible to make the dining experience enjoyable for his customers. "The staff has express orders not to up-sell, especially to the family crowd which is our mainstay at dinner time. I am perfectly okay with several tables ordering the vegetarian Pachakkai Varuthathu and not the lobster. Similarly, though I may put on the menu a dish I think is special, such as the bittergourd cooked in sugarcane juice, I am always ready to take it down if it doesn't find many takers," he says.
Complaints and criticism are to be taken as, if not more, importantly than accolades, believes Chef Thimmaiah. "There may be nothing wrong with the dish, but if a guest is not pleased with it, it is my duty to change, offer an alternative or in some way address his displeasure," he says. Complaints, however, are few and far between. Being told that something as simple as the curd set in a small bowl has been done well or that a guest has come to Karavalli just for the rasam pleases this chef endlessly.
The small things may give him a high, but he frequently has to operate on a large scale. Gateway Hotel's banqueting business covers the gamut from 30 diners to outdoor gatherings of up to 13,000 people. It is a logistical nightmare for many, but Chef Naren Thimmaiah and team have it perfected, orchestrating cooking shows that involve 300 people in the kitchen, 75 tandoor ovens, each manned by two people, and 65 buffet counters.
Whether Chef Naren Thimmaiah's kitchens are serving an intimate dinner for two or a mind-boggling buffet for 2000, he is always guided by his food philosophy: create and serve honest food. In his case, he does it all with a smile.