CELEBRITY BITES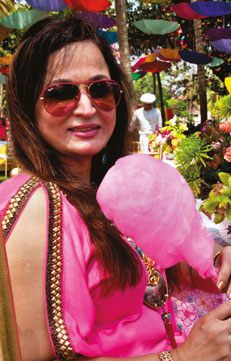 Smita Thackeray

With grit and determination, single-handedly she made her place in the sun. Film producer, now distributor, too, Smita is also a foodie

Interviewed & Photographed by Farzana Contractor


Wow, candy floss! Always been a child at heart, huh?
Yes, and in taste, too. I still love eating all the things I did as a child.

So then mum's food must be your favourite?
Absolutely. She was and is a great cook. And she passed that legacy to me and my two sisters, Sushma and Swati.

What do you mean?
Well, she got us into the kitchen right when we entered our teens. Thanks to her I can cook anything and everything today, chicken, mutton, seafood…

But you don't cook these days, you wear too many hats.
True, I don't have as much time, but I have trained my kitchen staff very well.

Your favourite food is…?
At home, spicy Maharashtrian seafood like chimbori or Kolambir che Kalvan and in restaurants, Chinese and Japanese.

And favoutite restaurants?
Yauatcha, Hakassan, China Gate, Wasabi and a tiny place in Bandra called Kofuku.

You enjoy the good life!
Yes I do, and why not! I love to know more about wines, I love to travel with my family. I enjoy every moment of my life.

You enjoy music…
…And dancing! In my home, behind a closed door, I dance and dance. Aishwarye, my younger son who was in my tummy when I met Michael Jackson, can do a great moonwalk!

And you have just become a mother-in-law, what about Aditi?
Oh she is a darling. And she is most indifferent to food, though Rahul, my son loves food and also loves to cook.

Both Rahul and Aishwarye are your pride and joy…
I can't thank God enough for them. They are my anchors in life. My entire family is. Including my parents, who gave us the best they could in their own modest way.

You do indulge in fitness and diet?
One has to, na? In today's world, with so much stress, that's the only way to keep sane. I use the JW Marriott gym everyday.

You also visit temples and are very spiritual.
Hmm… every Tuesday evening you will find me at Siddhivinayak. Ya, I do have a connect with God, but for me spirituality happens in daily life. It's important to be a good human being. I don't harm or hurt anyone. God has been kind to me and for that I feel blessed.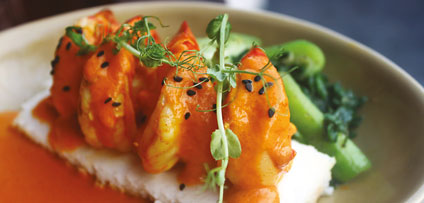 Mango Prawn Curry with Sanna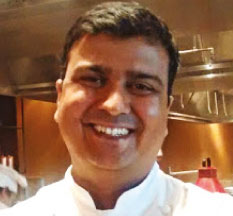 By Chef Amit Kumar
Corporate Sous Chef Grand Hyatt Goa


Ingredients
For the sanna
• 500 g rice


• 2 medium-sized coconuts
• 500 ml Goan toddy


• salt to taste
• 4 tsp sugar (to add to batter)



Note
Instead of toddy, you can use the following:
1 cup warm water
2.5 tsp dried yeast
2 tsp sugar (to mix with yeast)

Method
Wash the rice well and soak in water overnight. In the morning, drain the water and grind the rice into a fine paste with a little toddy. If you are not using toddy, grind the rice on its own.
Scrape the coconut out of the shell and grind it into a paste, too.
If you are using the yeast, mix it with 2 tsp sugar and the warm water. Stir well. Allow to sit for a few minutes and it will begin to rise.
Mix the rice and coconut pastes together in a bowl and add the toddy/yeast water. Mix well to form a thick batter.
Allow this batter to ferment for 4-5 hours.
Grease an idli stand or small mould or deep tray. Put into a steamer and steam for 12 minutes at least or till cooked. To check, insert any thin stick in the centre, it should come out clean. When cooked, gently remove from the tray and serve hot with Mango Prawn Curry and some stir-fried spicy greens.

For the prawn curry
• 500 g prawn


• 1/2 tsp chilli powder


• 1/4 tsp turmeric powder


• salt to taste


• 1.5" ginger, thinly sliced


• 2 onions, thinly sliced


• 4 green chillies, slit


• 2 sprigs curry leaves


• 1/2 tsp turmeric powder


• 1/2 tsp coriander powder


• 1/2 coconut


• 1 tsp chilli powder


• 2 pearl onions


• raw mango to taste
• salt to taste
• 1 tbsp coconut oil


• 7 pearl onions, thinly sliced


• 10 curry leaves



Method
Marinate prawn with chilli powder, turmeric powder and salt for 20 minutes.
Peel off the mango skin and slice the flesh. Use mango to its sourness.
Grind the grated coconut with chilli powder and onions, to a very fine paste.
In a pan, add sliced mango, ginger, pearl onions, green chillies, curry leaves, turmeric powder, coriander powder and salt. Pour water and boil this gravy for about 5-6 minutes until smooth. Now sauté prawn and add to gravy. Cook covered until the prawns are done. When the prawns are done, add the ground coconut and a few curry leaves. Cook for 3-4 minutes at medium-low heat until the raw taste of coconut is gone. Check for salt and switch off.
Heat oil in a pan and add sliced pearl onions. Brown them and add curry leaves. Stir for a few seconds and pour this over the prepared prawn curry. Cover the pan with its lid and keep aside for at least 15 minutes for the flavours to set.

Tips:
Mango can be replaced with tamarind.
Grated coconut can be replaced with coconut milk. Add the thin coconut milk while cooking prawns and the thick coconut milk after the prawns are done.
---