Team UpperCrust

15 Years of Culinary Milestones
Our gastronomical journey in the beloved city of food lovers – where east meets west and street fare could just as well beat fine dining – begins 15 years ago in this anniversary special, and weaves through the culinary fabric of Bombay to give you 15 food milestones till date
The Dawn of UpperCrust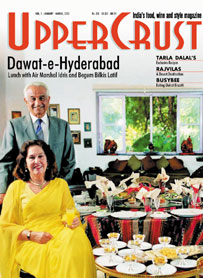 Literally the harbinger of world-class food magazines in India, UpperCrust is poised to mark off this selection, having begun in the millennium and having remained consistent in its offerings. Editor/publisher, photographer and power woman Farzana Contractor had a dream and she fulfilled that dream with gusto and grit that shows forth in every page of this glossy quarterly aptly subtitled Food, Wine & The Good Life, from the earlier India's Food, Wine and Style Magazine.

Change being the only constant, UpperCrust went through a limited series of minor reformations and come 2011, post its 50th issue anniversary celebration, underwent a major style shift. The result was a chic tome of culinary treasure – still with its wholesome food coverage, the latest around the city, country, the world, extensive travel pieces that stand as the signature of UpperCrust, attractive profiles of industry professionals and the like, recipes galore – with an all new Health Wise section featuring renowned doctors, remedies and more; wine and spirit features increased by the barrel, a wonder ingredient featured in-depth, cookbooks reviewed with recipes alongside, a fine-dine brought forth with attention to detail, discovery pieces of food and lifestyle icons in the city… all streamlined and served in the swanky UpperCrust style. And it works. The audience loves it and we are satisfied at the end of our meal, umm, we mean, each issue. Here's to many tasteful years ahead, and to you, our faithful UpperCrusters.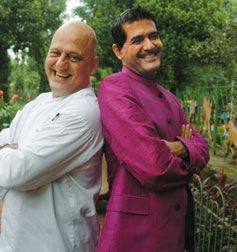 Fine Dining Standalones
As we write this piece, we are bombarded with news that Indigo has made its way into the food-crazed metro viz. Delhi. And it makes us ever so proud that we were the premier chosen ones. For Indigo and Rahul Akerkar charmed us with their rustic villa-style space behind Taj hotel in Colaba 15 years ago, well actually, 16 to be precise. Thus began the standalone revolution in Bombay with the very first and reigning restaurant serving fine dining minus the fuss with warm hospitality that goes so well. Branching out, Indigo opened its deli two feet away, offering the freshest variety of assorted breads, confections, dips, cheeses, salads, cold meats and so on. Today, there are six Indigo Delis across the city and there's no stopping Dish Hospitality, the founding company. Food is the main focus at a standalone such as Indigo, where every ingredient is given place of prime with a wine list to accompany.
So we, Bombayites welcomed the concept with open arms, and were more than happy when Olive Bar & Kitchen made its entry in 2000, with A D Singh transferring his indefinite appeal to his baby. Thus was born Olive the Mediterranean restaurant in Bandra, where one could go to escape within its relaxed interiors, dine, laugh and enjoy a long glass of red with a scrumptious Slow Cooked Pork Belly. Today, you have another Olive in Mahalaxmi, a few in Delhi, Poona, Bangalore and Hyderabad, and lots more under the Olive banner. A standalone by definition is a restaurant that is not connected to another business and markets and maintains itself; serving fare on par with 5-star hotels at prices lower. Indigo and Olive began the trend of fine dining standalones and we only hope to see many more as the years go by.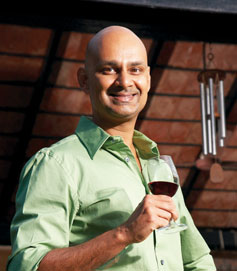 Sula Vineyards
Nashik being the vineyard hub of India, with a host of wineries to its name, Bombay is spoilt for choice owing to its proximity and easy access to these places for tours and better acquaintance with the wine first-hand. So when Sula Vineyards opened its first bottles of white back in 2000, the city applauded and the country deemed them the best white wines produced by India. Founder and Stanford Graduate Rajeev Samant is a Bombay boy who knows his wines and the tricks of the trade. Look at Sula today – the Dindori Reserve Shiraz earns honours as the only Indian wine to be featured on the Wine Enthusiast's Top 100 list. And you have the biggest wine and music festival of the country, SulaFest which attracts thousands from all over. We clink our glasses to a host more of local wines produced which put India on the global wine map.
A whole list will crop up, of wineries Nashik plays host to. Prominent ones being York, Reveilo, Vallone, Charosa, Grover Zampa, Zinfandel, etc. However, we would like to remind the wine lovers of the first winery that began the movement, of sorts, none other than Chateau Indage by Shamrao Chougule way back in 1979. Today, no more in operation, Indage deserves noteworthy mention.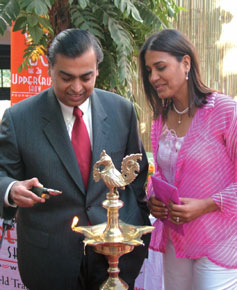 The Famed UpperCrust Show
An institution in itself, the UpperCrust Food & Wine Show is undoubtedly the biggest and finest culinary exhibition there is, in India. And it does us proud when over a lakh and a half visitors throng to World Trade Centre, each and every year, over the three days of the first weekend in December, when the Show is generally held. It all began when Farzana Contractor had an idea 12 years ago and Bombayites were more than thrilled with it.
´Tis filled with loads of activities for a food lover, that are free of charge (inclusive of the entry), from cookery demos and workshops by chefs and other industry professionals, a delicious assorted spread at the Food Court with music to serenade and a huge exhibition spread across 25,000 sq. ft. offering the shopper a host of products from over 100 exhibitors – food, wine, kitchen equipment and more. Within the Show, another milestone that has entrenched itself successfully, started in 2009, is the UpperCrust Celebrity Chefs Mystery Basket Cookery Contest which has top chefs participating for the coveted title, and even saw the National Chef Contest held in 2012 in Bombay, with past winners from over the country. That's right, the UpperCrust Show went national to wow foodies in Hyderabad, Bangalore and Poona. Back home, the city just can't get enough of this calendar event.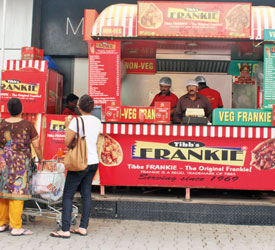 Food Courts and Mall Dining
The moment the weekend arrives, you and your gang of mall goers hit the nearest mall in town. Today, there is no dearth and you are spoilt for choice. But go back to when the largest mall with an open courtyard and panoply of brands and outlets made its grand entry. High Street Phoenix was fully operational in 2001 and is today complete with Palladium Hotel, a 5-star that stands tall behind it, Palladium Mall, a high-end shopping arena within, and several food outlets that cater to every single taste bud of the Bombay foodie.

Food courts – a myriad of dining options within a common enclosed area – catering to the hungry/weary shopper are what characterise a mall today. Phoenix brought this point out effectively, which was featured in a recent issue of UpperCrust, deeming Lower Parel as Bombay's Newest Food Mecca. So you have QSRs and brand outlets such as Subway and Costa Coffe and posh eateries such as Punjab Grill and Rasovara to tempt. This is where the culture of mall dining has seen an enormous rise in the past 15 years with several brands establishing and rebranding themselves to suit the mall goer, as well as high-end dining for an occasion within. It will only get bigger, so mall and mall some more. It's the city way or the high way!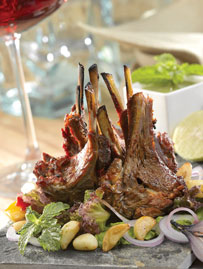 Indian Fine Dining
While we are on the subject of posh eateries in malls, we could not leave out these fine, integral components of the culinary history of Bombay. Indian fine dining; and the name Punjab Grill by the legendary JiggsKalra comes to mind first. For it led to a gastronomical revolution in the way Indian food was being served, accepted and revelled in, with its launch in 2010 in Palladium Mall. Bhatti ka Murg, Tawa Asparagus and the paan shots make a meal at PG worthy. Today, we have another prominent space brought forth by Jiggs' son Zorawar Kalra, which has given ´Indian´ a gourmet flavour like never before. Masala Library is where the authenticity is maintained yet avant-garde cooking techniques are used to transform flavour and presentation. Take a look at the Paneer Makhani served in a big tart or the Tandoori Champ – a perfectly braised lamb chop with maple and kokum glaze. You pay a good price for sumptuous Indian fare as such. So Bon Appétit!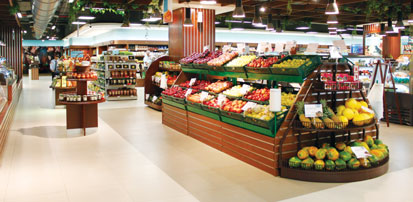 Gourmet Food Stores
If you haven't heard the term yet, you have probably missed a lot on the food shopping scene in the past few years. For a food store is your one-stop-shop for all your food needs, more so your gourmet food needs with both local and international brands adorning the aisles – from paneer to olive oil, breads, cheeses, wines, cold cuts, mithai, desserts, ready-to-eat foods, dips and sauces, wines, and what have you. Live counters where new tastes are revealed have taken space at such stores, too, as well as many a masterclass and cook-offs between culinary pros and punters alike. The big guns here, as we know, are Godrej Nature´s Basket (GNB), Foodhall and Gourmet West (GW).
Starting off as a single store in 2005 in Bombay, GNB has morphed into a 32-store chain across four major cities retailing fine foods from across the world. Come 2011 and the city is given Foodhall in Palladium Mall and GW at Kala Ghoda. While the former has expanded to six stores across three cities, the latter has moved across its Westside stores in five cities now. There´s more: while at Foodhall, one can find a dedicated spice station offering spices from all over the world and a live counter where new tastes are revealed, at GW, an exclusive cheese section termed RRO Cheese Bar was launched with all the possible cheeses an aficionado could want. All for the love of food!
Visits and More by International Culinary Celebrities
We have been blessed with the impressive line-up of world-renowned culinary figures who have graced Indian shores and dished out a cooking tip, recipe or served up a meal for us to savour. While UpperCrust has played host to several masterclasses and celebrity chefs visiting town and participated in culinary events of repute, a few that we consider milestones are the following: Do you recall the Longest Lunch ever in India? When the Melbourne-renowned event was held at Grand Hyatt in March 2012 with a table more than 200 metres long and catering to 530 guests at a time.What a meal! Up next is the Spanish hunk of MasterChef Spain fame, Sergi Arola making his debut in Bombay with the launch of the world-famous Arola in June 2012 and playing Cover Boy for our newly-styled magazine. Then, without a doubt, was the coming of celebrity chefs Gary Mehigan and George Colambaris the same year, and earning prime space in the pages of our magazine, much to the felicity of our MasterChef-fanatical readers. And most recent, June 2014, it is none other than the prettiest baker Ireland has ever produced, our Cover Girl Rachel Allen who can warm you with just a smile, let alone the sinful desserts she can whip up!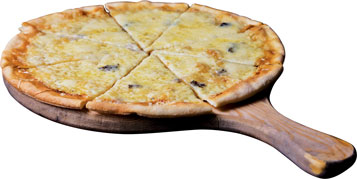 The Entry of International Brands
It all began with the hardcore music themed space making its way to our blessed city first, in 2006. London-based Hard Rock Café has taken the world by storm – in India, it´s seven locations across five cities now, one of which is a second for Bombay! Rock on, we say.
What we find heartwarming is dining as a community; for food brings people together like no other. Le Pain Quotidien (LPQ) brought this concept to us with its Communal Table in 2010, in Colaba and with another LPQ in BKC later – the only one in the world to boast of a bar! Then, in June 2011, when we got whiff of the fact that one of the tastiest Asian brands from London is making its way to our country, and our city at that, we were thrilled.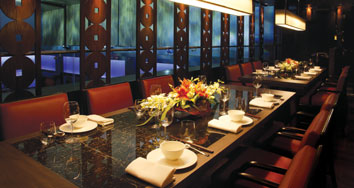 For the Pork Belly at Hakkasan is to die for. It's plush Asian dining here. As well as at another London great – the heavenly ´Dim Sum tea house'. Yauatcha was welcomed with open arms the same year.
And you have a Spanish ´invasion´ with the award-winning Arola at JW Marriott in June 2012, where Paella made its entry as luxuriously as it could. Now, one cannot be remiss to the fact that one of the the most indulgent pizzas, Tartufo Nero comes straight out of the kitchens of the Italian import from NY, now entrenched in Kala Ghoda's culinary-scape. Serafina, that made its way here in October 2012, is Italian done the real way. Last on our choice list is another NY entrant that made its mark in Bombay, after Delhi, at The Leela in 2014. What was once the famed Stella is now Le Cirque Signature, a smaller – yet as delicious – counterpart for the Italian gourmet to savour.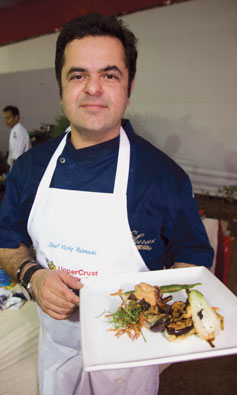 Revolutionary Figures
When we speak of culinary personalities who have changed the way food is perceived, presented and ultimately ingested, many may come to mind, but for us there's one who truly stands out, stands tall – well, figuratively – and continues to do what he does best. Chef Vicky Ratnani is no small achiever who has given Bombay a taste of flavourful cuisine in its modernity, ingredients and presentation. So we were treated to Chef Vicky's hand at Aurus – with a cold gazpacho in the summer of 2009, and a Spiced Red Snapper – then to Nido towards the end of 2013. And of course, cookbooks and TV shows that have made him a household name inclusive of Gourmet Central and Vicky Goes Veg. Another feather in the successfully experimental chef's cap is Winner of the National Celebrity Chefs Mystery Basket Cookery Contest held at the UpperCrust Show in Bombay in 2013. That's Chef Vicky, always on the go, serving gourmet a la Vicky at every stop.
Macarons, those tiny treats of heaven where each bite has to be treasured for the price its worth. And credit for putting the delicacy so carefully and popularly on the Bombay dessert table goes to the 'macaron queen' as she's known, none other than the very young and talented Pooja Dhingra. Working to please the sweet tooth of the Bombayite, the Cordon Bleu graduate has shown what it takes to make it big with Le 15 Patisserie, launched in 2010 with its first tony outlet in Palladium Mall, and entrenched herself well in the minds of the young crowd, and not so, alike. Today, there is one in Bandra, too and her very own Studio Fifteen Culinary Centre (started in September 2013) where the young baker doles out sweet advice to passionate learners.
Theobroma
Say "patisserie", and top spot stays with this one. Food of the Gods. Bombay's beloved patisserie, bakery and chocolaterie opened its doors to the dessert seeker in October 2004, and was quick to warm the hearts of many. If you wanted a place away from the hustle and bustle – where wooden interiors gave you a cozy, homely atmosphere and the aroma of hot chocolate greeted you on your way in – Theobroma was the place. Today, the woman behind it all continues with her compact space in Colaba and five more around the city, calling her Bandra kitchen her heaven. Kainaz Messman Harchandrai, new bride and seasoned baker is the tall woman who brought Theobroma to us along with her signature banana bread and new entrant, the Red Velvet Brownie. It's such sweet, comfy languor here at Theo's Colaba, even in its new avatar.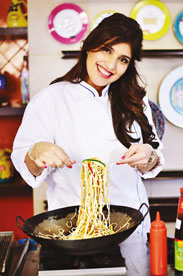 The Rise of Culinary Studios
Carrying forward from Studio Fifteen, we list a few more new age kitchen spaces or culinary studios as they like to call it; with state-of-the-art equipment; and a small batch of students each class, as 'too many cooks spoil the broth'! The first and most popular studio is none other than A Perfect Bite (APB) by well-known blogger and cook Rushina Munshaw Ghildiyal. APB began in August 2012 and has hosted several classes since then, and even themed parties if you so desire. The trend continues with Chef Rakhee Vaswani's Palate Culinary Studio which was established in February 2013 where various cuisines are explored and an intensive bakery course is on offer, too. And last but not least, you have the 'experiential kitchen' started last year, offering you fine-dine European fare in a minimalistic setting, by the gourmet catering company Silverspoon Gourmet. Like-minded people can gather together, try their hand at a recipe, and attend poetry readings, movie nights, chefs´ tables and more. Milestones, in their own right!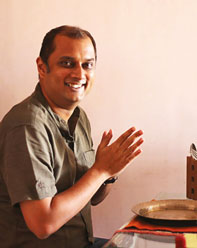 Webbed Food
´Food pornography´ – a term in vogue today for the surfeit of food imagery and textual content that floats around on social media by contemporary content generators aka bloggers, twitterati and instagrammers, among the fora. Just wait for the dish to come on to the table, and click, upload, add text and post. Like we said, Rushina is a blogger who has branched out and continues to stand as a recognised face in culinary circles. Then you have Shaheen Peerbhai, Richa Lulla, Prachi Joshi, Reshmi Kurien, Kalyan Karmakar, Adarsh Munjal and the rest. Adding to it of course, is the emergence of the Food Bloggers Association of India (FBAI) co-founded by Sameer Malkani, defined as, ´An online news channel that reports, reviews and disseminates information on F&B products and services, restaurants, chefs and events across India´. A community which also involves critics, chefs, photographers, brands and restaurants with its very own Oscars – the Food Bloggers Awards held in Bombay. There is a variety of the blogger-entrepreneurs, too, who are making the best of both worlds, selling their wares and blogging wherever they go.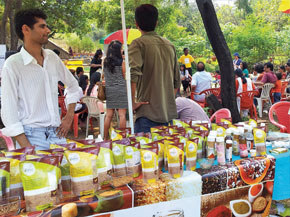 Farmers' Market
It's a marketplace like no other that has come a long way since the first Organic Sunday was thrown open in Bandra on the day of the Spring Equinox in 2010. And it's now in its sixth season. The 'petite powerhouse' as we like to refer to her, Kavita Mukhi is the heart and soul behind the dynamic endeavour and creating a sustainable future for farmers and consumers throughout the country. Held at the Maharashtra Nature Park in Dharavi right from October to March every year, the Bombay Farmers' Market has garnered a huge response by those in search of healthy, organic products; free food – free of chemicals and refinement. And nonsense-free, taking from the Slow Food Movement in 1996 in Italy. Come 1997 and UK saw the first Farmers' Market ever, leading to 550 such spaces nationwide today. It's a lovely atmosphere with food, fun and nature to accompany. You must visit if you haven't yet.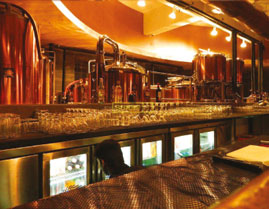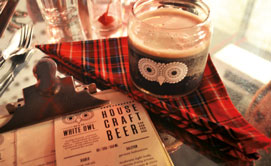 Microbreweries
Let the beer flow! And so it does. Now that Bombay has two up-and-running microbreweries, the city's tipplers have reason to rejoice, ever more so, on the weekend, with in-house brewed craft beers and delectable fare to match. We must say, we are impressed. For the range presented at The White Owl ever since the brewery was set in motion last year is intriguing. From Diablo to Torpedo, best had with the Baked Pretzels with Pale Ale Dip or Char-Grilled Bratwurst with Beer Jus. There's also the Elf – a spiced pumpkin ale if you're up for it. However, the first in the city is, as the familiar would know, The Barking Deer, started in 2013. The Bombay Blonde and India Pale Ale are satisfying, with The Classic Buffalo Wings with blue cheese to get you started. And the experience at the brewpub & restaurant is made even cozier with the Jameson (Whisky) Loft Lounge, in 2014, on the upper level, for a select few connoisseurs at a time.