BENGALI FOOD

BEGUNI
Ingredients:
250 gm brinjal; 1 cup besan or bengal gram flour
1 tsp oil ; 250 ml water or as required
1 tsp chilli powder or to taste
1/4 tsp onion seeds; salt to taste
oil for deep frying as required
a pinch of baking soda
Method:
Cut the brinjal length-wise into thin slices. Take the besan in a large bowl. Add the oil and mix thoroughly. Add water to make a smooth batter (batter consistency should be thick enough to coat the brinjal slices evenly). Add the other ingredients (except brinjal). Add salt to taste. Whip batter well and set aside for 30 minutes. Heat oil to smoking point and then reduce to simmer. Dip the brinjal slices in the prepared batter, coating evenly. Fry the brinjal slices coated with batter in this oil to a golden brown colour. Remove from pan with slotted spoon. Drain extra oil on absorbent paper and serve.
---
DEEMER DEVIL
Ingredients:
3 eggs, 2 potatoes;
bread crumbs as required
salt and pepper powder to taste; oil for frying
Method:
Hard boil 2 eggs and shell them. Boil the potatoes. Skin and mash. Add salt and pepper powder. Mix well. Coat the boiled eggs with this potato mixture. Beat the remaining egg with salt and pepper powder to make eggwash. Heat oil for deep frying to a smoking point. Reduce heat. Dip the coated eggs in the eggwash, roll in breadcrumbs and deep fry till golden brown.
Monsoon Indulgence




The Bong Way!
Bengalis enjoy monsoon the perfect way - eating! PRIYANKA CHOUDHARY gets all nostalgic about her grandmother´s cooking back home in Kolkata which we recreated here in Bombay with a little bit of help from Chef Subir of Oh! Calcutta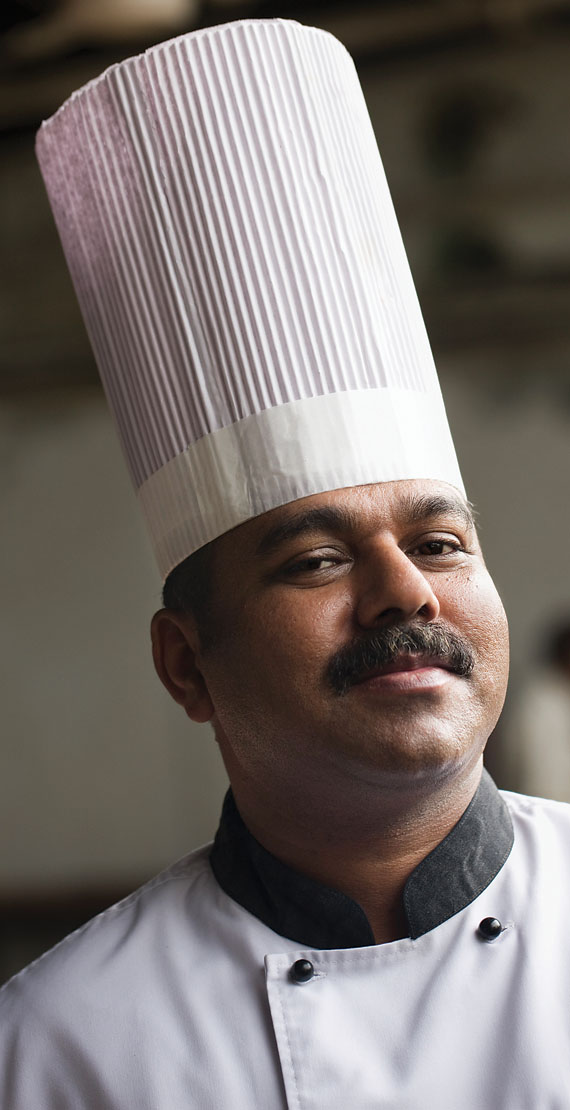 One of the major gastronomic cities in India is of course the City of Joy-Kolkata. I think Bengalis are great at two things, firstly academics and secondly feasting on good food! There is a term called aadda in Bengali which means 'chit chat' and they are ready for that at any time over chai (tea) and shingara (mini samosas). Come the rains and the city drowns but the tea stalls float and so its sally forth to the street food vendors serving piping hot begunies (a fried brinjal fritter), deem-er devil (a crazy invent with eggs), vegetable chops (contain pieces of beet root and peanuts for a crunch) only to be washed down with more tea. Kolkata in the rains is a different experience altogether as some of their classic recipes go extremely well with the charming weather. I remember visiting my grandmother during this season and begging her to make me samosas. Mind you, these are not the usual potato stuffed samosas that you get everywhere but a unique mini samosa that is stuffed with a mixture prepared with cauliflower. The filling inside isn't mashed but consists of fluffy cauliflower bits with some green peas and tiny pieces of diced potatoes. So simple and yet so mouth-watering. Every bite used to leave me hungry for more. , , , .
Although these are heavy snacks, you´d be mistaken if you think that Bengalis would skip a meal after having them. The lunch and dinner menus include a multitude of dishes which include leafy vegetables, dal, some fried side dish (either small fish or vegetables), and fish curry, all to be eaten along with steamed rice. Yes, the Bengalis will eat fish no matter what, whether rain or hail storm. Hilsa is one of the more popularly eaten fish in Bengal during the rains. They could give the French a run for their money in eating fish eggs as eggs of the Hilsa fish are a delicacy here as much as caviar is out there. Bhapa Ilish is one fabulous monsoon main course which Bengalis swear by. This could be done the healthy way as bhapa means to steam. The fish is lightly tossed in a white mustard gravy and finished with a drizzle of mustard oil and served with steamed rice (basmati goes very well).
Another favourite which you will see being cooked in most households during rains is moong dal khichdi (also served as bhog/prasad to Maa Kali during Durga puja). It is made with different kinds of vegetables, some whole spices and may be served along with side dishes such as aloor chokha (mashed potatoes with a spicy tempering of onions and mustard seeds) and tomator chutney (a sweet and sour chutney made with tomatoes, tamarind, jaggery & dates).This is truly home food at its best.
Every inch of Kolkata drips with culture whether it is in their food, music or art. The rains are a welcome change from the blistering heat faced during summer. Indulgence and food go hand in hand and the monsoons bring in a whole season of new recipes for us to devour. So, let's not only stick to the same old chai and bhajia this monsoon but discover more in classic Bengali style.
GHUGNI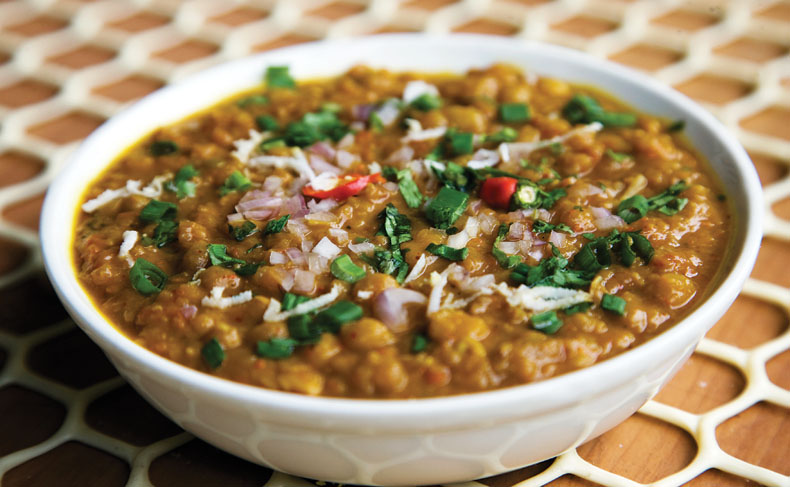 Ingredients:
500 gm mutter (white peas)
50 gm oil, 4 onions, chopped
1 cup coconut, chopped
2 tsp ginger paste
4 tsp onion paste
½ tsp garlic paste
1 tsp chilli powder
½ tsp turmeric powder
2 tsp garam masala (green cardomom, cinnamon, cloves)
2 tsp thick tamarind pulp
2 bay leaves
1 bunch coriander leaves, chopped
sugar to taste
salt to taste, water
Method:
Soak the mutter overnight.
Next day pressure cook them.
Heat oil in kadhai, fry the coconut lightly, remove and set aside.
Pound the garam masala a little and add to the oil, sauté lightly.
Now add the chopped onions and fry to a golden brown. Add onion paste, ginger paste and garlic paste and cook.
Now add the turmeric powder, chilli powder, tamarind pulp, sugar and salt. Sauté till the spice blend is cooked.
Add the boiled mutter and cook well.
Add little water, cover and cook.
When ghugni is thick remove from fire.
Garnish with chopped coriander leaves and fried coconut before serving.
---
BHAPA ILISH (BONELESS)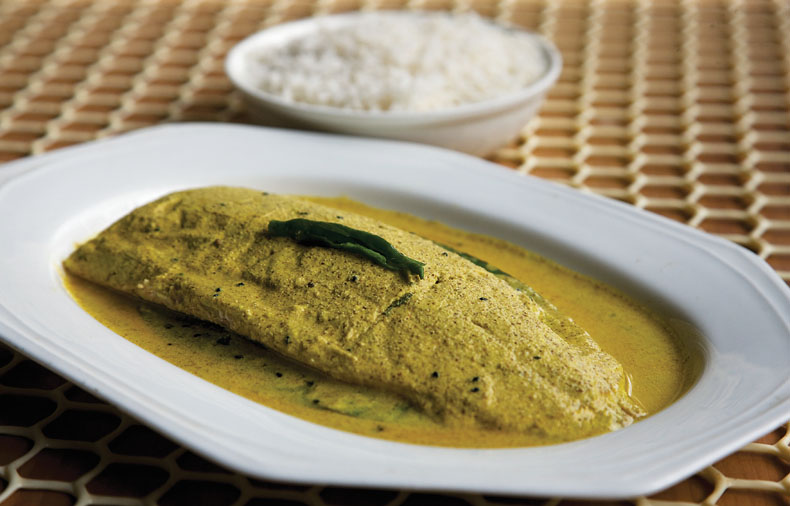 Ingredients:
2 pcs (1.200 kg fish) hilsa fillet
150 gm mustard paste
50 gm curd
30 gm green chilli paste
salt to taste
50 ml mustard oil
10 gm turmeric powder
juice of 3 limes
2 banana leaves
aluminum foil
Method:
Apply salt & lime juice to the prepared fillets, keep aside for 10 minutes.
In a steel bowl prepare the marinade by combining the rest of the ingredients. Check for seasoning.
Pour the prepared mixture over the fish.
Pour little mustard oil in a baking tray, place the fillet with the marinade.
Cook the fish in a pre-heated oven (250°C) for about 20 mins or till the fish is done.
Remove from the oven and let the fish cool down, to room temperature.
Remove the fish, one at a time on to a work surface, gently remove the marinade in another bowl.
To debone the fish, make long cuts on the fish along the lateral line. The bones which are set on the wide side are now visible and can be removed easily with the tip of the knife. Once all the bones have been removed in this manner barring a very few extremely small bones the fillet is re-assembled.
In an aluminum foil place a banana leaf and place the fillet on the leaf with a spatula, pour half of the marinade over the fish reserving half for the other fillet. Cover the foil like an envelope.
Before serving, open the envelope and heat in a steamer for about 10 minutes or till heated through, slide the fish with the banana leaf on to a platter. Serve with steamed rice.
---
ALOO PHOOLKOPUR SHINGARA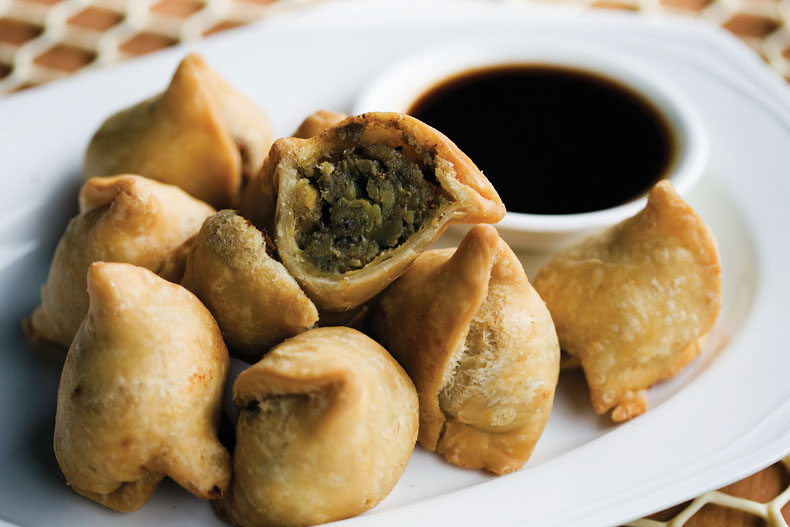 Ingredients:
1 kg potatoes, 2 kg cauliflower
100 gm green peas (shelled)
5 gm black salt
1 gm cardamom, 1 gm cinnamon
5 gm whole coriander
7 gm cumin seeds, 1 gm nutmeg
5 gm red chilli whole, 7 gm aniseed
2 bay leaves, sugar to taste
500 gm maida, 500 ml oil
1 kg ghee, a few green chillies
20 gm cashewnuts, salt to taste
Method:
For the stuffing:
Collect all spices and broil lightly. Grind into a powder.
Peel and cut potatoes in small dices, wash and cut the cauliflower in to small florets.
Heat oil in a kadhai, fry the cauliflower and set aside.
Fry the potatoes and set aside.
Fry the green peas and set aside.
Mix together the potatoes, cauliflower, green peas, spice mix and green chillies.
Add the black salt and adjust seasoning to make a tasty stuffing.
For the dough:
Mix the flour, 100 gm ghee, salt and water to make a soft pliable dough.
Divide the dough in 15 roundels.
Roll each roundels in an oval shape and cut into two, enough to make a shingara wrapper.
For the shingara:
Shape each wrapper into a cone and fill in the stuffing. Seal edges by pinching them together to make a shingara shape.
Heat the remaining ghee in a kadhai to smoking point.
Reduce the heat and slow fry the shingara till the exterior is cooked and takes on colour.
Serve hot.