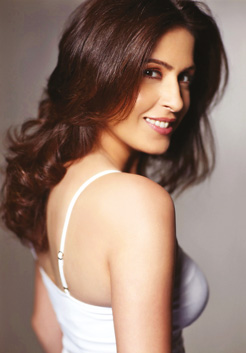 Perfect 10
Food show Mummy ka Magic has made the pretty TV host Amrita Raichand a household name. And earned her the Best Celebrity Host award at the 7th Golden Star Awards, too
1. What is your fitness mantra?
I exercise five times a week and eat only protein rich food; light, tasty salads in the night for five strict days of the week… eat moderately on one of the remaining two days and a lot on the other day.
2. Is mental fitness as important as physical?
Yes absolutely. I am very religious and spiritual. I pray a lot which helps me a great deal in keeping me mentally and emotionally strong. I smile a lot and try to have a positive attitude towards life which keeps me, at most times, in a nice head-space.
3. What is your exercise routine like?
On Mondays, weight training. Tuesdays and Thursdays is a walk or a run (depending on my mood) in the morning, followed by Iyengar yoga. Wednesday and Fridays is aerobics. All this is coupled with running behind my son while he is cycling in the evening or playing football, or simply playing catch with him and his friends.
4. Any particular food you can´t resist even when on a diet?
Any of my mum-in-law's Rajasthani dishes. And my mum's haath ka dal chawal with Chicken Chilli. I just sit down and indulge myself.
5. You meditate?
Yes, my father- in-law teaches me mediation as he is really good at it. However, I have a long way to go to master it.
6. Do you have any quick fixes, any herbal remedies, tonics you turn to when low and need a boost?
A good cappuccino does it for me if I'm in a low mood or without much physical energy. I haven´t found anything herbal yet that has the same effect. Yes, green tea is an all-time favourite after meals, which keeps me from getting sluggish.
7. How do you choose to detox after a particularly decadent night?
I simply switch to fresh fruits and vegetable juices for the whole day and it really balances out the system.
8. What do you do to get back in shape quickly?
I know many people have reservations towards this but the GM (General Motors) Diet has always been my quick fix when required. I have done it 3-4 times so far and not only do I knock off 2-3 kilos in a week but also feel absolutely rejuvenated.
9. The buffed muscle look or the lean toned look?
The lean toned look any day.
10. Who is that one person you think is ultra fit?
Well, I can't tell you that!!