UPPERCURST AND ROYALTY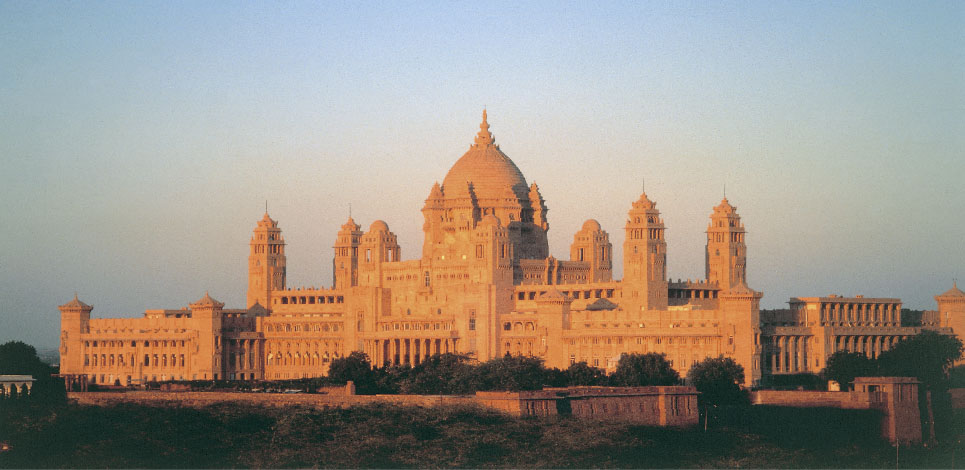 A Peak Behind The
Royal Curtain
Farzana Behram Contractor says she is sorry that all royal titles got scrapped, privvy purses snatched and all princely states of our country amalgamated with the Union of India. Here's an account of her brush with royalty
India, the mystical, mysterious land would not quite be the same were it not for our royalty, the Raja –Maharajas, the Nawabs and their Begums. And of course their opulent and unbelievable palaces – the mahals, the havelis.
The stories that abound about these extraordinary men and women, their generosities, their eccentricities and above all their penchant for the good life are legendary. The most important reason for my interest in the royal families of India was to see at close quarters the way they lived, what and how they ate, to understand their lifestyle, to see if they were for real. Refreshingly, most are. Like anyone else, once you get to know them better you realise they are like normal families and the airs you expect of them are just presumptions of your own making.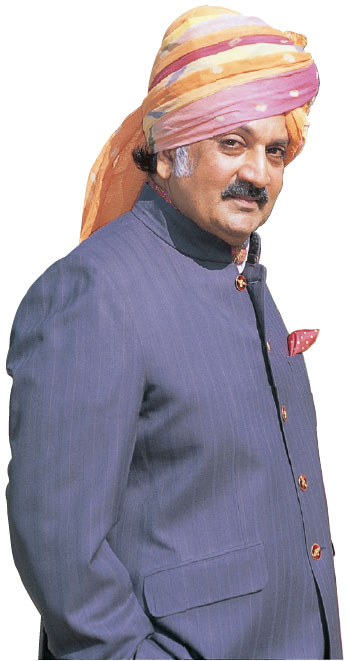 The first interaction UpperCrust had was with the Maharaja Gaj Singh II of Jodhpur. He was on our cover in 2001. He posed for me, sitting on the lawns of his imposing palace, with the stately Umaid Bhawan in the background. Colourfully turbaned, the dashing Maharaja, sat at a gold gilded table with a basket of fruits and silverware. I could see that the sharp afternoon sun was hurting his eyes, but he was a sport and managed to go through the shoot smiling charmingly. His son, Yuvraj Shivraj Singh was adorable. Polite and respectful, he wouldn't explain why he couldn't sit on the chair while his sister Baiji lal Shivranjani Rajye, stood besides him, as I had requested. Laughingly, the sister explained it was against protocol – she was a year older than him! But he was happy to pick up and embrace his daschund, Pepsi, for a picture. As for the very attractive Maharani Hemlata Rajye, she had just one request of me – could I please get Mr Amitabh Bachchan over to their palace, somehow. She was so candid in her gushing, it was delightful. Well, I did convey her message to Mr Bachchan when I met him after my Rajasthan visit, that year. replica watches, watch replica, , quality watches.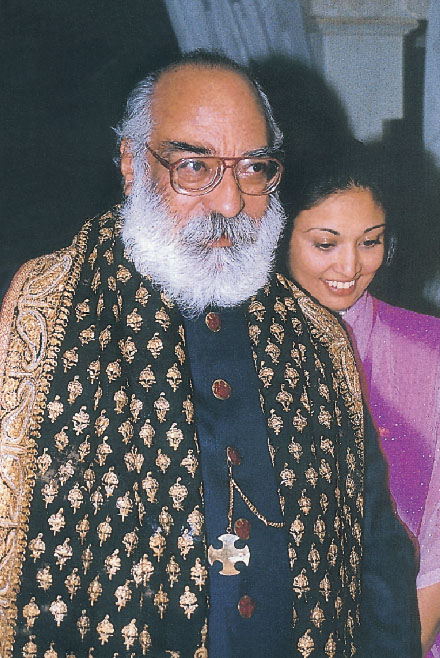 Arvind Singh Mewar, The Maharaja of Mewar, wears his grand ancestry quite casually. He possesses all the trappings that set him apart from the ordinary mortals, yet he is rather laid-back, down to earth and real. Over the years he has even become a friend. Once on his visit to Mumbai we hopped on to a boat and in a choppy Arabian Sea went to check out Suzie Wong, AD Singh's floating restaurant off Chowpaty. We didn't think much of it and left to finish off with a great meal at India Jones with Sanjiv Malhotra and other friends. Many years ago I was invited for his 57th birthday celebration at his palace in Udaipur, a city which exudes such romance. The entire town turned up to wish their Maharaja. Full of awe and respect the simple people - young and old, men and women, even children, filed past him bearing fruits and flowers, murmuring blessings. And it's not just the locals, Arvind Mewar's royal friends from nearby principalities also joined in the festivities. I remember meeting the royal families from Kota, Danta, Balshinoi, Dungarpur, Pratapgad, Banera and Sitamau. It was like being part of a fairy tale.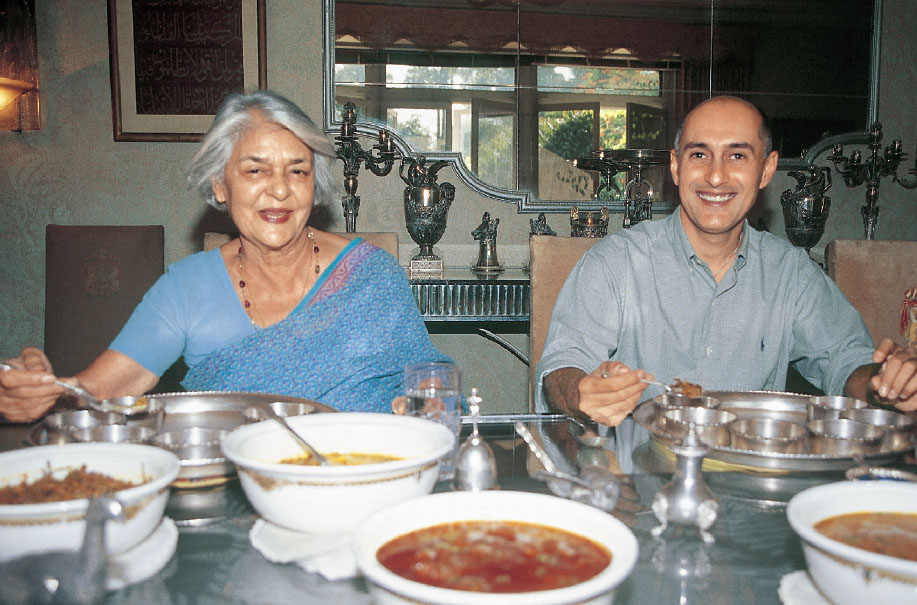 The Rajmata of Jaipur was extremely fond of Behram, my husband. I had met her frequently on her various visits to our city. So when I went to Jaipur I took the liberty of dropping in, without a prior appointment, at her residence, Lily Pool, a small but charming palace behind the more magnificient Rambagh Palace, now the Taj Hotel. She was welcoming and gracious. A writers delight really, full of quotable quotes. Here is one... "I enjoy a good meal. I'll tuck into it! But I'm saying, I don't eat as much as before. As you grow old, food does not matter. And if you're going to ask me whether I like cooking, I don't! I cannot cook. I learnt how to cook at this Lausanne finishing school in Switzerland, but I'm hopeless. I'm not gifted." This was in 2001. She was an amazing woman.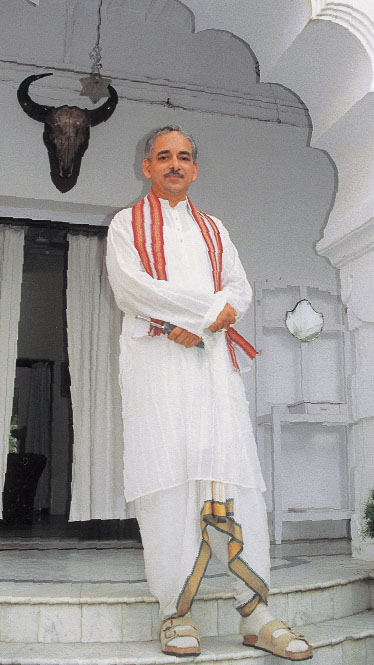 Among the many of the royalty I have met, the three that made such a wonderful impression on me were the Maharaja of Puri, the Maharaja of Benaras and the Raja of Daspalla. All for the same reason. Humility. It was just so difficult to fathom how they could be so, so simple.
Gajapati Maharaj Dibyasingha Deb belongs to the dynasty connected with the Kings of Orissa who founded the Shri Jagannath Temple at the start of the 12th century. And quite simply his role in life begins and ends there. He said he was an adhyasevak of the temple. I clearly remember the handsome Maharaja plainly saying to me, "We are the heads of the state and the first servants of the Lord. We perform certain services before Lord Jagannath at the time of festivals and the most important one is the Rath Yatra. My work is connected with the management and the administration of the Shri Jaganath Temple. I have voluntarily taken up a third, that is service to society."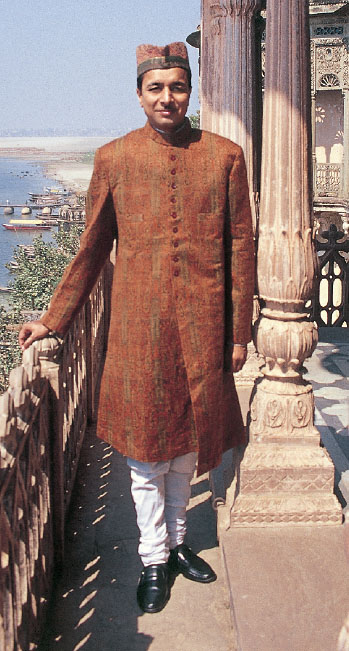 His Highness Anant Narain Singh, the 10th Maharaja of Benaras lives in a fort palace right on the banks of the Ganges. Its impressive architecture had me tongue-tied. But even more impressive was its royal resident who lived there in splendid isolation with his young bride. He personally escorted me around the entire palace and then dropped the bombshell - nobody had ever seen any Maharaja of Benaras eat or drink - ever! That was a custom, a tradition. One of the unwritten laws of the Holy City is that nobody must witness them while they are dining. The Maharajas are Bhumiar Brahmins who believe that eating and drinking are personal habits that nobody should be privvy to, not even other members of the royal family. So they always eat in purdah, strictly by themselves.
Incidentally as I was leaving the palace I bumped into the doctor couple - Geeta and Narendra Pandya who had just arrived from Mumbai. Dr Geeta Pandya, the well-known gynaecologist was helping in a 'royal conception'. Happily I learnt from the Maharaja a few years later, when he dropped in at my office at 'Afternoon House' that he had become a proud father of not one but two children, with the help of God and Geeta!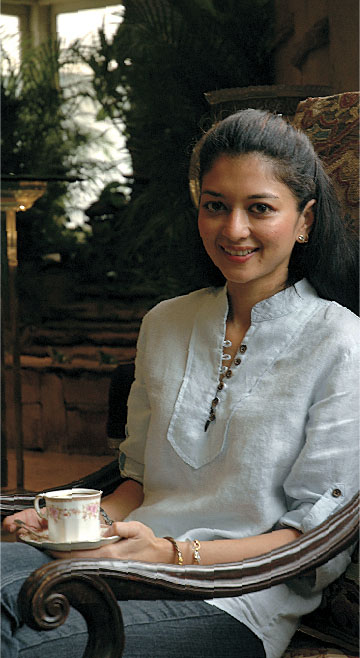 I met with Priyaraje Scindia, daughter-in-law of the late Madhavrao and wife of Jyotiraditya, when we were presenting Gwalior as UpperCrust Destination. Priyaraje is young, pretty and modern. Not the kind of Maharani whose portrait you will find looking down at you imperiously in the palace ballroom. She chatted away, friendly and happy, showing pictures of herself and her two little children on her laptop. Politics keeps the Gwalior scion away in Delhi and so it is left to young Maharani to be the face of the royal family in their home town.
It is worth visiting Gwalior just to go see the Jai Vilas Palace. Built in 1875, the palace has 200 rooms embellished by Italian marble floors and ornamental gold ceilings. Its Darbar Hall is unmatched in size and splendour and is resplendent with a pair of custom made Viennese chandeliers weighing 3.5 tonnes each and lit with 750 lamps! It is till today the largest in the world.
As for the Raja of Daspalla, he was so sweet. Unfortunately he is no more but I will never forget him. When I met him in 2003, he had said to me, "For the last 12 and a half years my life has been at a standstill. I have retired into spiritualism. I am a great follower of Rama Krishna." He was an avid reader. He subscribed to 27 magazines and UpperCrust was one of them. When he learnt the editor of that magazine (me!) was in town, he was delighted. For some reason he became fond of me and asked me to address him as 'Uncle'. He kept in touch with me, phoning me from Visakhapatnam right until he sadly passed away recently.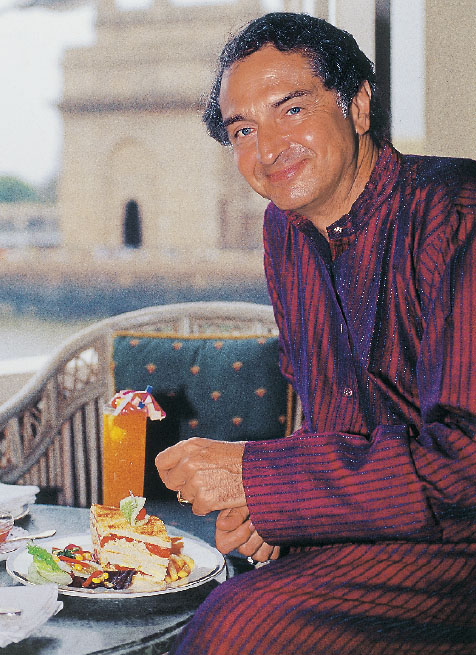 Richard Holkar, the 21st century Maharaja of Indore is a renaissance man, charming, dashing, debonair. He is a passionate gourmet and a cook too. If you get invited to his 18th century palace in Maheshwar, 100 kilometres from Indore, do go. His signature dinner menus are the rage the world over.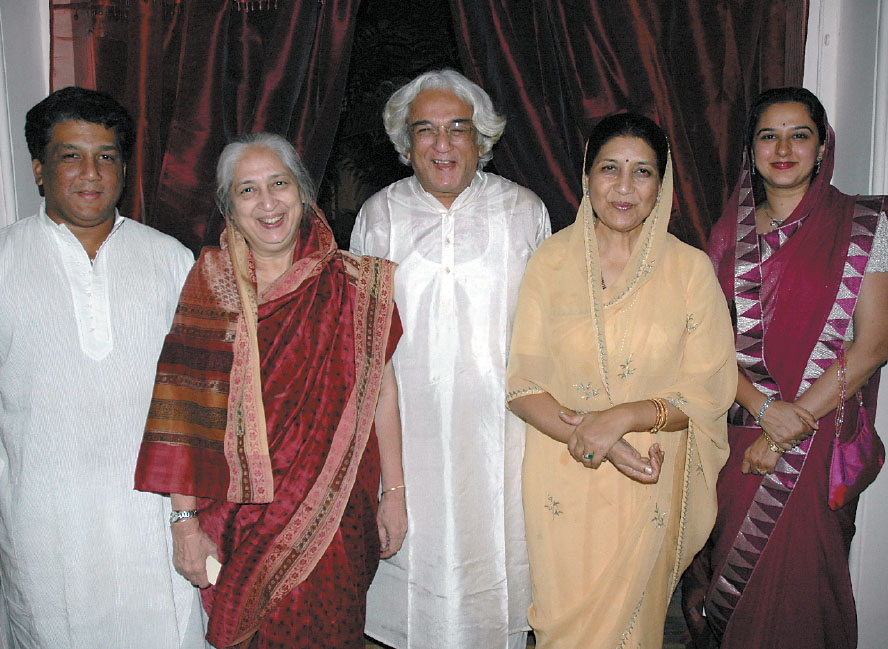 When Ranjitsingh Gaekwad of Baroda hosted a royal banquet to welcome UpperCrust into his palace I did not know I would be having the honour of sitting at a meal with the entire family. And what a family! What a dinner! Liveried attendents bowed as we entered the dining hall where a grand table had been laid out, complete with name place and the finest of crockery and cutlery from the royal kitchen to present to us Gaekwadi cuisine, clearly their pride and joy.
After lunch when I was on the lawns, trying to shoot the palace I was completely miserable. The width of the palace just wouldn't fit into my best wide-angle lens. I had to go as far as the length of the royal golf course to allow me to get it into the full frame!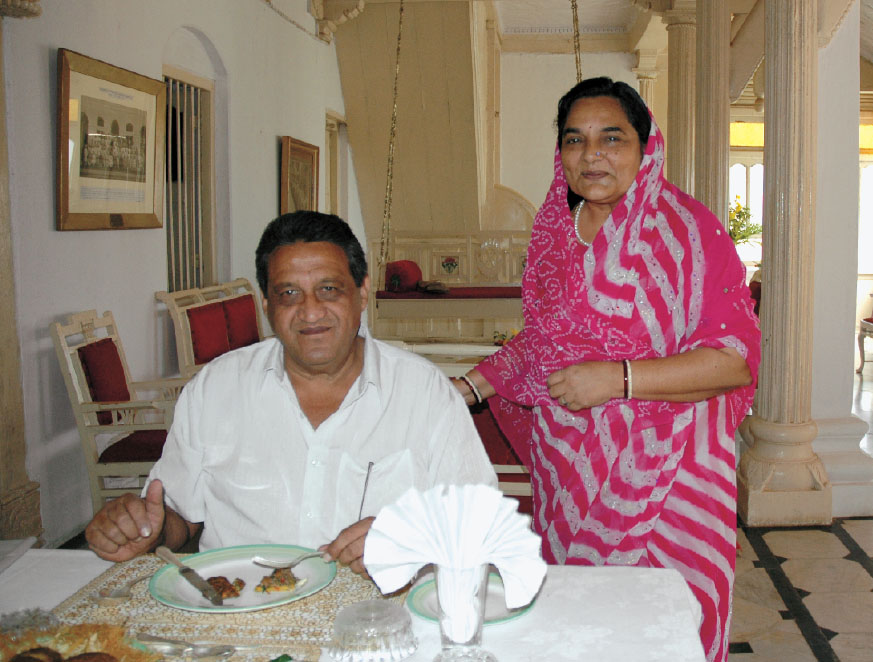 At the Jambughoda Palace, 80 kilometres from Baroda I met with Maharaja Vikramsinh Rana and his wife, Maharani Gyaneshwari Devi. Both were exeedingly hospitable and absolute gourmets. We sat and ate a breakfast served not by liveried servants but a man wearing a peak-cap! The Maharaja himself was comfortably attired in bush-shirt, trousers and mojdis. The breakfast was uncommon, a mixture of Rajasthan, Gujarat and Madhya Pradesh food prepared for us in the palace kitchen by a team of women cooks, and supervised by Maharani Gyaneshwari Devi herself. She is, like the Maharaja, quite a gourmet. Jambughoda cuisine was greatly influenced and took shape under the Maharaja's father, His Highness Maharana Digvijaysinh Rana, who was fond of entertaining and invited cooks from other princely states to assist his own in preparing the royal banquets he hosted. The man with the peak-cap laid out the table. There was chopped slivers of masala liver on a methi-makkai roti; a nargisi kofta of mixed meat and scotch egg; a dish called ghenz that is typical of Jambughoda and is a porridge made of corasely ground corn, yogurt and buttermilk; another one called cheen – also of corn boiled in salt water; urad dal wadas known as Dhebra wada, and theplas with mint tea.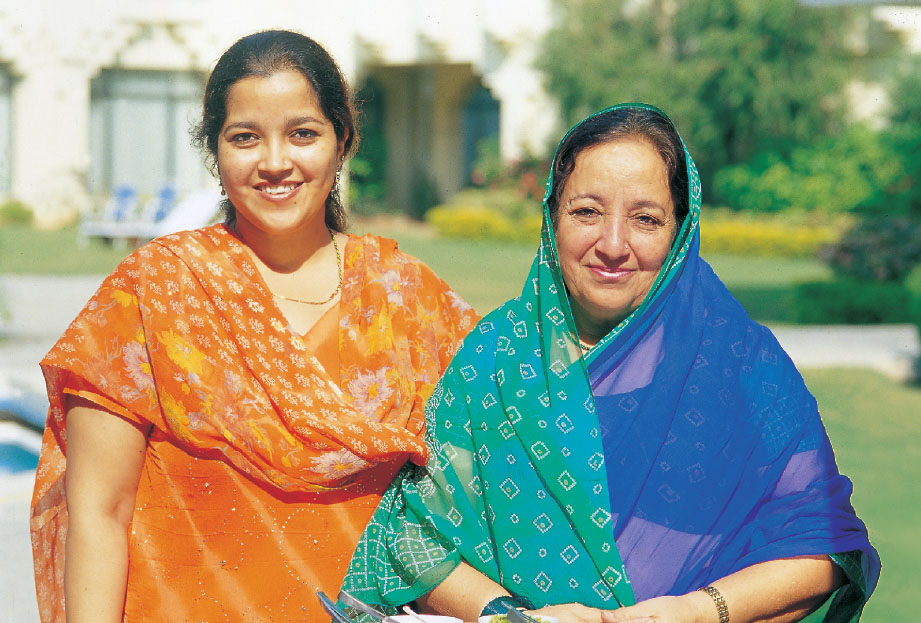 Another memorable breakfast was served to me by the nawabi family of Balasinor. Not at their palace which is 100 kilometres out of Baroda but at the hotel I was staying. I was running short of time and very graciously Begum Saab Farhat Sultana said she would have the food cooked in the kitchens of the ITC WelcomHotel, for me to taste. The Mughlai breakfast that Begum Farhat dished was more like lunch! Lasaniya Kheema, Paya, Sheermal, Paratha stuffed with Urad Dal, Harira, Doodhi ka Halwa and Gaajar ka Achar. Full of old-world courtesies, she politely invited me to visit her home. "Come visit us at the Garden Palace in Balasinor," she said, "and I will cook the Mughlai curries, koftas, kebabs, pasindas, biryanis and halwas for you!" The palace is set in acres of fruit orchards. Balasinor is a small town, but you can take lovely walks...it has old temples, a lake with boating, and there is the food, of course." Of course.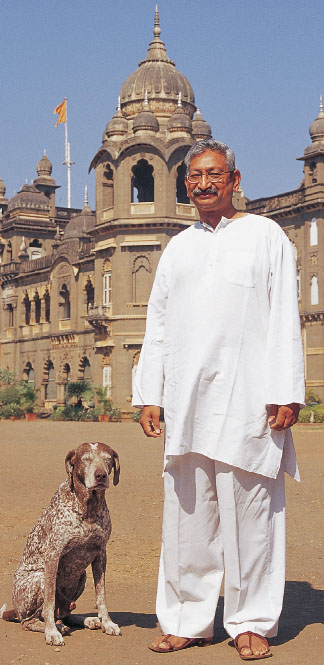 I have met the Maharaja of Kolhapur just once. In Kolhapur, in the grounds of his palace (Naveen Rajwada) - not inside. It was a meeting scheduled for 9.30 am. But the Maharaja was late and we were getting restless. My colleague and I were to drive back to Mumbai soon after interviewing him. It was going to be a long drive back. And after working in Kolhapur for three tiring days we had had enough. Yet we couldn't leave without meeting the Maharaja.
When he did emerge from the grand, stone palace, he came in flapping white kurta pyjamas and Kolhapuri slippers (and why not, it was his kingdom). I suspect he had forgotten he had a meeting and was roused from his sleep! It was all rather interesting. Do read the full interview online, it's in our archives. Incidentally, Maharaja Chhatrapati Shahu is the 15th descendant of the great Maratha warrior king Chhatrapati Shivaji.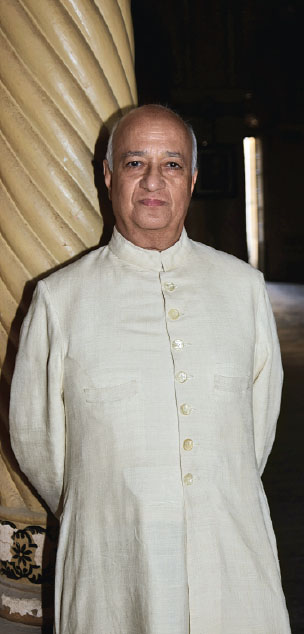 More recently I met, the Raja of Mehmoodabad. And became a fan of his. I spent an entire day with him, driving from Lucknow to Mehmoodabad where the khansamas had cooked us an Awadhi lunch I am not likely to forget, ever. During the entire journey there and back the Raja spoke and I listened. He is an erudite man. And his life has been most eventful. With a formidable lineage such as his, it could not be anything but eventful.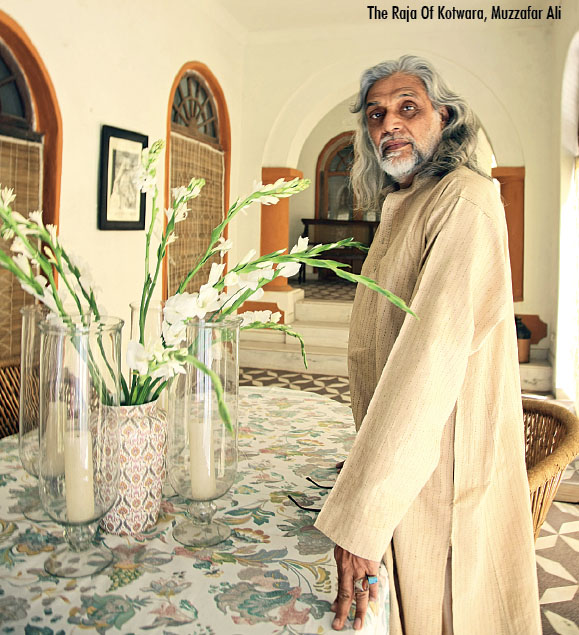 Muzaffar Ali - the world knows him simply as Muzaffar Ali, is the Raja of Kotwara. This man has a strange kind of energy. He is driven by passion and he lives life intensely, yet his demeanour will not show it. He is calm in disposition, deliberate in action and mannerism. He speaks slowly, taking time to explain things in great detail. He comes across as an unhurried man and yet he packs in so much in his life. It must be thanks to his spirituality, his sufism.
For complete stories in this article log on to www.uppercrustindia.com The archive reference of each is given below.
The Maharaja of Jodhpur: Archive: January - March 2001
The Maharaja of Mewar: Archive: January - March 2002
The Rajmata of Jaipur: Archive: January - March 2001
The Maharaja of Puri: Archive: October - December 2002
The Maharaja of Benaras: Archive: April - June 2001
The Maharani of Gwalior Archive: July - September 2006
The Raja of Dasapalla: Archive: July - September 2003
The Maharaja of Indore: Archive: July - September 2002
The Maharaja of Baroda: Archive: October - December 2005
The Maharaja of Jambughoda: Archive: October - December 2005
The Nawabi family of Balasinor: Archive: October - December 2005
The Maharaja of Kolhapur: Archive: January - March 2003
The Raja of Mehmoodabad: Archive: April - June 2009
The Raja of Kotwara: Archive: April - June 2009