KIRAN AND YATIN PATIL
Raising The Bar With Reveilo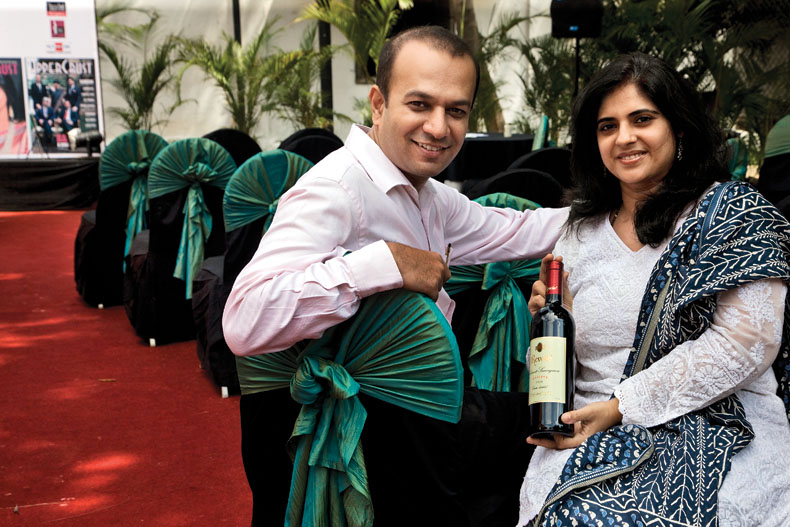 Winemaking may have a romantic connotation of small, family run vineyards and luscious vines ripened for harvesting in more traditional regions, but in India it requires business nous. Which is just as well, since Yatin and Kiran Patil both have MBAs and their label, Reveilo, is based on sound business principles rather than idealistic notions. "We don't outsource our grapes but sell what we grow so that we can focus on quality rather than mass production," explains 36-year-old Kiran.
The dignified mother of two says that Yatin complements her at the workplace, as he is the strategist while she looks after the smaller detail that is execution. Both have grown up in Mumbai and met at college; six years of dating after, they wed in 1997. "We studied at NM College together and then pursued our MBAs. Winemaking wasn't what we planned and I was in a real estate marketing job while Yatin was in corporate finance." After their first child was born in 2001, Yatin quit his job and decided to practice viticulture at his family-owned table grape estate. , , , .
It wasn't until 2004 that they decided to make their own wines when Yatin visited Vinitaly, a trade exhibition. "We sought the expertise of Italian consultants and have had Andrea Valentinuzzi as our wine-maker since then," says 36-year-old Yatin, who points out that Andrea visits the vineyard every couple of months and keeps a sharp eye on the grapes. "Timing is everything," he adds, referring to the harvesting and subsequent fermentation of grapes.
The couple has had their brush with interesting timing, as their daughter was born the day they launched their wines in 2005. "It was a difficult time," smiles Kiran, adding that balancing between being a mother and running a business is a herculean task. She quit her job in 2005 to take over marketing and sales while Yatin is in charge of operations. "It's a 24/7 job and there is communication constantly even when I'm with my children, but I've learnt to prioritise," she points out.
The Patils both love travelling and ensure that they have at least one family holiday annually, with a trip to Nepal coming up towards the end of the year. "I love getting away from the stress of Mumbai by going to the vineyards," Yatin says, and both wish they could travel more. While Yatin enjoys the odd glass of wine regularly, Kiran was never a wine drinker and still isn't a regular. Though she may not be an oenophile, her marketing skills clearly work well as Reveilo has firmly created a niche as the most expensive Indian wine which is a reflection of its quality.
Reveilo's Reserve range has won much admiration, but Kiran thinks one of the best features of their wines is that their controlled production levels mean that consumers will get fresh wines that are better in the Indian context. "The Indian wine industry is very fragmented and the competition is fierce, sometimes unfair," Kiran laments. This is why she feels the right positioning is important as consumers are getting more aware and demanding better quality. The duo work as a team and want to expand into territories within India where Reveilo isn't currently present; "Eventually, we want to foray into exports and establish our label as a global brand," Yatin proudly states.
It is his long-term vision that has brought Reveilo this far, and it will take Kiran's knack for execution that complements him. Working with a spouse, however, can have its pros and cons. The complementing skill-set is probably the best thing about working together; conversely, Kiran says "Yatin does tend to deliberate over decisions which can get annoying, though it ultimately ends up being a good thing," she admits.
For all their promising visions, the Patils are firmly grounded and see winemaking as a business as much as an alternate to corporate life. They acknowledge that the industry in India hasn't grown exponentially as predicted earlier in the last decade, but are quietly confident that quality is paramount.
Kiran sums it up, by stating that "the only way is to be consistent (in production) and persistent (in sales)." rolex submariner watches, fake rolex watches, , rolex watches for sale.