POONA POSTINGS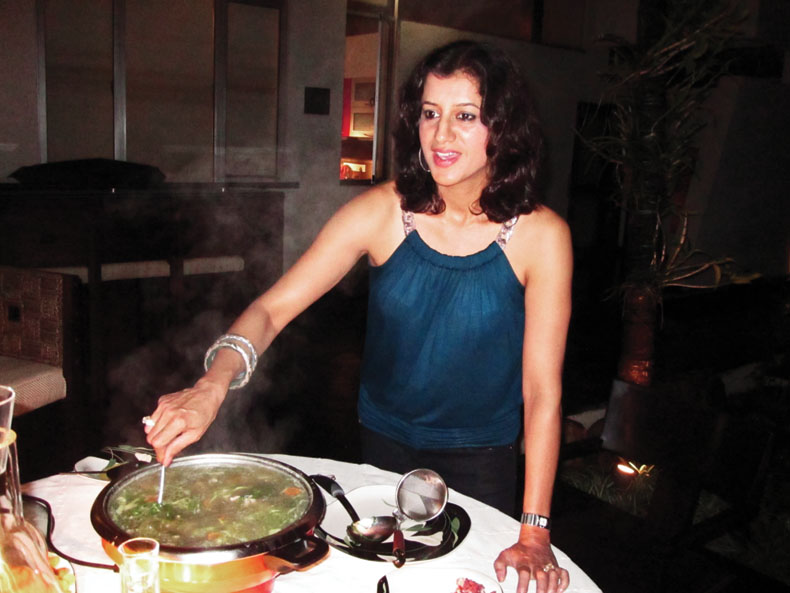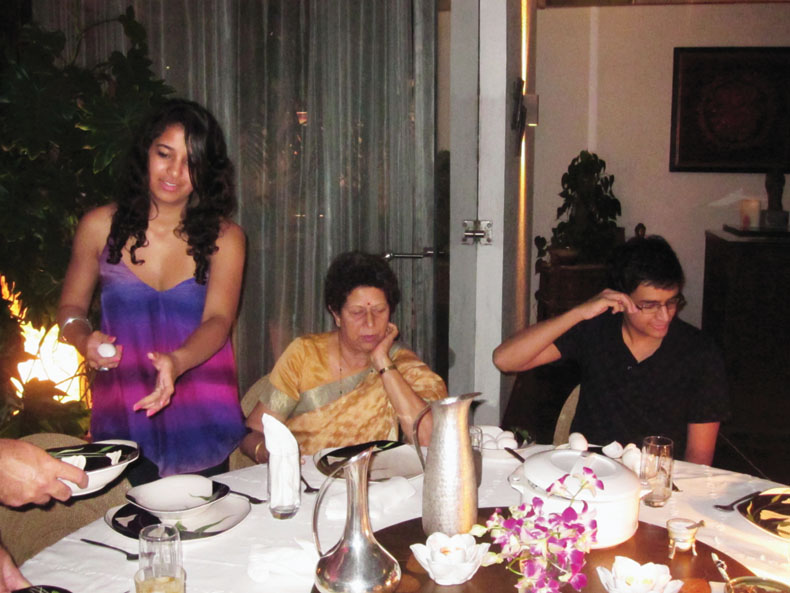 The daughter-in-law of one of Pune's most respected business families and coming from an equally prestigious family in Delhi, Alpana Kirloskar could have settled down into the life of a lady of leisure. However that is not to be for this woman, at least. Creativity oozes out of every pore of her body. An architect and interior designer by training, her house is a showpiece for her talent and today she is a much sought after designer in Pune. However her creative forte is not restricted to wood, bricks and fabric. She is known to be quite resourceful in her kitchen. Her brownies are legendary among her friends and for birthdays and celebrations, such as Diwali there is always a standing order for the Alpana brownies. "I do not use any flour," she reveals. "It is purely chocolate, butter, cocoa and eggs." In fact baking is something she loves and in her initial years of marriage, she baked cakes and desserts regularly. A family of foodies, Alpana has large shoes to fill. She learnt cooking during her first pregnancy when this Delhi girl craved Punjabi food in her all-Maharashtrian household. Hooked to this new form of creativity, there has been no looking back. Replica rolex watches, , , , replica rolex for sale, .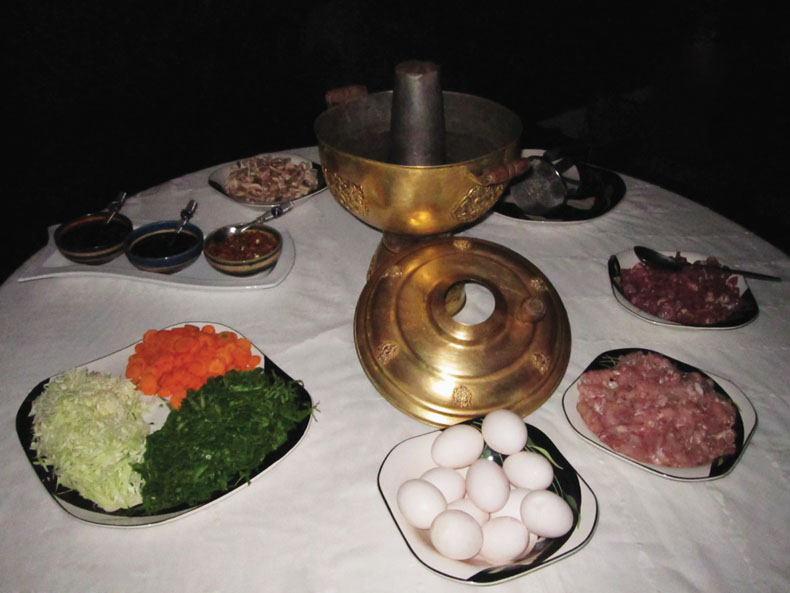 She remembers meeting an aunt by marriage, in Delhi, while she was still engaged. Nervous and keen to please, she had gone for dinner during a phase in her life when she was vegetarian. The aunt had made Mongolian hot pot and Alpana pretended she was not very hungry. The aunt gave her a hot pot set as a wedding gift, since Alpana's husband, Rahul loved the concoction. She became proficient in this form of cooking and often entertains in small groups where she cooks herself. Mongolian hot pot is a low calorie, healthy meal using no oil except in the home made chilli oil sauce, which accompanies the meal. Alpana has adapted the method over the years. She now makes a pre-flavoured stock from chicken and mutton bones. Finely chopped pieces of chicken and mutton are dropped into the boiling stock along with chopped mushrooms, carrots, spinach and cabbage. A raw egg is broken into a bowl and gently whipped after which you need to take a little rice. The concoction from the hot pot is then ladled into the bowl, immediately cooking the egg and garnishes of chilli sauce, garlic and soy sauce can be added.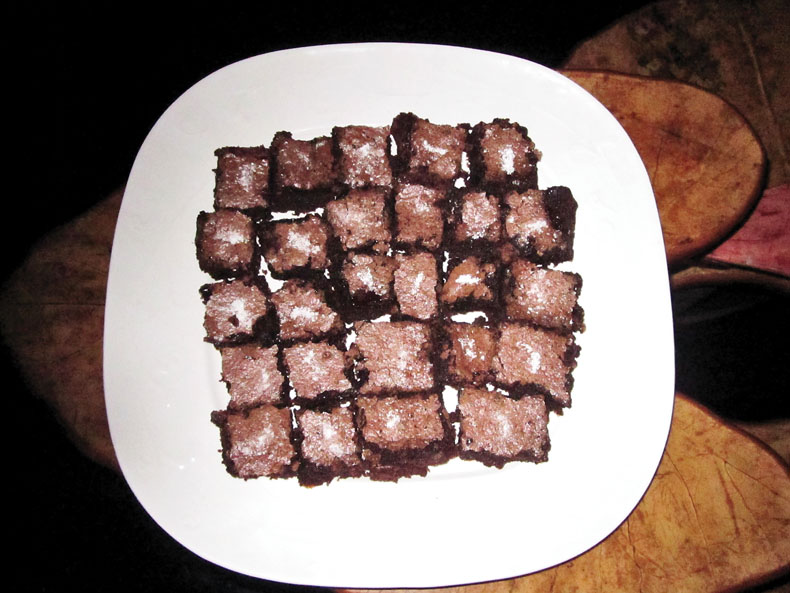 The resulting meal is deliciously tasty and does not leave you feeling heavy and bloated. The original hot pot had a chimney in which coal was put in order to keep the stock hot. A small opening at the bottom had to be fanned to keep the coal burning. Alpana remembers using a hair dryer and battery-operated fan to keep the coal burning. Today she has adapted the hot pot, using a steamboat purchased in Singapore, which does the trick, and the meal gets cooked much faster.
Sitting in the verandah of her home, overlooking the garden and listening to the gentle swish of the Pune rain, it is the perfect weather to partake of the steaming Mongolian hot pot and we leave her table satiated and after consuming two brownies too many, greedy too.
---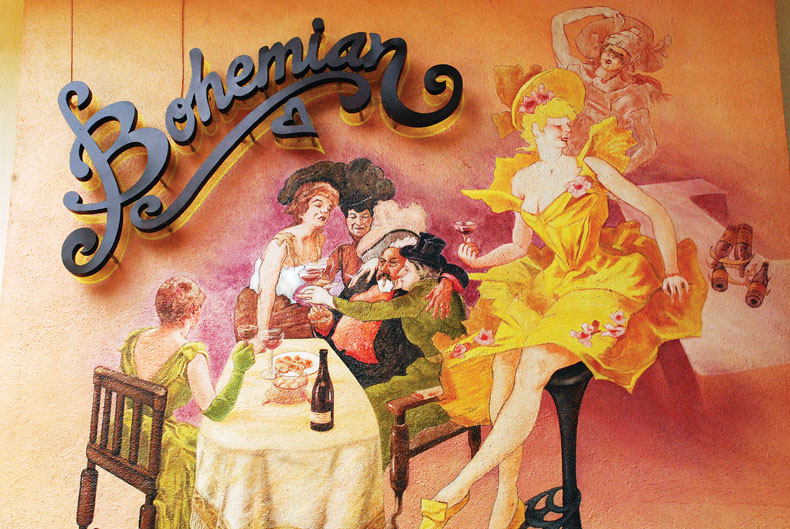 Bohemian is one of Pune's best-kept secrets. From the minute we stepped into the restaurant, we felt enveloped in warmth and friendly energy. Run by ex Merchant Navy man and self-acclaimed foodie Shekhar Pimpalkhare and his artist wife Ketaki, Bohemian is tucked away near NDA. The couple already runs a popular Indian restaurant, Oasis and tired of serving butter chicken, they decided to branch out and start serving food that fed their soul. After six months of trials and devising dishes, they started Bohemian, which primarily serves cuisines from around the Mediterranean.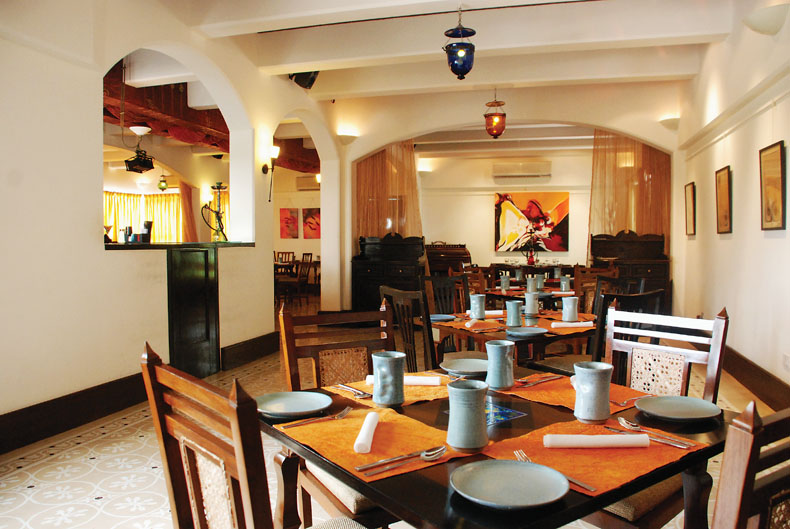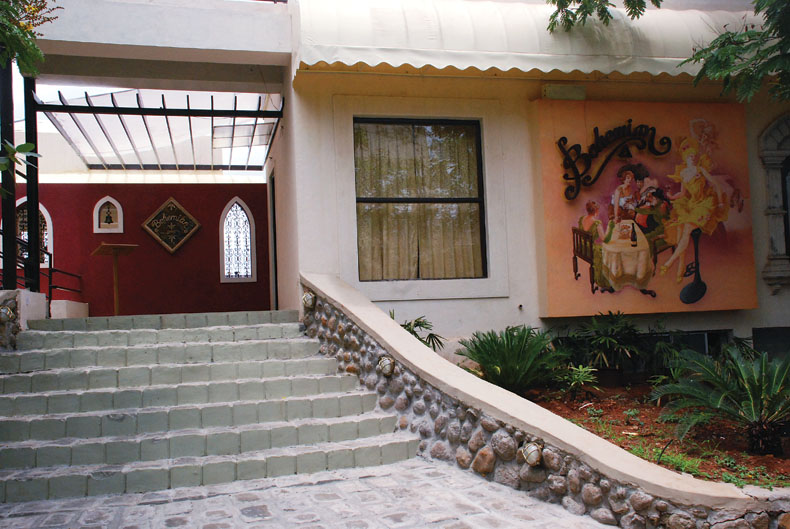 The enthusiastic bartender plied us with exotic cocktails such as Brangelina chased with lychee juice, Aria, kaffir lime mojito and a delicious mango passion fruit as well as peach martini. Starting with the jalapeno humus, Chef Dinesh literally had us eating out of his hand. Along with Shekhar, he has created some unusual dishes such as chilli jam potatoes and polenta cakes. The marinade on the bombil (Bombay Duck) fritters, Moroccan chicken satays and prawn satays were flavoursome enough not to need the accompanying sauces. All the bread is made at the restaurant as is the salami on the pizza. We drank lots of water not because the food is spicy, but because the water is spiked with lime and mint leaves making it ever so refreshing.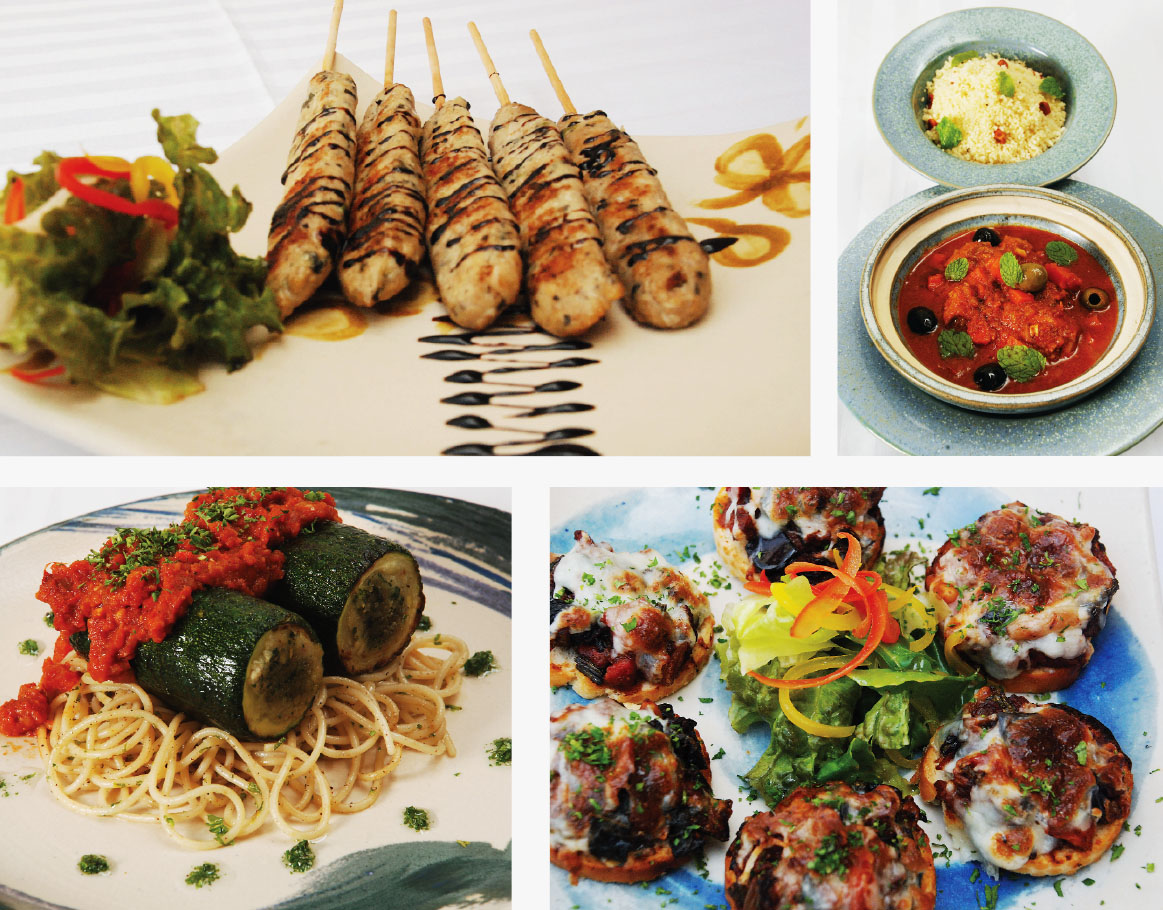 The smoked chicken salad with orange sabayon sauce and the balsamic infused beetroot and feta salad could have been meals by themselves but were quickly followed by an aromatic chicken tagine and cous cous. Despite bursting at the seams, we gave in to temptation when plates with gooey chocolate cake, white chocolate and mango mousse tart and a baked cheesecake were placed in front of us. And we licked the plates clean.
Bohemian oozes creativity not just in its food, but also in every little detail. From the brass light switches to the specially designed terrazzo flooring, from the designer inlaid tables to the one-of-its-kind DJ console table and the quaint chairs, swing and big brass bell at the entrance. Ketaki has added her own touches, having hand painted all the crockery used for the main meal. The charity art wall displays works by needy kids and all proceeds go towards charity.
While her bold artwork is on display in the restaurant, her best creations have to be the innovatively painted bathroom signs that read, "Women are beautiful, wicked and wise. Men are strong, foolish and not so bad really." With a smile on our lips we left Bohemian.
---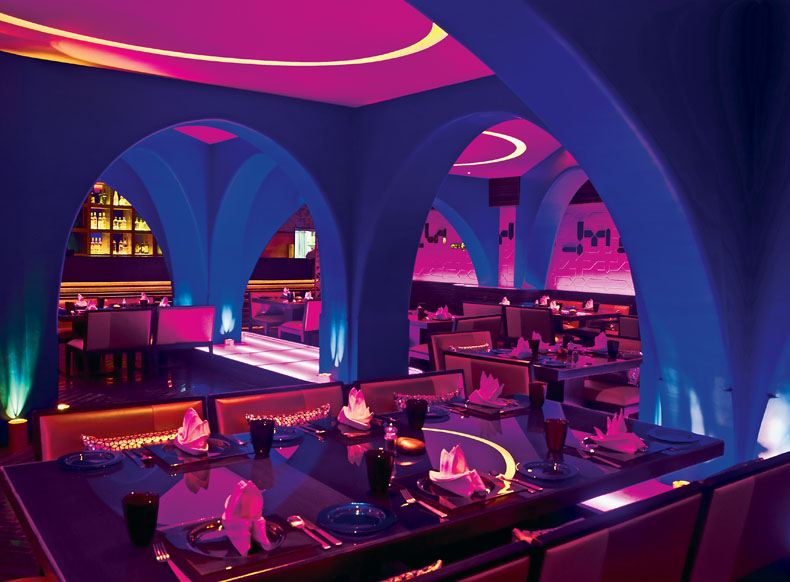 Imagine sitting on comfortable sofas, under a canopy of arches in Rama blue, Rani pink and Krishna green admiring the wall design of white and mirrored tiles, which appear almost Arabic, eating out of clear glass dishes stained in brilliant hues and drinking water poured from coloured glass jugs of every shape and size. Not your typical décor at an Indian restaurant and colour seems to be a key word at the Kebaberie. Chef Shailendra is rightly proud of the restaurant he has helped create. As a rule I am not too fond of spicy, oily Indian food but at the Kebaberie the cuisine relies on the delicacy of flavours and not on a heavy hand of spices and overpowering ingredients.
The curries are cooked in a covered handi using the dum method with bones on the meat to retain the flavour. The nalli korma in its white gravy melts in the mouth and the dum ka moorg with its brown onion, cashew and coconut flavour is distinct from the chicken makhanwala which my ten year old nephew from New Jersey rates as the best butter chicken he has ever had. The meal started with delicately spiced spinach and almond shorba and a paya soup. The series of kebabs which followed were not just tasty, but creative in the mix of flavours as well as in the conceptualisation. There was the chicken shirman marinated with a rich almond paste and saffron, the kakori kebab, tandoori mirch stuffed with cheese and ajwain and rolled in channe ka atta, a triple layered paneeer roomani interspersed with mixed vegetables flavoured with a hint of mint and curry leaves, the vegetable stuffed, tandoori mushroom which was simply irresistible, lamb shank marinated with Indian spices, chennay kebab made from hung yogurt flavoured with green cardamom, mace and pepper, Hyderabadi patar ka gosht and a melt in your mouth mushroom galouti.
Throughout the meal we sipped on an array of imaginative cocktails such as the watermelon caiparoshka, kiwi lounge made of ginger infused vodka, kiwi juice, apple juice and lime, a green apple rock martini and the hands down favourite, spiced guava bloody mary. As we loosened our belts, the relentless waiters bore down on us with a lamb biryani and an aromatic vegetable biryani, which had vegetables as well as tiny paneer pieces that enhanced the subtle flavour. Dessert is a weakness and we enjoyed tiny gulab jamuns, the mille feuille of malpua with kiwi and apple, and a badam chennay ki kheer. However it was the elaichi and saffron flavoured home-made kulfi, creamy, flavourful and sinfully good which won the battle of the desserts.
The urlis with floating rose petals and lime were large enough to soak our feet in and we luxuriated in the feel of rose against the skin as we washed our hands.
Ready to leave, we were not prepared for a parting shot: literally a vodka infused paan shot. What a fantastic way to end a meal, a tasty digestive to send us on our way.

---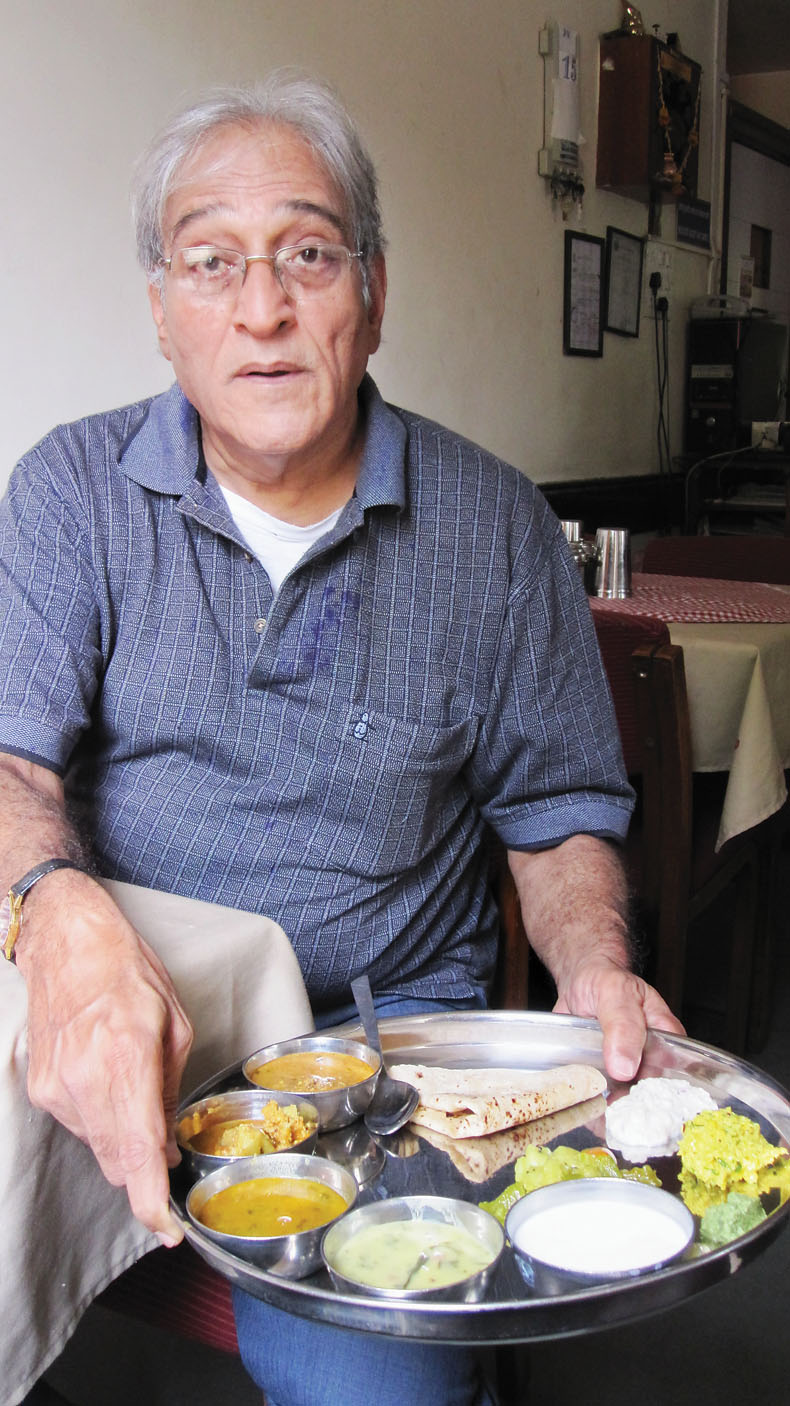 "How can you write about Pune's food scene without writing about authentic Maharashtrian cuisine," scolded famous stage and theatre personality Mohan Agashe. "Forget your fancy restaurants, I will take you on a culinary journey," he claimed. A date was set, hands were shaken and on the appointed day, I set off for the other end of town. Trekking across town to enter the hallowed Deccan region is a bit like crossing the Lakshman Rekha of Worli in South Bombay, where I grew up. Dr Agashe does not maintain a kitchen. His favourite cuisine comes from his sister's kitchen. Other than that he loves to eat at Wadeshwar, a restaurant down the street from his home that he calls his office. "Their idlis are the best," opines this psychiatrist turned actor. We begin our journey with varan bhaat, ghee, salt and limbu at Krishna Dining on Law college road. A nondescript eating-place, the restaurant, run by Sampada Bhave for a decade, serves authentic Maharashtrian thalis. The menu changes daily and they have a special fasting menu on ashadhi ekadashi and maha shivratri with peanut ladoos, coconut kachoris, sabudana thalipeeth and rajgira puri. During the Ganesh festival they serve modaks but they also make modak by order during the rest of the year. Well-known in that area, there are many walk in clients as well as regular patrons. The restaurant is generally busy and on the weekends and holidays, it is always full though they do take reservations. As I tucked into my patarya chi patal bhaji, toor dal amti and keri ka dal, I noticed customers chatting and laughing. There is a sense of comfort at the place and the rain pelting outside made me glad to be inside Krishna Dining eating hot wadas with chutney.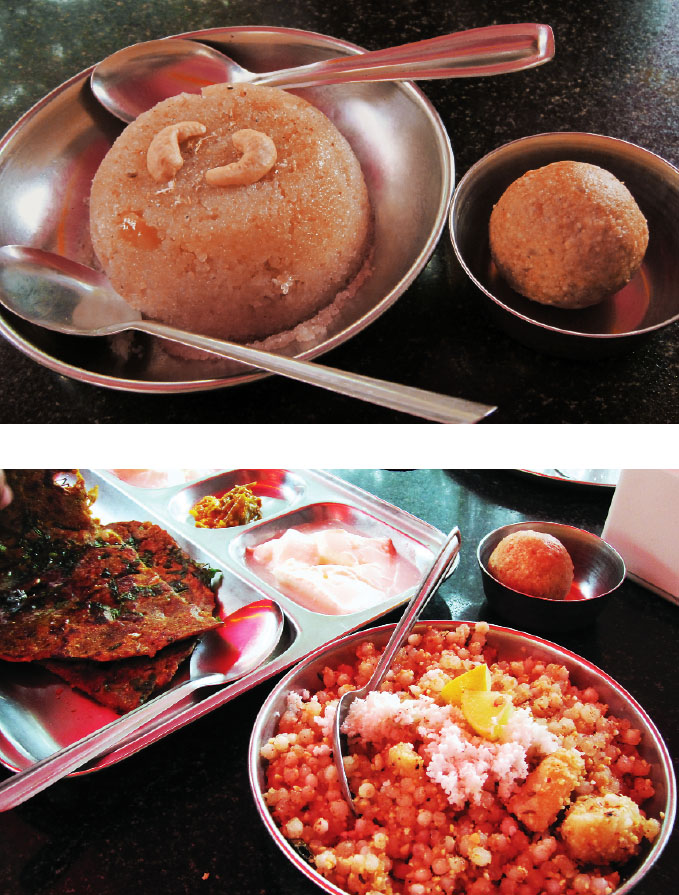 "I hope you are still hungry because now I will take you to another restaurant for a mini lunch," declares the incorrigible doctor. I make a mental note to increase my time on the treadmill at the gym tomorrow and happily follow my culinary guide to Manohar near Mehendale garage. Makarand and Madhuri Date who have been running Manohar for eight years welcome us with broad smiles. Madhuri was a great cook and Makarand decided to quit his regular job, learn to cook and start the restaurant. The place is a magnet for officegoers in the nearby areas as a stopping place for a quick bite in the morning or before going home in the evenings. We start with sabudana khichdi and then gorge on piping hot bhajani thalipeeth and sheera. This is followed by a sinful danyacha ladoo. The meal is nicely rounded off with puran pori, hot milk and ghee which just melts into my mouth.
Dr Agashe chats away as we eat sharing tips on his favourite eating-places. While travelling he always carries his favourite stash of Laxminarayan chivda, Chitale bhakharwadi, tikhat batata chivda and mango barfi. In his opinion, Swaroop hotel serves the best ever sabudana khichdi. And if it is bhel I crave, I should look no further than Kalpana bhel on Tilak Road, which he has been frequenting for 55 years since his school days or Laxman on Prabhat Road.
I waddle back to my car but not before promising to embark on a further journey with Dr Agashe exploring the hidden treasure houses of authentic Maharashtrian cuisine in a part of Pune I am fast discovering.