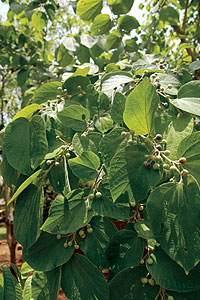 Falsa The Elusive Berry
Fairly unknown, this sweet and sour fruit has an amazing number of health benefits, not the least being that it helps keep the body cool, says Naini Setalvad.
Beat the heat and just chill with the much underrated and unknown falsa.
Traditionally called falsa in India, the botanical name for this tiny berry is Grewia Asiatica. It is grown in Southern Asia, east of Cambodia and other tropical countries. These green seedlings are tiny pea-sized, purple to black when fully ripe. Sweet and sour in taste. Available in May and June in India, the seeds (after being extracted from the fruits) are washed and dried under shade. The falsa plants are grown in different regions of India from Punjab to Gujarat. Being highly perishable, they are difficult to transport and need to be handled with care which may be one reason why people are not aware of this wonderful tangy fruit. Its juice, commonly known as falsa syrup, is considered a delicacy in northern India and Gujarat throughout the hot summer months.
Every part of the plant from its leaves, fruit, flowers to the bark have various uses. Nothing goes to waste.
The fruit makes a tasty and refreshing drink.
The mucilagilous extract of the bark obtained after pounding in water is used to clarify sugarcane juice during the preparation of gur, the traditional brown sugar made in India.
The fibrous bark is made into ropes.
The shoots obtained after annual prunings are used for making baskets, quite strong, to transport fruit and vegetables.


MEDICINAL USES:
Cooling Agent:
According to Ayurveda, the ancient Indian treatise on medicine, the fruits are a cooling tonic and aphrodisiac; they allay thirst and burning sensations, remove biliousness, cure inflammation, heart and blood disorders and fevers.

Throat, Coughs And Fever Reduction:
It is effective in clearing sore throats and cough as well as a good way to reduce common fevers and colds.

Relieves Urinary Troubles:
It cures urinary troubles and relieves burning in the vagina.

Digestion:
The fruit is astringent and stomachic. Furthermore, an infusion of the bark is given as a soothing cooling drink in treatment for diarrhea.

Respiratory:
It relieves asthma, bronchitis, shortness of breath due to its high vitamin C content.

Cardiac:
Vitamin C is an excellent aid for cardiac disorders. The falsa, with its high vitamin C content helps to keep heart disease in check.

Blood Disorders:
The vitamin C content helps effective iron absorption in the body and hence helps to purify blood.

Rheumatism:
The root bark is employed in relieving the pain of rheumatism.

Skin Eruptions:
The leaves, grounded are applied on skin eruptions and they are known to have antibiotic action. Hence, they are excellent for eczema.

Contrary to its tiny size, this little known, unexplored wonder fruit has many health benefits. By not being aware of this native fruit, we are depriving ourselves of its amazing benefits. Let us wake up to good health with the falsa.

FALSA SHERBET
Ingredients:
500 gm falsa
2 litres water
2 tsp powdered cumin
2 tsp rock salt
250 gm jaggery powder

Method:
Soak the falsa fruit in the water for half an hour.
Strain in a sieve, then mash the fruit with a spoon. Separate the seeds.
Add powdered cumin (jeera), rock salt and jaggery and the required amount of water.
Chill before serving.

---