First things first. Make a note never to miss an invitation if it ever comes your way, to a Karan cuisine meal. I almost did. Let me tell you about it. The Palms in Bombay, which is the Hilton Towers' coffee house, was playing host to Kawar Vijay Singh Bedla and his wife, Kawarani Sugan Kumari. That's them on the page opposite. They are gourmet nobles. And they were presenting, had been presenting (I was late in accepting the invitation), the Karan cuisine of the erstwhile Bedla Palace near Udaipur to Bombay's foodies for a week. I went the night the curtain came down on their little culinary show at The Palms.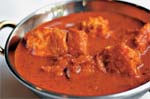 Karan cuisine is Mewar food, it has been named after Vijay Singh's great-grandfather Rao Bahadur Karan Singh, who was a bon vivant and got the cuisine going. Mewar taught the world how to eat. And the Bedlas, God bless, have taken this rare and wonderful cuisine that has been trapped and religiously guarded behind the palace walls, out to the world. They have revived forgotten authentic tastes of Mewar, broken the myths surrounding the cuisine, and presented it in several food festivals around the country. The one at The Palms was their tentative entry into Bombay.
Vijay Singh explained to me over dinner that night: "Karan cuisine is at least 200 years old. The cuisine is known in Mewar. The royal families of Jaipur and Jodhpur have always been our guests in Udaipur. And they have waited their turn to be invited to sample the cuisine. Our chefs have been called to the Lake Palace at Udaipur when dignitaries such as Pandit Jawaharlal Nehru, Queen Elizabeth II, the Shah of Iran and Jacqueline Kennedy came visiting. Democracy forced the surrender of the Bedla Palace to the government, the family moved to Udaipur, and the cuisine went behind curtains. But my wife and I have brought it out since 1997. The Ta] Group of Hotels first encouraged us to share our tastes with the world. My wife is fond of cooking. She picked it up, took over the kitchen, I manage the front, and we have been presenting Karan cuisine wherever we are invited."
I was amazed. You would think that Indian nobility, with its tradition of feudal machismo, would cringe at being seen in public as humble cooks. But Vijay Singh, scion of a noble line that started with Rana Sanga inviting the Chauhans of Uttar Pradesh to Rajasthan as jahagirdars, revels in the role. And with his wife he travels the world setting taste buds on fire.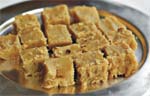 Now the food. From smoked meat to gourd kheer, the former nobleman and his wife had dug deep into their legacy to produce the most popular recipes at The Palms that had delighted generations of royal and democratic patrons. There are at least 20,000 recorded recipes of this school of cooking. They have been created with whatever ingredients are locally available. People are unaware of Rajasthan's topography. They imagine the entire state is a dry and arid desert. Not true. Bedla is hilly region, there are several catchment areas, and Jaisamand — the world's second largest man-man lake, is here. As a result, Karan cuisine has lots of freshwater fish, there is mutton and chicken. The mutton replaces what was earlier game meat in the recipes. No wild boar and venison feature on the Bedla couple's menus. And chicken makes an appearance in place of fowl, duck and geese. There are plenty of smoky flavours, the Baingan Bharta, the Chaas, Pulaos and Kheemas are smoked, and there are roasted meats. Corn is the staple food of the region. And Karan cuisine has at least 36 items made out of corn, including vegetables, meats, rotis, papads and even desserts. The super secret to the cuisine is a 38-ingredient Bedla sauce that requires eight months to make.
Since 1997, Vijay Singh and his wife have been sharing their culinary secrets through Mewar food festivals all over
the world. They have done over 50 so far. And yet, I was getting my first taste of it, and Bombay its only experience so far. Vijay Singh, who is proud to name his craft Karan cuisine after his grandfather, the great gourmet Rao Bahadur Karan Singh, recalled an amusing anecdote on how Maharana Fateh Singh of Udaipur, invited to Bedla for a chhappan bhog (56-dish feast), was served dal, which was so good that he had nothing else. Later he apologised to Karan Singh for having ignored the 55 other dishes. Only for the confident Karan Singh to inform the Rana that he knew the dal was so good there wouldn't be a demand for the other dishes — which, therefore, hadn't been prepared. Vijay Singh still rustles up the legendary lentil dish, arhar dal cooked in milk, and calls it the Karan Shahi Dal.
The Bedla couple's cuisine makes generous use of corn and milk products. Tomatoes, a late entrant in Rajasthani food culture, don't figure among the ingredients and curd takes their place. An iconic dish is Banjara Mans, a meat dish cooked with some spices and salt in the crude fashion favoured by a nomadic tribe. The dish is stirred in one direction so as not to break any ingredient. The Bedla couple say they have recipes of over 20,000 exclusive dishes. What is wonderful is that this cuisine is light and does not depend on rich gravies. They intend to write a book on the origin of each recipe. That should be quite a task and take time. If you can't wait that long and are in the happy economic position to invite the noble couple to come and give you a festival of Karan Cuisine in your home, write to Vijay Singh Bedla and invite him. He is happy when people appreciate the food and show interest in getting to know its origin. His e-mail address is: vijaybedla@rediffmail.com.