ARVIND Kapur is Agra's Mr. Nice. A jovial, friendly, roly-poly man, he knows the city like the back of his big, warm hand. And for the sake of love, friendship and adventure, he will helpfully volunteer to show you around. He will take you to see the monumental sights, introduce you to the amazing eateries on the roads, bring the tiny but popular sweetmeat shops to your notice, reveal the footwear, marble, jewellery markets. But, not even modestly, will Arvind ever point out that the cheerful kiosks and colourful cycle-carts everywhere selling Agra's famous Madhu Ice-Cream belong to him and his family.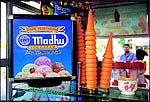 The Kapurs are originally a vegetarian Punjabi family of printers from Lahore. Arvind and his brother Madhukar are the fifth generation. Their father Harkishan Kapur introduced the family to the ice-cream business in 1956. Arvind tells the story: "We were vegetarians and all the ice-cream sold in Agra then contained eggs and gelatin. So Dad decided that we should make our own 100 per cent vegetarian ice-cream at home for the family and if there was any spillover, we would sell that. The initial investment was Rs. 30,000. Today, Madhu Ice-Cream is a Rs. 3 crore business. We supply ice-cream all over Agra and the periphery. Madhu Ice-Cream is available at all the big hotels in Agra, it is also sold in parlours here and in Jhansi, Aligarh, Gwalior, Ferozebad..."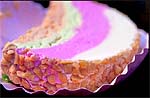 Madhu Ice-Cream started with five flavours in 1956. Today, 48 years later, it has over 100 flavours, but no fresh fruit variety except the mango when in season. Arvind, a Scindia School graduate from Gwalior, is a talented cook with discerning tastebuds that he occasionally lends to the ITC's Mughal Sheraton in Agra when its restaurants are trying out new menus. He can make ice-cream himself. "The final concoction has to suit my palate first, then it goes into the market," he says. Agra is a city that is apparently fond of ice-cream. "When we started, people did not know what was ice-cream," says Arvind. "We introduced Agra to real ice-cream. Madhu Ice-Cream still enjoys that initial customer support."
Madhu Ice-Cream sells exclusively from 50 outlets in the small city. And 50 other parlours, it shares with various ice-cream brands. Agra is flush with milk, fresh cream and butter. And a top quality ice-cream is always in great demand. "The unanimous favourite here is vanilla flavour," says Arvind. "And the other regular flavours that do well are butterscotch, kesar-pista, mango." Arvind Kapur's favourite dessert is not ice-cream. But wherever he travels, he must taste the ice-creams available there. "Even if it's just a spoonful for the taste, because that is important to me," he explains.
CLICK TO RETURN TO THE SPECIAL SECTION
---