UNTIL the south-west monsoon breaks over Bombay, one of the best places to have Aam Ras in the city is the Golden Star thali restaurant at Charni Road. More people come to eat the Gujju-Marwari thali for the Aam Ras than anything else. It is made from the Alphonso mango of Devgad. I understand this is the purest variety of mango in the world. The fruit is lovingly handpicked by a supplier. It is golden yellow in colour, warm with ripeness, and heavily pregnant with flesh that is rich and sweet in taste, soft and smooth in texture, and extremely juicy to the bite.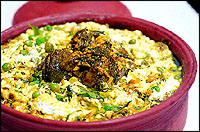 On Sundays, Golden Star offers unlimited Aam Ras in its thali. Some diners consume eight to ten watis. Others ask for the Aam Ras to be served in water glasses because the watis are too small. And I have personally seen a family filling empty mineral water bottles below the table with the unlimited Aam Ras to take home. Rumi Ranji, who looks after the Golden Star, shrugged when I told him this.
"There is nothing that we can do," he said. "A lot of people don't eat Aam Ras at all, so, I suppose, there is a compensation somewhere."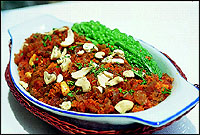 Other restaurants in Bombay serve Aam Ras too. But often it is canned, and never unlimited! And they serve it after the mango season has begun. Golden Star starts early, just after Holi. Naturally, Alphonso mangoes are expensive then. But people are anxious to eat them at the start of the season. When the fruit becomes cheap and is easily available, then people, as is their wont, lose interest. "The initial stage is a loss for us," admitted Rumi. For Golden Star buys its Alphonos at Rs. 850 a tokri of four dozen. By the time the monsoon starts, and when the restaurant stops serving Aam Ras, the price comes down to Rs. 450 a tokri. I suggest you go to Golden Star on a Sunday before the rains, make an Aam Ras meal of the thali, it is yummy.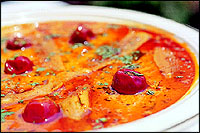 The restaurant was started in 1993. It used to be an Irani called Golden Star that was run by a Bahai father-son duo, Aziz and Zia Eshraghi. Aziz, who is 85, and actively involved in the running of the restaurant, once worked in the Irani as a waiter. The place was known for its chai, brun-maska, omelette-pav, and little else. The Eshraghis desired a change and met Rumi at that time. He was a catering college chef who had worked with the Taj, Pizza King, Fariyas Lonavla, and was just back from a stint in Lagos, Nigeria, where he had opened and run a Kebab Corner restaurant until political unrest there forced him to return. Things worked out between him and the Eshraghis and they formed a team to work on Golden Star.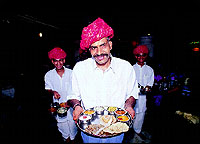 Aziz, who came in 1933 from Yzde in Iran "to work in Hindustan", tells the story of how he started off in Golden Star as a lowly waiter earning the princely sum of Rs. 15 a month. The restaurant belonged to a relative. But Aziz slowly bought it over. He is happy with the way things have turned out. Especially the vegetarianism. "In our Bahai scriptures it is mentioned that mankind will slowly turn vegetarian," he said. "I have already done that. I have all my meals here. And what I like best at Golden Star, are the sweets!" While Rumi looks after the kitchen and food, Zia manages the rest of the restaurant. He was born in Iran and was 12 when the family came to "Hindustan". He studied B.Pharm in Belgaum, but gave it up to become a restaurateur.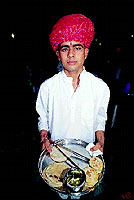 They renovated the old Irani and for a year-and-half, ran it as a non-vegetarian restaurant, but minus alcohol. "Bahais are strictly against alcohol," explained Rumi. "But the restaurant didn't do well. This is a Gujarati location, and we had to depend on outsiders coming to Charni Road for business. None of the locals came." Who came, instead, was an old maharaj who Rumi had worked with in Fariyas Lonavla. They introduced a Gujarati thali through him at Golden Star, and business picked up in a month. "More and more people started coming, so we got Maharaj Hemji Chowdhary from Bykes in Matheran, an expert in Gujarati-Rajasthani food. He had also worked with Rajdhani and Thackers, the other thali restaurants. And he organised a team of cooks and workers for us."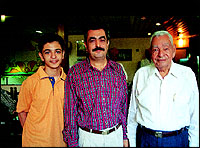 Hemji Maharaj is today the head chef at Golden Star, an impressive man at 6 feet 2 inches with a proud Rajasthani moustache. The restaurant has a staff of about 30. And they are all boys from Rajasthan. The Eshraghis have had to convert the upstairs of the restaurant into their living quarters. Which means that Golden Star does only 55 covers down. It was designed to be a Punjabi restaurant and not meant for thalis, so, perhaps, this does not matter. Besides which, people are always willing to wait for a table. Next time your train is passing Charni Road Station, look out and see, Golden Star is located in the building opposite and beneath the famous Ganesh idol that draws loud "Ganapati bappa morya" cries from every train.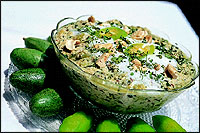 The kitchen and service of the restaurant run like clockwork. I am fascinated by such operations. Hemji Maharaj has one farsan maker, one halwai, one man to mix the dough for chapatis, three boys to roll out the chapatis, one to stand at the hot plate and fry them, and another to apply ghee on them. All the waiters during their non-serving hours, double up as helpers in the kitchen. The staff sleeps in the restaurant. They wake up at 5.30 a.m. to receive the vegetables and milk and do what in the restaurant business is known as mis-en-place, the preparations for the cooking. The day's menu would have been already fixed the previous night by Rumi and Hemji Maharaj in consultation with the vegetable supplier.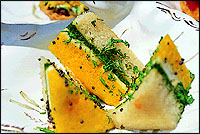 Hemji Maharaj begins cooking at 10 o'clock. By 11.15, the food is ready. Fifteen minutes later, Golden Star opens its doors. At 1 o'clock, depending on the day and the crowd, Hemji Maharaj cooks again. "That way, the freshness of the food is guaranteed," explained Rumi. "All green vegetables like the palak and bhinda lose their colour after an hour-and-half." By 3.15, the lunch service is over. And the staff go through the routine of preparing for dinner. Hemji Maharaj, who is sleeping, wakes up at 5.30 and heads for the kitchen. By 7, dinner is ready. "It is the daily cycle," said Rumi.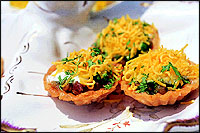 The food is purely Gujarati and Rajasthani. Though these days, on public demand, Golden Star has had to include Punjabi items like Paneer Pasanda and Chole Chana too. Also, Maharashtrian dishes like Kolhapuri Vegetables, Patal Bhaji and Bombay Pav Bhaji. Otherwise, the vegetables they use are almost seasonal. They get a lot of it from Surat, especially during November and February, which is the Undhiyu season. Surti vegetables like Papdi, Lilva Dana, Tuvar Ka Dana, Sakaria Kand, Purple Kand, Kakadi, and the big Rajeri Kela. For its other vegetables, Golden Star shops at Bhuleshwar and Dadar in Bombay. The pulses, rice, ghee, oil and other branded stuff are purchased from Null Bazar. "Everything is No. 1, we don't compromise on that," said Rumi. "We buy full fat milk, with 6.2 per cent fat content, and this is used for the Dahi Kadi, Basundi, Fruit Salad and Chaas."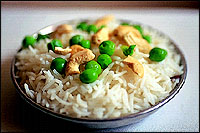 I asked what set Golden Star apart from the other thali restaurants in Bombay. "Can't say, must be the maharaj's hand," admitted Rumi. "We are known for quality and variety, but are not expensive. There are expensive thali restaurants that serve in silver. Their costs go up just to maintain those thalis! We concentrate on the food. We don't even take chances with our drinking water. It is bottled mineral water, Himalayan, the best. When the food we are serving is so fresh and pure, we didn't want to compromise on water, we supply bottled water on the tables. It is also used to make Chaas. There are big jars of water in the kitchen, no headache!"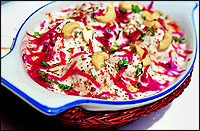 I will now briefly tell you about the thali. There is only one type. On Sundays, however, the sweets are different. There are more, they are all unlimited, and at least three are exclusive. By exclusive, they mean Aam Ras, Kesar Bhoj, Puran Poli, Stuffed Gulab Jamun, Dry-fruit Sheera, and Desi-ghee Jelebi. The regular daily thali has two sweets out of which one is unlimited. The thali has four vegetables, two farsans, four breads (bajra rotla, methi thepla, biscuit bhakri and phulka) that are served with pure ghee on top, a jaggery-sweet Gujarati dal (which is tuvar, the Dal-Bhatti dal is split mung dal), a tikha dal, a Dahi Kadhi (sweet and unsweet for the Marwaris), rice and Masala Khichdi. Sometimes, a Rajwadi Khichdi with potatoes, beans, carrots, peas and cashewnuts, like a pulao, is served. There are three to four types of achars, salads, papads, fried guvar chips, sago wafers, Chaas. There is also a tiffin service that goes to half of Bombay's diamond industry from Monday to Saturday. It costs Rs. 390 and feeds five. Sundays, the tiffin costs Rs. 490. I suggest you go to Golden Star for lunch or dinner. Only then can you get unlimited Aam Ras!
Golden Star
Opp. Charni Road Station,
Near TBZ,
Bombay 400 004.
Tel: 2363 1983, 2367 1952.
---