ON the Rishikonda Beach Road about 15 kilometres outside Visakhapatnam, stands a quaint thatched cottage with a Castrol-sponsored signboard that says "Sea Inn". It is a small little restaurant specialising in coastal Andhra food.
The proprietor, maitre d'hotel, and waiter is a tall, athletic and good-looking man by the name of K. V. Raju. And the cook, working hard in a small and stuffy kitchen behind, is his comely wife Lakshmi Devi.
The couple have been successfully running Sea Inn for 15 years now, catering to students of an engineering college nearby, and Vizag's foodies who don't mind the 15-km drive along the coast to the little restaurant.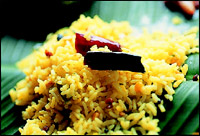 It is a primitive place. A thatched roof upon bamboos. There are no walls! Stone benches run around the cottage. And K. V. Raju has enterprisingly used the famous Cuddapah stone as tables. The menu is written on a Castrol racing score board.
Outside, an Alsation sits in guard of the cars and bikes that are parked by diners. And in a small washbasin dug into the ground that is fed by a tap of water, a friendly crow sits and wait for handouts from the table.
Sea Inn gets a steady stream of diners. Between 40 and 50 for lunch on weekdays, about a 100 on Sundays, and in the tourist season, which is between September and January, it does its best business.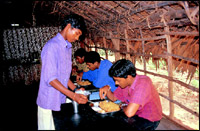 The food is awesome. It is coastal Andhra cooking at its rustic best. Sea Inn serves a vegetarian thali comprising two curries, one dal, a pickle, sambar, rasam, ghee-curd-rice for Rs. 25. The vegetables that go into the thali are seasonal. They could be cabbage, cauliflower, brinjal, and whatever is available in the market.
The non-vegetarian items of food are listed on the Castrol menu-board. Diners order them separately. There is chicken curry for Rs. 35, chicken fry for Rs. 40, mutton curry for Rs. 40 and mutton fry for Rs. 45. Fish curry is Rs. 35 and fish fry is Rs. 40. A crab in thick gravy costs Rs. 45.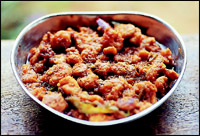 Sea Inn does a lot of non-vegetarian food on Sundays. Chicken, mutton, prawns, fish, crab, all from the local markets and the fishing harbour. K. V. Raju is out of the restaurant where he also lives, at 6 a.m. to do the bazar. During the monsoon, when fishing is discouraged for 45 days between May and June, he gets sweetwater fish from the Godavari River for his seafood loving customers. Otherwise fish is available aplenty.
He serves the Seer fish and Pomfret, small prawns, sometimes the river prawn which is a little expensive, the small and big sea-crab, and local fish like the Vanjiram and Chandua. Lakshmi Devi lights the kitchen fires at 8.30 in the morning and lunch is ready by 12. Sea Inn does not do a dinner service, unfortunately.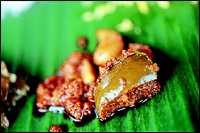 However, you would have to know K. V. Raju well enough to get him to share one of his prized dishes with you. It is not listed on the menu. And he is reluctant to talk about it as well. The story goes that that Raju caste of Andhra produces some of the state's best cooks. Not only cooks, but good eaters as well. They traditionally come from Bhadrachalam, near where the Godavari flows, and live in forest area. The hunting is said to be extremely good here and game food features prominently on the Rajus's home menus. Wild boar, deer, Sambar, and peacock often find themselves in the cooking pot of these foodies. But game food is now banned. And K. V. Raju thinks wistfully of days gone by.
All is not lost, still. Sea Inn is located on a hilly area and close to the beach. There is the Rishikonda village nearby whose villagers go in search of the wild boar that lives on the hill. They set traps, catch the animal, then sell its meat in small portions to whoever wants it in the area.
K. V. Raju buys this game meat occasionally from the villagers and his wife cooks it for their own private dining. "It costs Rs. 100 a kilo, and it is a great delicacy," he says with a shy smile. He will not do the wrong thing and introduce it on his menu. But for friends coming to Sea Inn, K. V. Raju and Lakshmi Devi are always happy to cook a small portion!
CLICK TO RETURN TO THE SPECIAL SECTION
---