PEOPLE eat well in the Wizarding World. It's the house-elves that cook at Hogwarts the Wizardry School, and they offer a variety of dishes and bake delicious meals, cakes, pies and desserts. Certainly, there is magic involved but the food is not created out of nothing. The food served is grown locally (there are vegetable patches near the greenhouses and chickens are raised), the meals are prepared in the kitchens below and are magically transported through the ceilings to the tables above.
The reason why food is such a big part in the Potter universe, especially its magical part, is because Wizards have no problem with cholesterol, they live longer than your average non-magical person. While Pumpkin Juice is the most popular drink, there's also Butterbeer, Red Currant Rum, Cherry Syrup and Soda with Ice and an Umbrella, Ogden's Old Firewhisky, Sherry, Tea and Single Malt Whisky!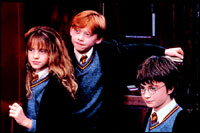 Let's have a look at what Hogwarts' students are served at lunch, dinner and special days. Roast Beef, Roast Chicken, Fried Sausages, Stews, Casseroles, Tripe Puddings, Pork Chops, Shepherd's Pie, Steak, Lamb Chops, Steak and Kidney Pie, Bacon and Steak, Roast and Jacket Potatoes, Yorkshire Pudding, Peas, Carrots, Gravy and Sandwiches.
Dessert includes Custard Tarts, Ice-cream, Apple Pies, Trifle, Strawberries, Jelly and Rice Pudding.
The year always begins on September 1, at Hogwarts, when a Hogwarts Express (which serves trolley meals!) brings students to the Higsmeade Station from where the second through seventh graders ride horseless carriages up to the castle and the first graders cross the lake in boats with Hagrid. It takes little to organise a feat at Hogswarts. There is the start-of the year feast, a Halloween feast, a Christmas feast and an end-of-term feast. The finest is the Christmas treat. Turkey, Chipolatas, thick rich gravy, Cranberry Sauce, Turkey Sandwiches (for tea), Christmas Pudding and Cake and Eggnog. And when it gets really cold in winter, the House Elves supply the teachers and students with warm Stews and Savoury Puddings.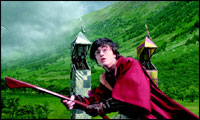 Unlike the main meals, breakfast is much healthier — Porridge, Rolls, Orange Juice, Kippers, Eggs and Bacon, Toast, Buttered Toast with Jam and Cornflakes. But there's no fresh fruit and no yogurt! The day begins with breakfast in the Great Hall. During breakfast, the morning mail arrives in a flurry of hundreds of owls. Morning classes with a break in between are followed by lunch and a break. Supper is served in the Great Hall toward evening.
For some strange reason, it appears students at Hogwarts are never given fish, rice, pasta salad or fresh fruit, except for the odd strawberry now and then. Can you imagine how the teachers and students stay awake during afternoon classes with their stomachs full of Steak and Kidney Pie and Trifle?
You would also find restaurants in the Potter Universe. There's the 'Three Broomstick Inn', 'Leaky Cauldron', 'Florean Fortescue's Ice Cream Parlour', 'The Hog's Head' (a popular pub) and of course 'Honeyduke's Candy Shop' (which make its own fudge, amazing Coconut Ice and Honey-coloured Toffees). At the ice-cream parlour, the students choose from a wide range of different flavoured Ice-creams and Sundaes, Peanut Butter, Coconut and Strawberry with or without nuts.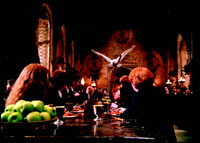 Perhaps, the most popular snack of all in Harry Potter's universe is Bertie Bott's Every Flavour Beans (uniquely flavoured jelly beans that Harry and his friends go wild for) and which are now being marketed with a new twist. Children are advised to choose wisely when they reach into the sack just as Harry's best friend, Ron Weasley, warns him in Harry Potter and the Sorcerer's Stone: "You want to be careful with these... when they say every flavour, they mean every flavour, you know, you'll get all the ordinary ones like chocolate and peppermint and marmalade, and then you'll get spinach and liver and tripe." The gamut runs from spinach to sardine, black pepper to grass!
But the students at Hogswarts also feast on Chocolate Frogs, Pumpkin Pasties, Cauldron Cakes, Liquorice Wands, Chocolate Bags full of Strawberry Mousse and Clotted Cream, Sugar Quills, Tooth Flossing String Mints, Jelly Slugs, Nougat, Coconut Ice, Ice Mice, Peppermint Toads, Blood Flavoured Lollipops, Cockroach Clusters, Fudge Flies, Acid Pops, Sherbet Balls and Ice-creams. Most of the Sweetened Candy served at Hogwarts has magical flavours, but there are exceptions like the Lemon Drops, Treacle Fudge, Peppermint Humbugs, Eclairs, Pumpkin Pasties and Cauldron Cakes.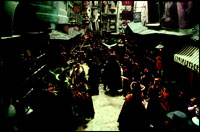 Chocolate would be the only food that has really special properties. Not only does it make a wonderful treat, but is also acts as an antidote for the chilling effect produced by contact with Dementors and other particularly nasty forms of dark magic. Alcohol is not too popular with the wizards, Butterbeer would be the closest they get to an alcohol. J. K. Rowling's, when asked once what Butterbeer was, said she had just made up the drink. "I imagine it to taste a little bit likes less sickly butterscotch," she explained.
Among all the wizards Sirius is definitely the healthiest, apart from the fact that as a dog he has to eat rats. But when Harry finally sends him food by Owl, he gets Chicken Drumsticks, Bread, Pumpkin Juice, Ham, Cakes and you won't believe it — Fruit! And there's some ghastly stuff pulled over the students as well. Like the food at a Deathday party includes Rotten Fish laid out on silver platters; Cakes burned charcoal black; Maggoty Haggis (made from internal organs of pigs); a slab of Cheese covered in green mold; and, Cake in the shape of a tombstone.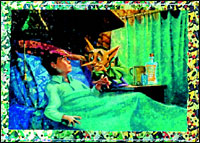 This fascination for fantasy food, perhaps, stems from the fact that Harry Potter's creator, J. K. Rowling's is some kind of fantasy foods gourmet. In her struggling years, the single-mother author would put daughter Jessica to sleep in her baby carrier and head for one of the local cafes in Edinburgh where she was staying. "There, for the price of a cup of Espresso and a glass of water, I would sit and write for a couple of hours," J. K. Rowling said. Her regular halt was Nicholson Cafe.
With fame came celebrity, but J. K. Rowling was not big on change. So when she started entertaining the press, she would insist that, whenever possible, interviews be done at her familiar table in the Nicholson Cafe where a crowd of waiters and waitresses would stand listening. The first time she returned to Nicholson Cafe after becoming famous, the waiter who had served her regularly when she was done and out did a double take when she asked for the menu! "Writing and cafes are strongly linked in my brain," she revealed. America's Bon Appetit magazine, which interviewed the author, said at Nicholsons Cafe, she used to order lots of Espressos. "I used to leave so jittery that you would think that I was in fear of my life." But J. K. Rowling's favourite food was "rubbish". "When I write, sophisticated foods are difficult to eat one-handed. Crisps (potato chips) are good," she said.
---