THE one-stop shop for authentic Kolhapuri food in Kolhapur city, is a place called Hotel Padma. It is not a hotel, meaning there is no boarding, but a restaurant that also has an open air marriage hall in the backyard. Both, restaurant and marriage hall are doing phenomenally well, though Hotel Padma is just a year old. At least, this outlet is a year old. Otherwise the parent company, also called Hotel Padma, was started in 1953 by the grandfather of the current owner. The grandfather, Colonel Nanasaheb Ingle, ran a guest house that served English food. He was an army man and India had still a major influence of the Raj in those years. Fortunately, Col. Ingle got himself a partner, Dhairasheel Rao, and Hotel Padma switched over to Kolhapuri food.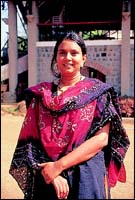 The restaurant's manager, Jivan Shrikhande, who has been with Padma Hotel for the past 17 years, explains the history. The new restaurant and marriage hall came about because the proprietors found that upper-class Kolhapur families were not coming to the old restaurant to eat. "All the rich people of the city who stay in the Tarabai Park area would send for parcels from the restaurant, they would not come there to eat. Demand was falling. So we did the best thing we could, we opened a Hotel Padma in Tarabai Park. Now everybody comes here!" Indeed, they do. And you would not find a table in a hurry, though the restaurant is a 150-seater, because Hotel Padma's food is so good.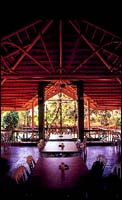 It is situated in the heart of Tarabai Park, in a large and wooded area, and the proprietors live in a stone bungalow with creepers all around it behind. The restaurant is on split levels, it is open-air and air-conditioned, and the aromas of good food permeate the entire sitting area. Gouri Ingle, the owner's daughter, is hands-on in the operations of the restaurant. And Shrikhande himself, who is PR person and part-chef all rolled in one, oversees the operations. The restaurant's success is simple to understand, he says. "We use the finest meats, the best quality spices, and the freshest vegetables. The produce is all good, our cooking methods are traditional, and the recipes we follow are standard. Over the years, we have practised the same principle. The formulas we have for making of masalas are secret, but they don't change. If you are a Hotel Padma regular, you will be able to smell the food and tell it is from here!"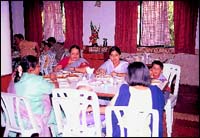 It is terrific food, the best of Kolhapuri cuisine, and all nicely showcased in five different thalis. You ignore the a la carte menu because the thalis have all that is listed on it. Instead, order one of the thalis after carefully studying what is served in it. The grandest is the Fry Mutton Special Thali, Rs. 90, it contains Mutton Fry, Special Mutton, two chapatis, Mutton Biryani, two watis of Tambada Rassa and two of Pandhara Rassa. There is a Special Mutton Lonche Thali which has all of the above, except the Mutton Fry is replaced by Mutton Lonche. Cost: Rs. 80. A Mutton Special Thali minus the Fry and Lonche is for Rs. 65. And the Special Chicken Thali that has a Chicken Curry, Egg Curry and Biryani rice, costs Rs. 70. There are Vegetarian Thalis as well with Masala Bhat, Aamti, Dal Fry, Buttermilk and one or two vegetables for Rs. 30 and Rs. 50.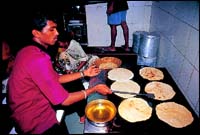 The Tambada Rassa and Pandhara Rassa are not meat curried dishes. They are plain curries, like sambars and rasams, that you order and dunk your chapati into or pour over your rice. You may drink it like a soup, too. And the Mutton Lonche, don't go away without ordering it. It is a pickled Sukha Mutton, Hotel Padma's piece de resistance. The dish is so popular that they have started marketing it and exporting it abroad to Kolhapuris who are anxious for home food. It costs Rs. 390 a kilo, comes packed in plastic containers and remains a month. Shrikhande says, "Don't reheat the Mutton Lonche. Five hours before you want to consume it, take it out of refrigeration and let it stand in room temperature."
Hotel Padma,
Near Dhairyaprasad Sanskrutik Bhawan,
Tarabai Park,
Kolhapur 416003.
Tel: 583435.
CLICK TO RETURN TO THE SPECIAL SECTION
---