THE Hyderabadi and Lucknowi Muslims of India may keep their Kacche Gosht Biryanis and Dal Gosht-Chawals, the lesser-known cooking of the Khoja community of Gujarat is just as good Mughlai food as any other. In fact, there are several food experts to say that Khoja cuisine is the best Mughlai cooking of all. It is the flavoursome meaty food of the Mughals with some interesting Gujarati influences. An exotic mixture of culinary styles. Delicately flavoured meat, fish and chicken dishes cooked with locally grown herbs and piquant home-ground masalas. Simple and authentic recipes, handed over from mother to daughter, both of whom would be excellent cooks.
Khojas are followers of the Ismaili branch of the Shia sect of Islam. The Khoja community is small and well-knit, with members settled in Bombay and doing extremely well businesswise, and in the Kutch and Saurashtra regions of Gujarat. And though the Khojas are Muslims, they have assimilated the culture, customs and traditions of the Hindus. Some of this influence is their in their cuisine as well.
Fateema Hooda, who comes from a traditional Khoja family, and who has written the only book on the cuisine of this community, says that Khojas are known for hosting lavish meals. Those who have experienced authentic (and traditional) Khoja khana have always been charmed by the distinct and delicious cuisine. Coming from her immediately after she had put together an amazingly diverse and rich lunch for UpperCrust with a tableful of familiar Khojas, this is not surprising.
Fateema says that it is a tradition with the Khojas to have at least one non-vegetarian meal every day. Her menu for the UpperCrust lunch had ten non-vegetarian dishes, only two vegetarian, and four desserts! It was held at the penthouse apartment in Cuffe Parade, Bombay, of Joy Shoes and Touch of Joy Beauty Parlour owner, Munna (Aziz) Javeri. The other Khojas at the table included Hameeda Ratanshi, Rehana Datubhai of Indus, theatre and ad. man Farrid Currim, Yasmin Saifulla of the Indian Trade Promotion Organisation, Dr. Sultan Pradhan, Bilkees Merchant and Mumtaz Patel.
What sets Khoja cooking apart from the other Mughlai cuisines, is its special hara masala, says Fateema. "The hara masala is very Khoja, and every family of the community must have it in their fridge at home," she says. The recipe for the hara masala is simple enough: 100 grams each of garlic, ginger and green chillies; one cup of chopped coriander leaves and two tablespoons of oil. The ingredients are ground with the oil to make a fine paste. "We use hara masala even when cooking a simple omelette," adds Fateema. "It is stored in the fridge in a glass jar and lasts for upto 15 days.
There are other subtle differences in this school of cooking. Like the Khoja habit of cooking chicken, meat and fish on dum, which is somewhat Lucknowi; only the Khojas follow up the practise by giving a dhungar touch to the dish. This lends the food a smoky flavour. In dhungar, a piece of burning coal is kept on an onion peel or in a small vessel and placed in the centre of the cooked food. A drop of oil is then put onto the coal so that it smokes and the entire smoking dish is covered for a few seconds. Fateema explains what dhungar is all about: "When you cannot cook on slow charcoal fires at home and use the gas, giving the dish a dhungar brings to it the smoky flavour of the sigdi."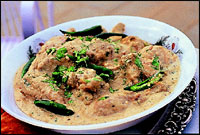 Mutton, meaning goat's meat, especially kid goat, is used mainly in Khoja cooking. And chicken. They do a spicy Chutney Murgh using a masala paste made of grated coconut and almonds. And two versions of a Smoked (dhungar) Chicken, one with a marination of home-made vinegar. When they cook seafood at home, it is pomfret and prawns only, though outside a Khoja will eat crab and Bombay Duck and lobster with relish. "The fish must always be fresh," says Fateema, "and we cook it in a masaledar way." Which means, with red Kashmiri chillies. Though fish does not feature every day on the Khoja menu. Mutton and kheema do. "Kheema, murghi, dal-gosht is a must," says Fateema. "And if there is any kheema leftover from dinner, it is consumed next morning with eggs for breakfast in a Kheema-Gotala," she adds, giving fresh insight into the voracious and adventurous eating habits of the community.
Apparently kheema, which is also cooked with a Musur Pulav, and in a spicy Chaap and served with Naan, is a favourite meat with the Khojas. They do a good biryani, too, with kheema, in which the kheema is layered in between the rice. There is also a Kacche Gosht Ki Biryani with mutton or chicken in which another Khoja speciality, the onion birasta, is used with dried apricots. Though their special one-dish meal is Muthiya, in which mixed pulses and vegetables are cooked with millet flour and chunks of mutton in a delicious hodge-podge of a dish that is as sumptuous as it is filling.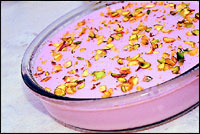 Khoja cuisine is also noted for its breads, they make a variety of naans in different shapes and sizes and tastes. The most popular among these is the round naan that has a faint sweetness to it and which is used with curries because it can be dunked into the dish to absorb the gravy. There is also a small diamond-shaped lamba pav that is used as a sandwich loaf for kebabs. And a hard, flaky, biscuit-like naan that goes with anything, including tea! Pickles are an important part of this cuisine. The Khojas make all their pickles at home, the old lady of the house is usually an expert, and they make their pickles seasonally: kairi in the summer, limbu and mirchi in the winter. Finally, there are Khoja desserts. Milk and coconut based, with fruit, bread, china grass, they make them also with sev. Plus Sheer Kurma, with milk, mava, vermicelli, cardamoms, pistas, almonds, raisins, which is the Mughlai Idd delicacy all over India. But then Khojas are Muslims too.
CLICK TO RETURN TO THE SPECIAL SECTION ON BOMBAY
---